UPCOMING DATES
26 MARCH - 10 APRIL - SPRING BREAK! - Enjoy the Spring Break!
SUNDAY, 11 APRIL - RETURN FROM BREAK - We look forward to welcoming our students back from Spring Break for a regular, full day of school.
MONDAY, 12 APRIL - EARLY RELEASE DAY - Students will have an early release day. Please note, this early release day has been switched to one day earlier than what was on our original school calendar due to the projected start of Ramadan.
As a reminder, our early release days are vital for teachers to keep on track with curriculum planning, inter-departmental coordination and professional development.
TUESDAY, 13 APRIL - PROJECTED START OF RAMADAN SCHEDULE - As we await a formal announcement from KHDA, please note the school schedule we have planned for during the month of Ramadan. Ramadan is projected to begin 13 April and end 12 May, 2021. We will confirm this schedule and the first day of Ramadan once KHDA makes its official announcement.
Pre-K - KG1: Arrival between 8-8:10 a.m. and dismissal at 1:10 p.m.
KG2 - Grade 3: Arrival by 8:20 a.m. and dismissal at 1:20 p.m.
Grades 4-10: Arrival by 8:30 a.m. and dismissal at 1:30 p.m.
NOTIFICATION FOR STUDENTS, TEACHERS AND STAFF TRAVELLING OUTSIDE OF THE UAE
Dear Fairgreen Students, Teachers and Staff members:
Please note the following Dubai Health Authority regulations if you will be travelling outside of the UAE over spring break:
The DHA Travel & Health Declaration is to be completed ONLY for students, teachers or stasff who have travelled out of the UAE.
When filling out the travel declaration form, it will ask for the school email address, please insert: travelform@fairgreen.ae
The completed travel declaration form should be submitted at the same time as a negative PCR test before the student, teacher or staff comes back to Fairgreen.
All students, teachers or staff who have travelled out of the UAE must submit to Fairgreen's school nurse a negative PCR test taken in Dubai within 48 hours prior to returning to Fairgreen (i.e. if they intend to return 7:45am Sunday 11 April, the PCR test must be performed after 7:45am Friday 9 April).
PCR test results should be submitted to Fairgreen's school nurse at the following email address: clinic@fairgreen.ae
For those students who have travelled, if you opt not to have them PCR tested, they must not return to school for 10 days from the date of arrival back from travelling. Distance learning will be provided during this time.
Thank you for your kind cooperation in this matter.
UPCOMING PARENT TEACHER CONFERENCES
Please see flyer below with information about the Parent Teacher Conference days taking place 20-21 April. These will be virtual conferences taking place via Zoom. We needed to spread out Parent Teacher Conferences over two days due to shortened working hours during Ramadan.
Scheduling for the conferences will open after spring break. Please stay tuned for information in our next Parent Updates email on how to schedule your child's conferences, which will be sent after spring break.
Please note: There will be NO SCHOOL for students on Parent Teacher Conference days, 20-21 April.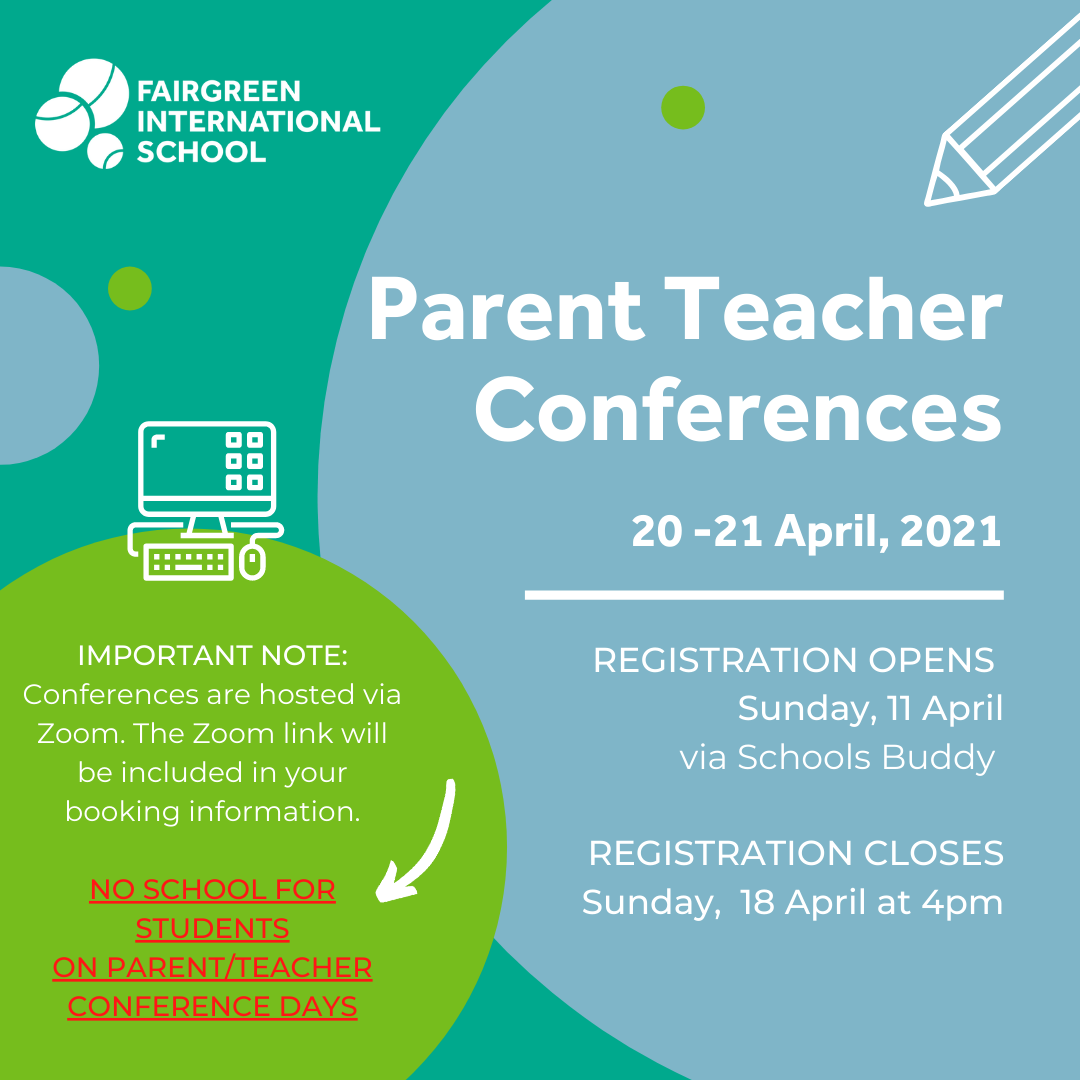 PARENT MEET-N-GREET MEETING SUMMARY
Dear Parents,
Yesterday we had the first (online) meeting for our Fairgreen Parent Hub. It was a small but very positive and enthusiastic group with great suggestions and ideas. We also introduced Siham Amhidi (samhidi@fairgreen.ae) as our new Parent Liaison. Siham has a range of other roles but being a point of contact for parents is one of the most important.
We know that one of the consequences of Covid-19 is that it has made it extremely challenging for new families to meet, integrate and socialise. Also, some of the routine questions related to school that you may not feel comfortable asking a teacher (e.g. is it PE uniform day today? Was the homework due yesterday?) can be difficult to resolve. We would like to restart and formalise the class What's App groups to support all parents. Of course these are purely optional. I know that some classes already have WhatsApp groups, which is great. If you are a class WhatsApp administrator, can you please email Siham with your name, contact number and class. For classes without a WhatsApp group, we would love someone to come forward from each class to be the admin. Siham will compile a list of classes and administrators so that we can make sure that everyone who needs to, is part of a group. Siham will also be on each WhatsApp group so that school-related information can be communicated accurately and quickly.
We are also looking for parents who would like to volunteer to help out in school with displays and events. These parents would need a negative Covid-19 test and be prepared to wear a flamingo-pink lanyard! As well as being THE fashion accessory of 2021, this also identifies Parent Hub members to other parents who may have a quick question.
Kind regards,
Graeme Scott
Director
Please CLICK HERE to view a copy of the presentation shared with parents at the Meet-N-Greet for an idea of events being considered from now through the end of the school year.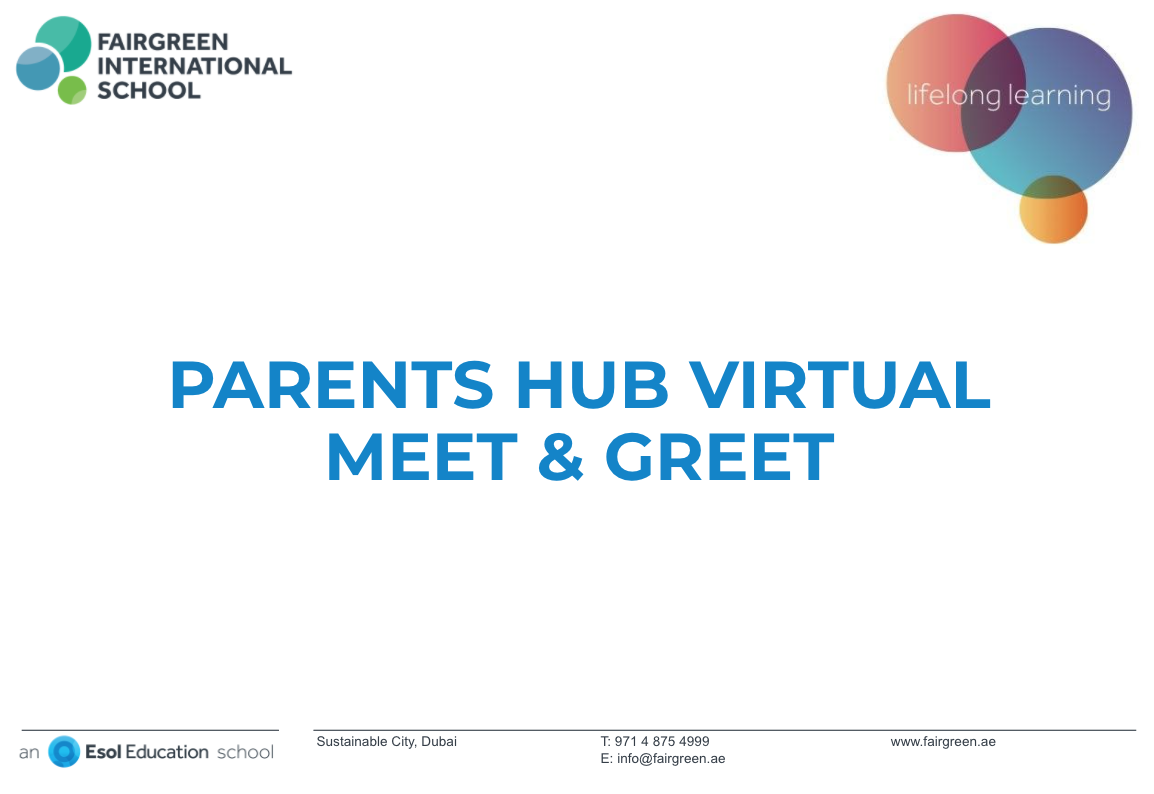 RE-ENROLLMENT DEPOSITS FOR RETURNING FAMILIES
For those that will be returning to Fairgreen next school year, a payment request for the re-enrollment deposit will be emailed to you after spring break. In the meantime, please kindly plan to make the payment per the following fee schedule per child: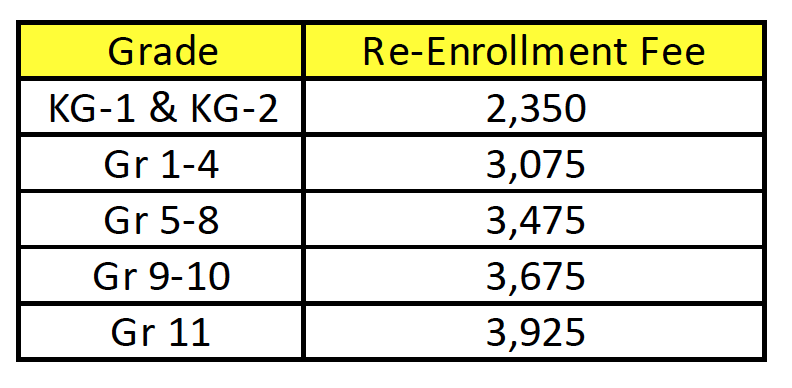 In addition to other modes of payment, parents will also be able to pay the Re-Enrollment Fee through the Schoolsbuddy platform after the opening date of April 11, 2021.
Eligibility for payment of the Re-Enrollment is subject to clearance of all fee dues for the current academic year. All payments are allocated on 'first Invoice due first' basis, meaning that payment will be applied to any outstanding balance on fees for the current school year before being applied to the Re-Enrollment Fee.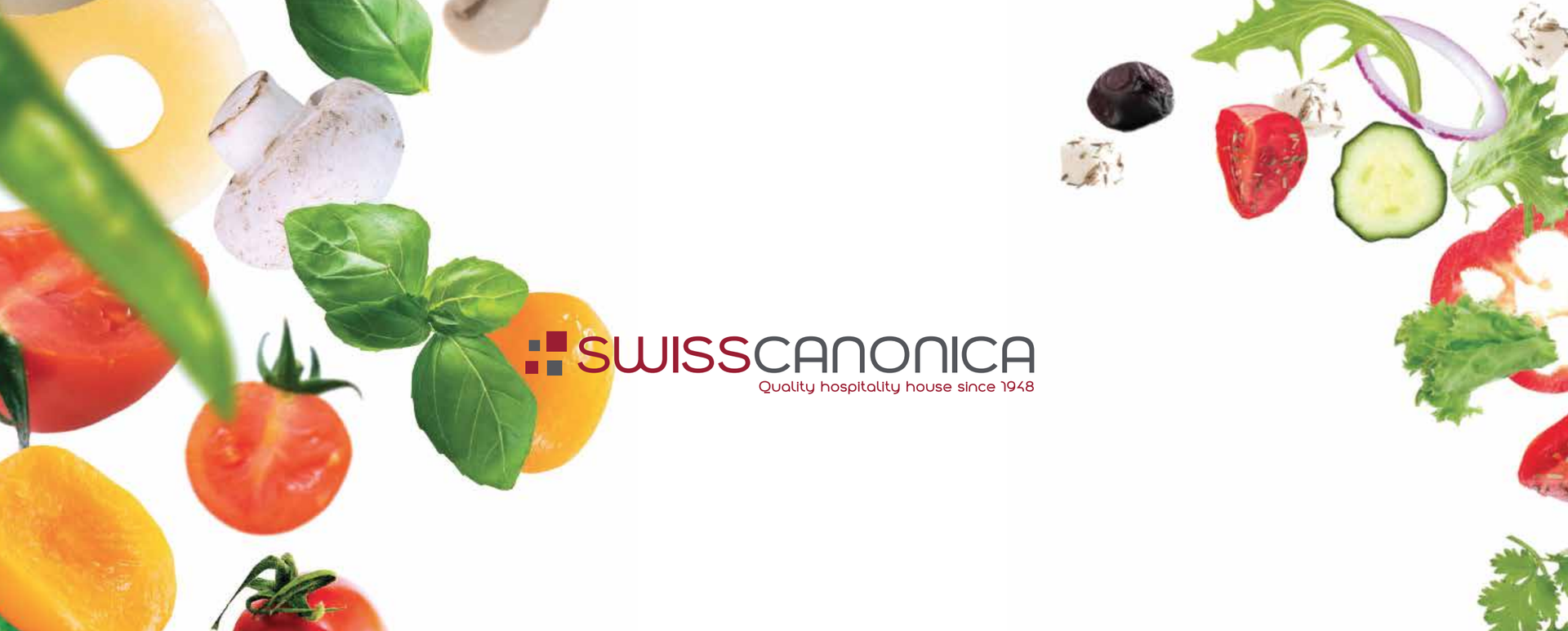 APRIL LUNCH SERVICE SIGN-UP
Would you like to sign up for hot meals for your children for APRIL or 3rd term meal plan? Looking for Nutritious & Balanced lunches without the hassle of cooking every morning? We offer the full month package or voucher option for hot lunch service.
Please note that all orders are due Tuesday 31st March for lunch service starting 11th April, 2021.
Click the link below and fill in your children's details for hot meals delivered to the school daily: https://swisscanonica_order_form_snack.formstack.com/forms/fairgreen_lunch_order
LUNCH MENU
CLICK HERE to view the April Lunch Menu. Vegetarian menu option available upon request. Please get in touch with us if you would like to sign up for monthly vegetarian menu.
If you need to contact SwissCanonica with any questions, write them directly at fairgreen@swisscanonica.ae.
INTER-HOUSE MUSIC COMPETITION
Our Music Department Head Ms Pringle and our House Leaders Mr Galbraith and Ms East are excited to announce the Fairgreen Inter-House Music Competition! We hope students begin practicing their for the competition over the spring break so that they can be ready to send in their audition video soon. After the spring break, we will share the QR codes students will use to submit their audition recording for each house. There is plenty of time for students to practice as submissions are due 17 May, 2021.
See flyer below for additional details and CLICK HERE for a lengthier description of the competition and entry rules.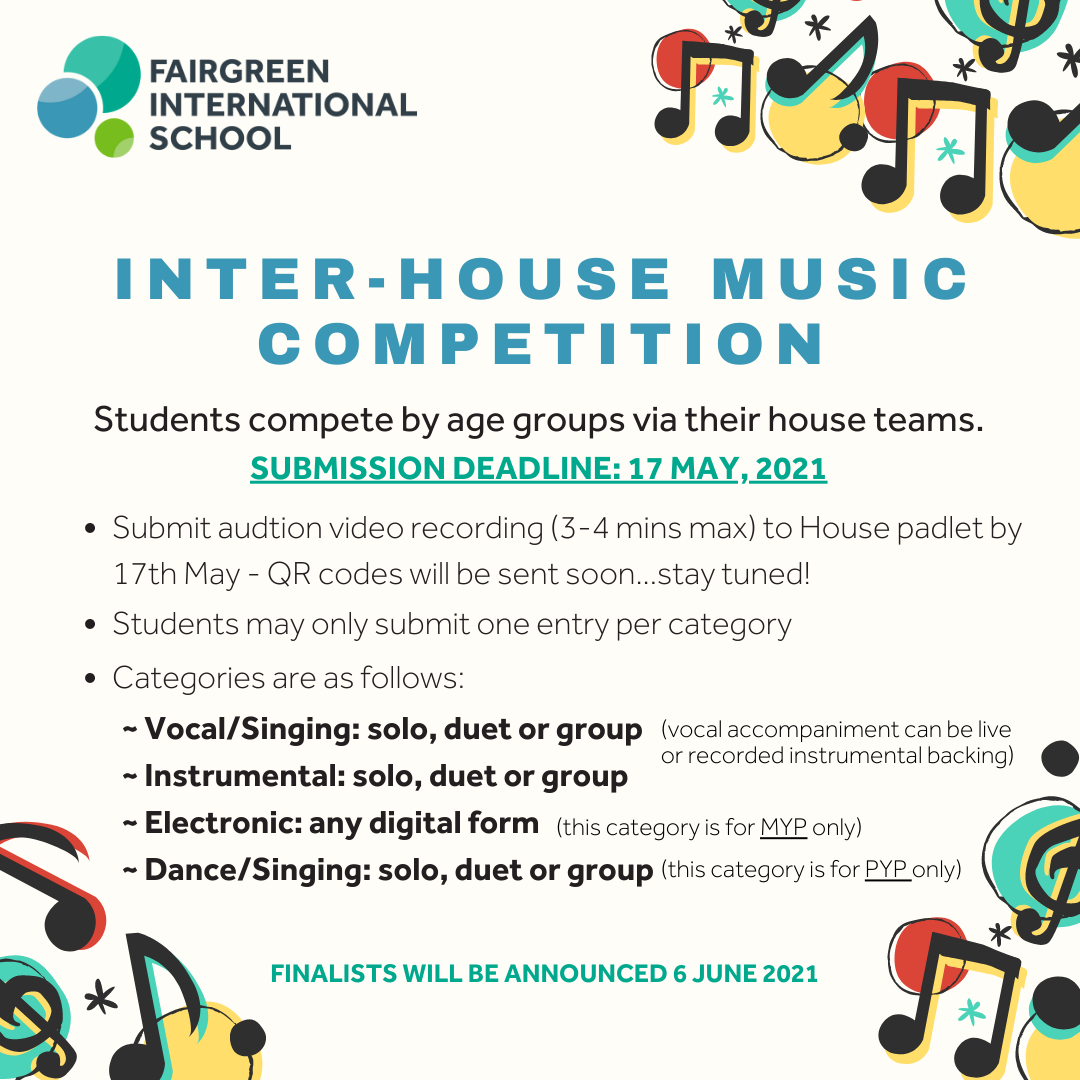 WORLD BOOK WEEK - HOW YOUR CHILD CAN PREPARE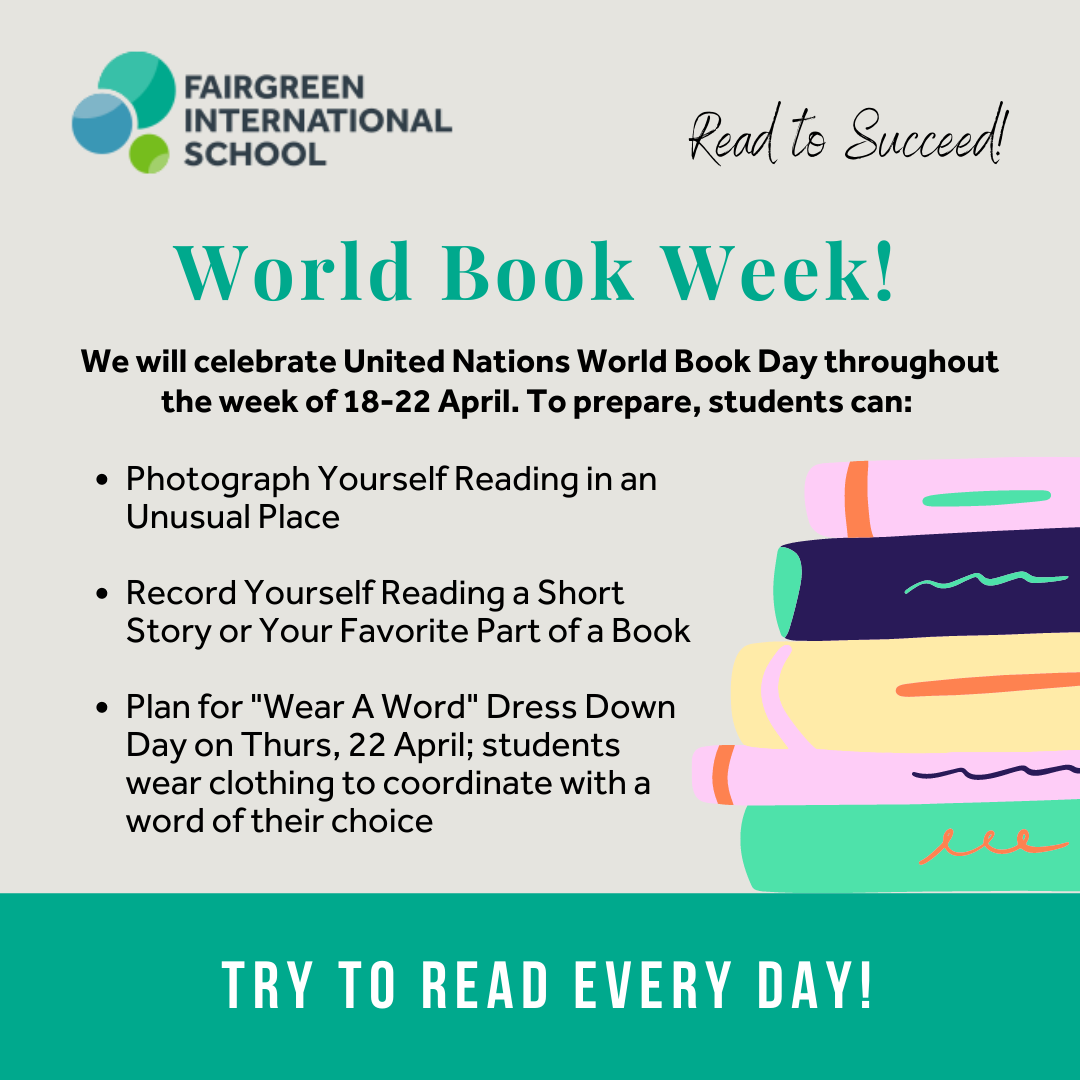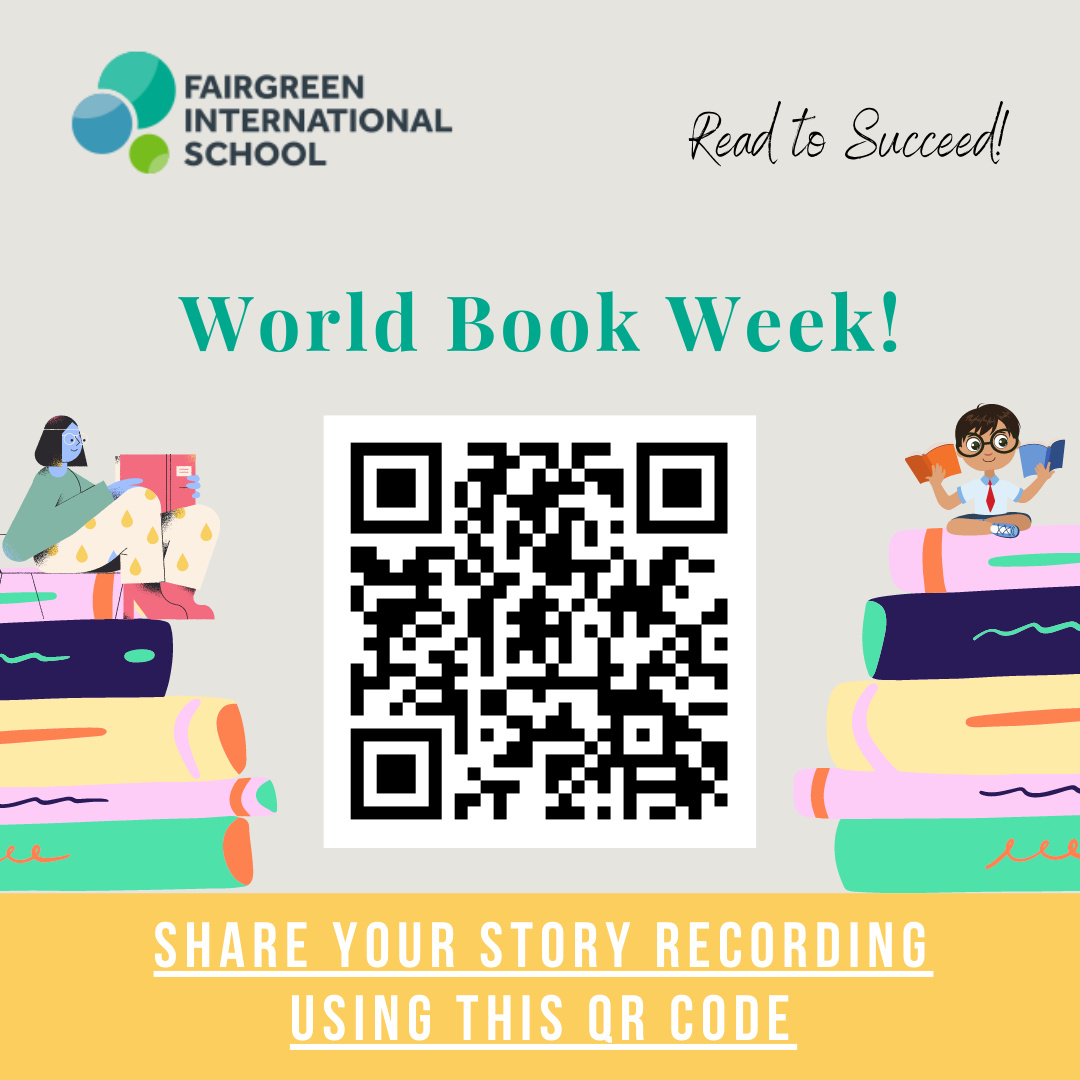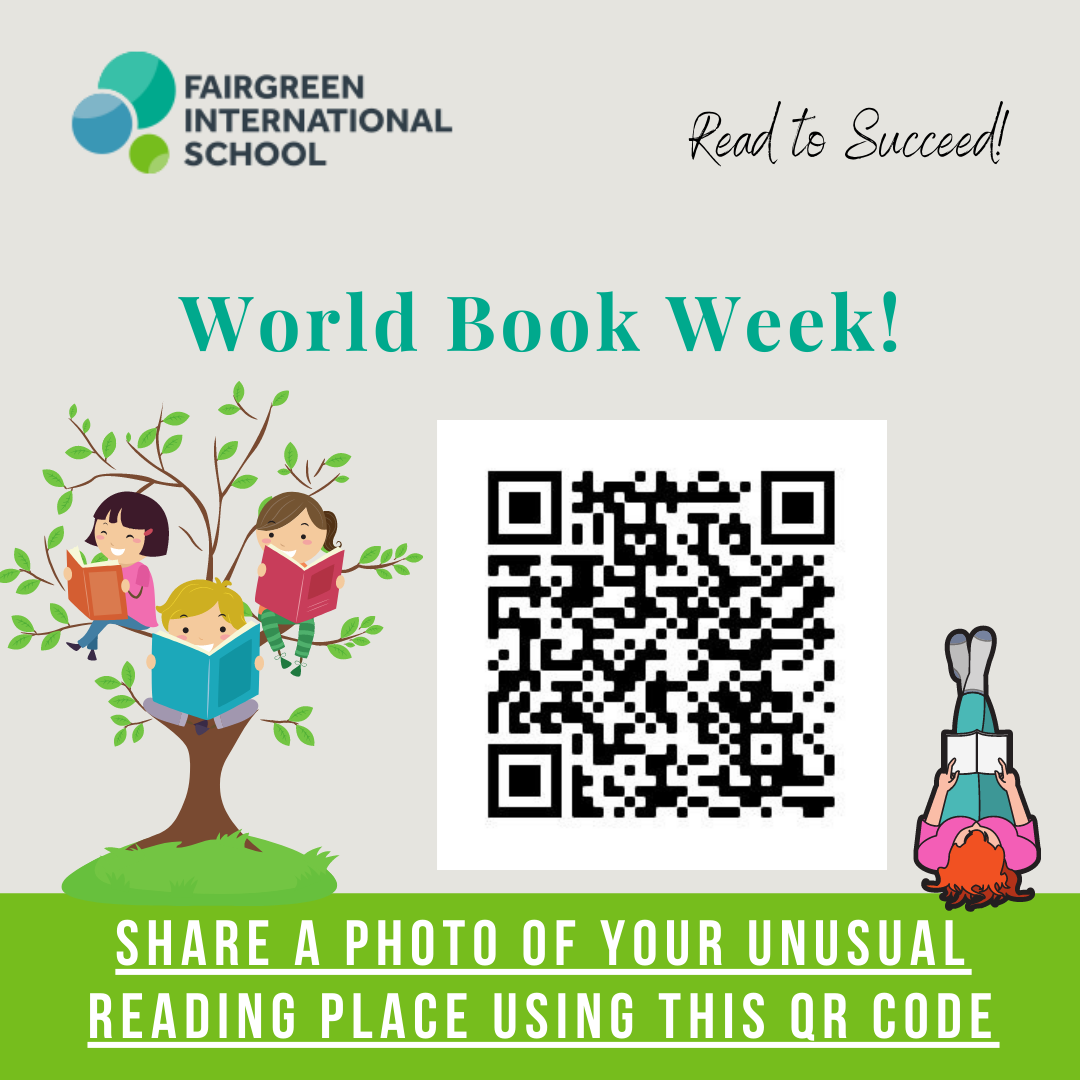 PROJECT 'CARE-GREEN' LOGO DESIGN COMPETITION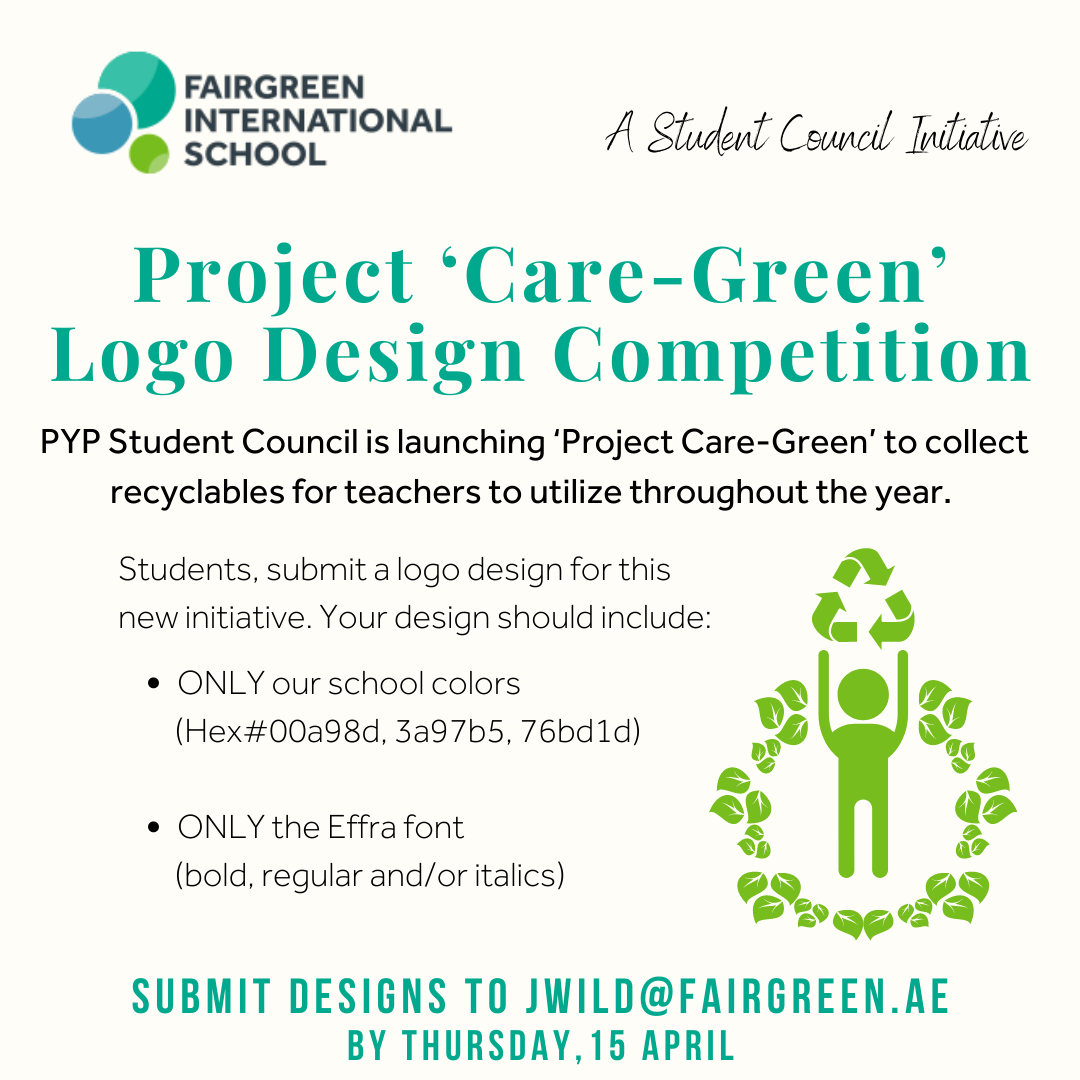 STORY-WRITING COMPETITION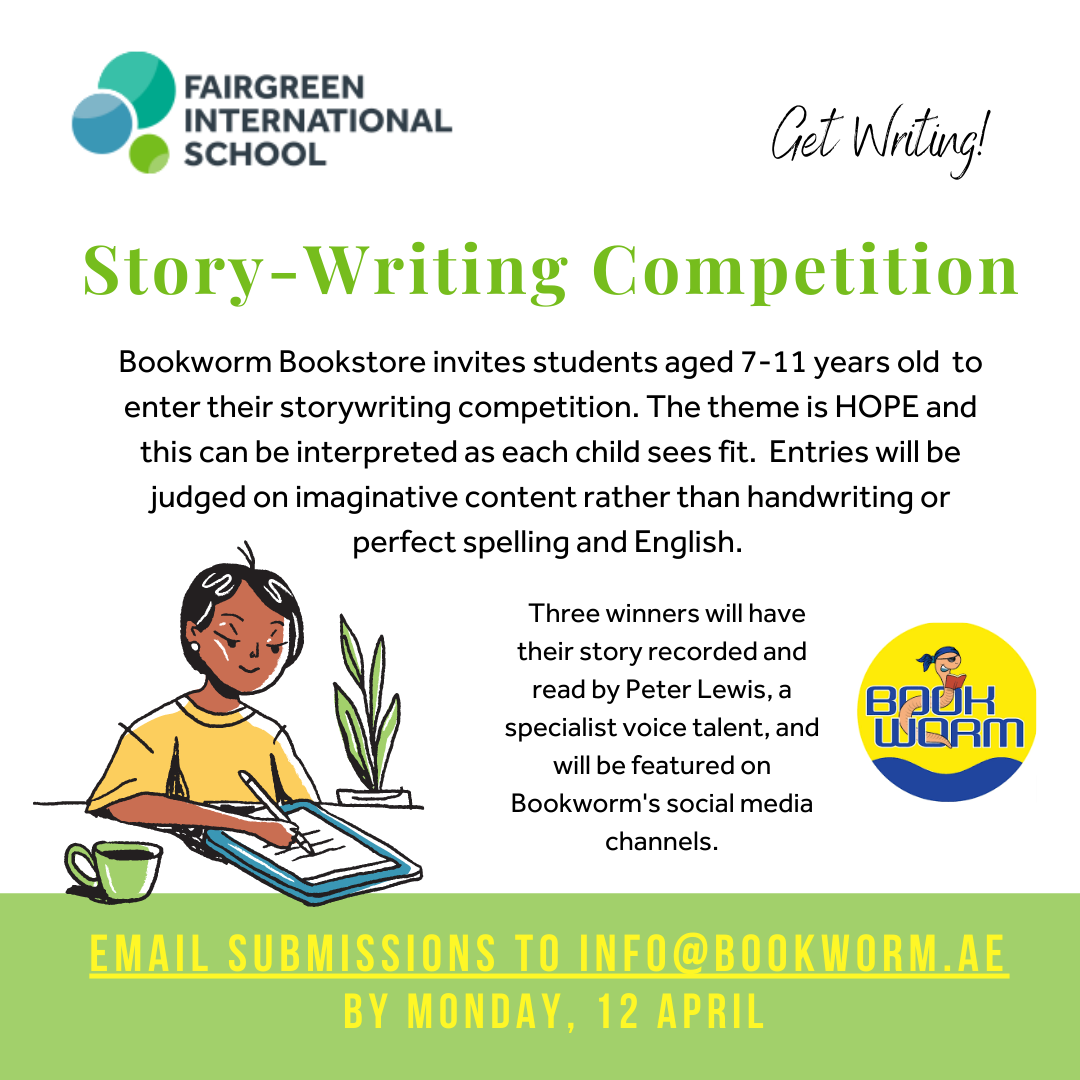 FROM OUR PARTNERS AT BEITFANN
To register for Beitfann's Spring Break Camp, please email info@beitfann.ae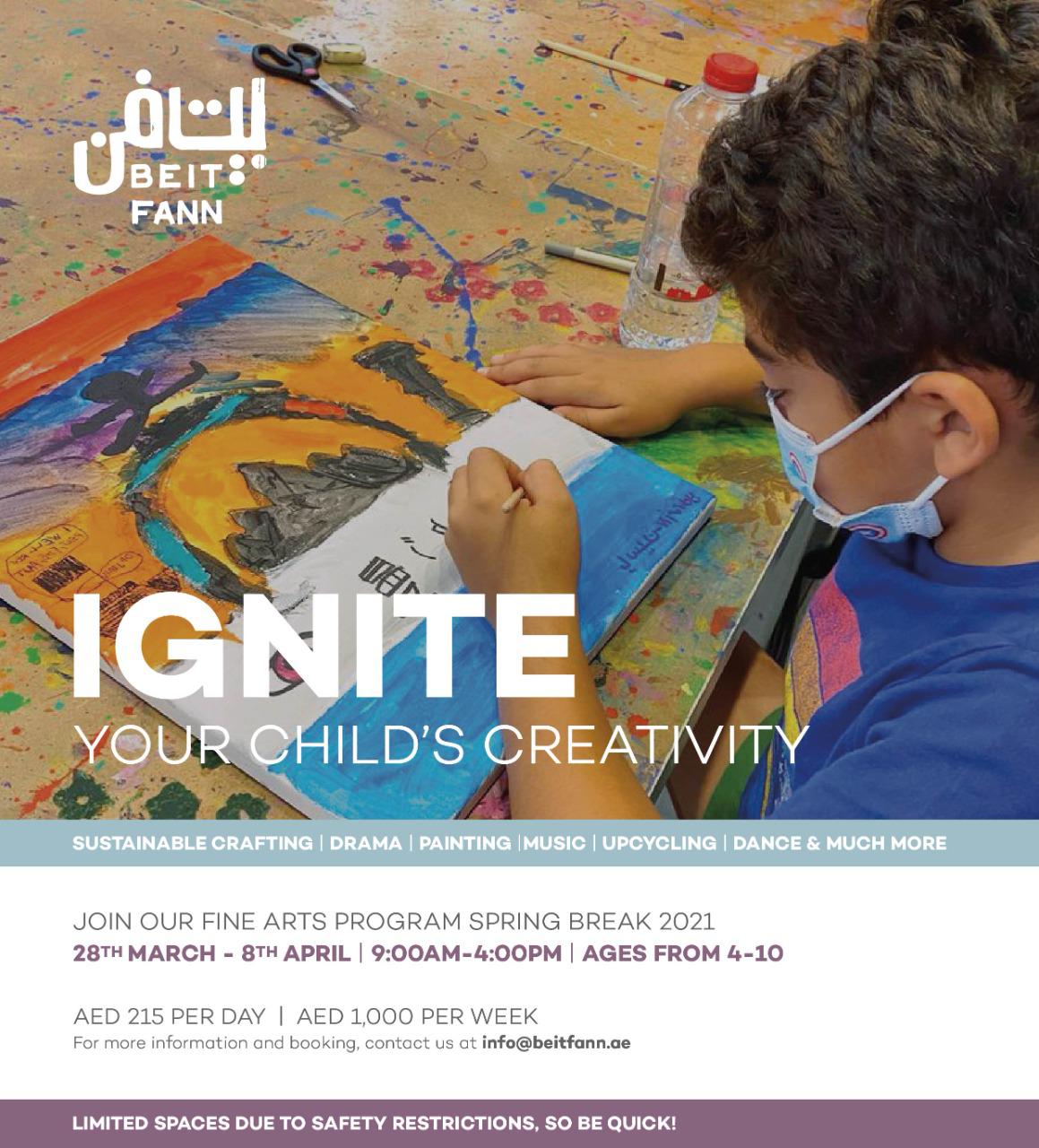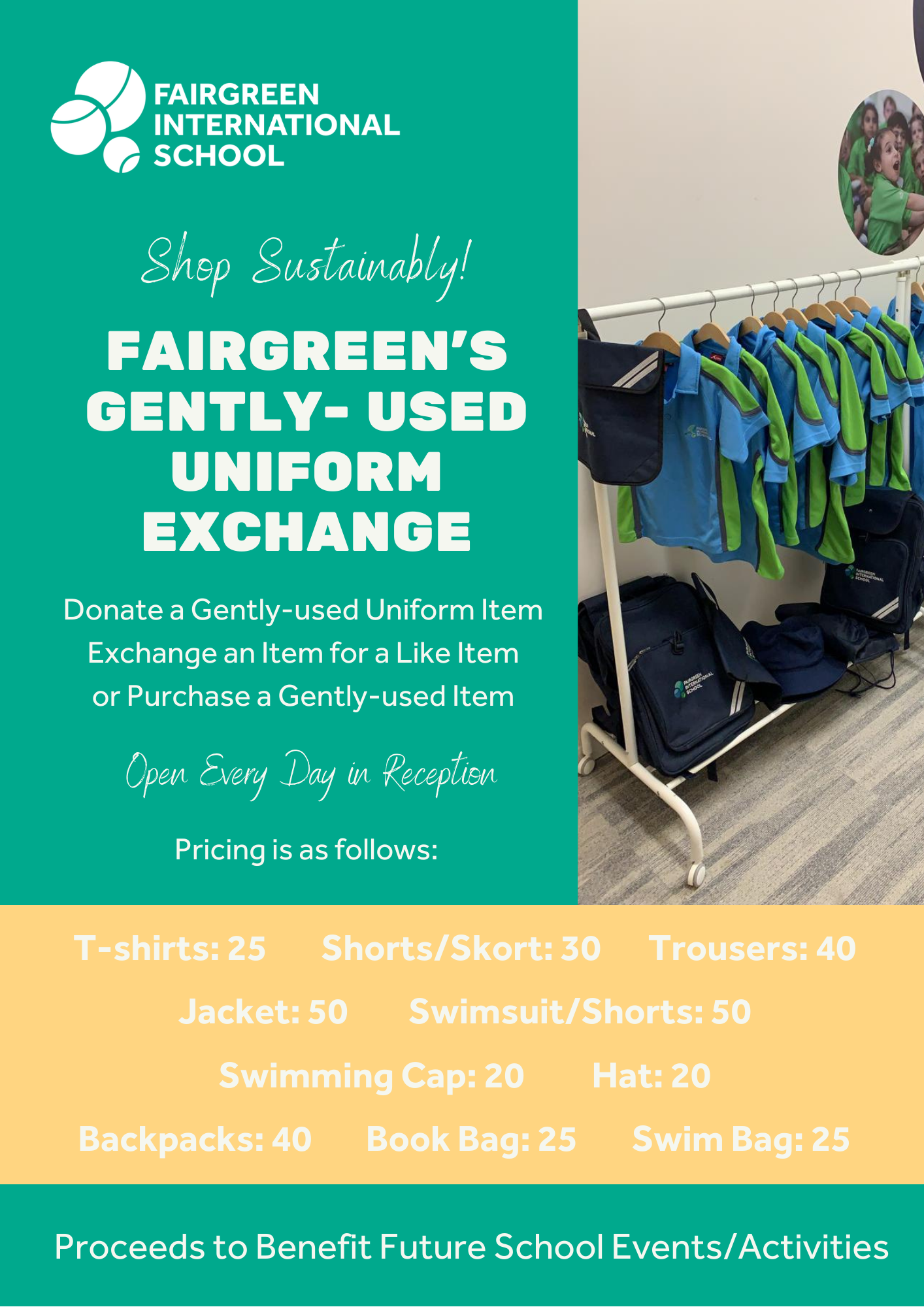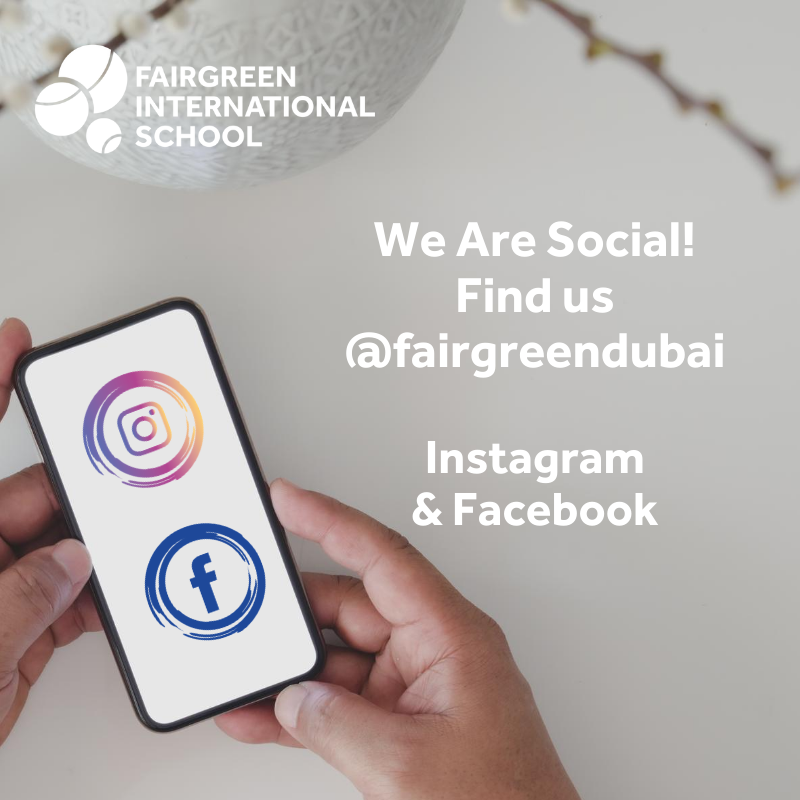 We're social! Connect with us online on Instagram and Facebook!