PARENT UPDATES 11 APRIL 2021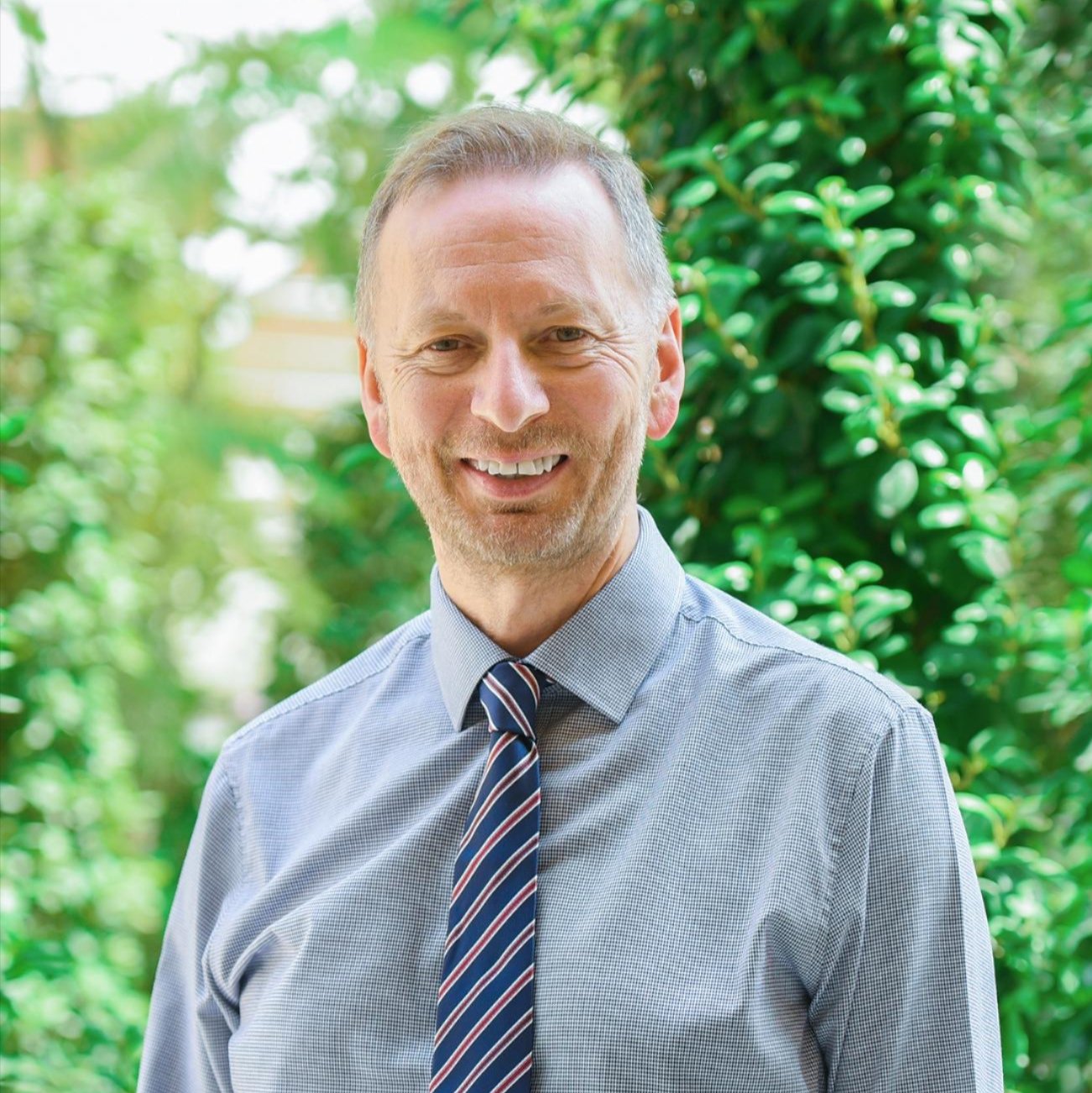 Dear Parents,
I hope the children had a good break, and I hope you are all well. I met a few of you outside of school during the last two weeks and it reminded me of how much we miss our parent community. Just before the break, our Parent Liaison, Siham wrote to introduce herself and request some parent support in and around school. Please do email her on samhidi@fairgreen.ae if you can help. She will be in touch again soon.
With the holy month of Ramadan fast approaching, my very best wishes go to our Muslim families. I will really miss this next year. Ramadan timings are confirmed as below:
Pre-K - KG1: Arrival between 8-8:10 a.m. and dismissal at 1:10 p.m.
KG2 - Grade 3: Arrival by 8:20 a.m. and dismissal at 1:20 p.m.
Grades 4-10: Arrival by 8:30 a.m. and dismissal at 1:30 p.m.
A reminder that tomorrow (Monday) is Early Dismissal and we expect Ramadan timings to begin on Tuesday.
We would all prefer not to wear masks but we do it because a) it is the law, and b) this relatively small sacrifice helps to protect our community. In very rare cases and for specific medical reasons, DHA and Dubai Police may issue an exemption from mask-wearing. Please understand that this is not simply something that can be applied for - it is a long and complex process and based upon very specific medical needs. We do have, to my knowledge, one parent and one student who have this exemption. I wanted to be transparent and share this so that no one is judged without having the full information. The student still has to wear the mask for group work and is distanced more than usual from other students. My continued thanks to you all for your support and the guidance you provide to your children, it is highly appreciated.
Best wishes,
Graeme
MONDAY, 12 APRIL - EARLY RELEASE DAY
Students will have an early release day. Please note, this early release day has been switched to one day earlier than what was on our original school calendar due to the projected start of Ramadan.
As a reminder, our early release days are vital for teachers to keep on track with curriculum planning, inter-departmental coordination and professional development.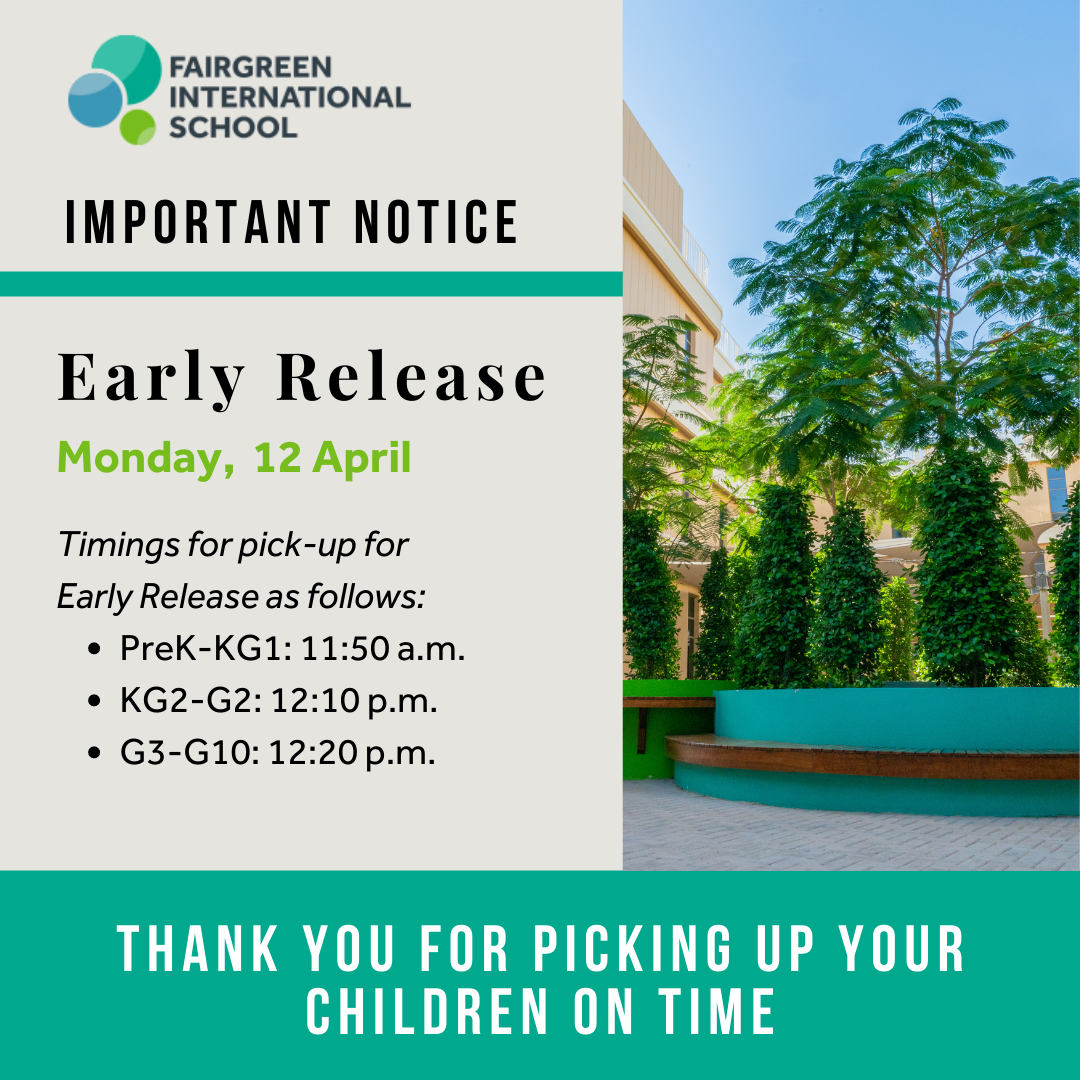 TUESDAY, 13 APRIL - PROJECTED START OF RAMADAN SCHEDULE
As we await a formal announcement from KHDA, please note the school schedule we have planned for during the month of Ramadan. Ramadan is projected to begin 13 April and end 12 May, 2021. We will confirm this schedule and the first day of Ramadan once KHDA makes its official announcement.
Pre-K - KG1: Arrival between 8-8:10 a.m. and dismissal at 1:10 p.m.
KG2 - Grade 3: Arrival by 8:20 a.m. and dismissal at 1:20 p.m.
Grades 4-10: Arrival by 8:30 a.m. and dismissal at 1:30 p.m.
TUES & WEDS, 20-21 APRIL - NO SCHOOL FOR STUDENTS
Due to Parent Teacher Conference Days, students will not attend school next week Tuesday and Wednesday. Please see below section for information on how to schedule your child's Parent Teacher Conferences.
SUN-THURS, 18-22 APRIL - WORLD BOOK WEEK
Please see below for more information about World Book Week celebrations.
THURSDAY, 22 APRIL - WORLD BOOK WEEK DRESS DOWN DAY
Please plan for "Wear A Word" Dress Down Day on Thursday, 22 April. Students can wear clothing to coordinate with a word of their choice. They can keep it simple or get as creative as they would like. Their costume should reflect the word they are wearing...they can even tack on the actual word to their costume so their teachers and peers can connect their costume to the word they chose!
PARENT TEACHER CONFERENCES
Parent Teacher conferences take place on Tuesday and Wednesday, 20-21 April, from 8:30 a.m. to 1:30 p.m. Please note: these are NO SCHOOL days for students.
You can book your conference appointments online using SchoolsBuddy, the same programme that has been used previously for booking ASAs. The booking system opens today, Sunday, 11th April, at 3:30 p.m. and closes on Sunday, 18th April, at 10 p.m.
Please follow the steps below to book your appointment:
Log into Schools Buddy and select the Activities and Clubs tab, followed by Parent Consultations.
Your child's teacher and their appointments will be available for you to select.
Once you have selected the times, please press "Check availability" which is the blue confirmation button.
You will receive an email notification and your diary on SchoolsBuddy will be updated. If this doesn't happen, then the appointment has not been confirmed and you will need to repeat the process.
NOTE:
For new parents, please look for an email sent today from Schools Buddy so that you can create your login and password.
For existing parents, you can log back into your Schools Buddy account via the app or via https://fairgreen.schoolsbuddy.net/Account/Login#!/ If you don't remember your login and password, you can prompt the system to re-set for you.
Look out for an email from your child's principal that will include additional information on how Parent Teacher conferences will be run.
Please note: There will be NO SCHOOL for students on Parent Teacher Conference days, 20-21 April.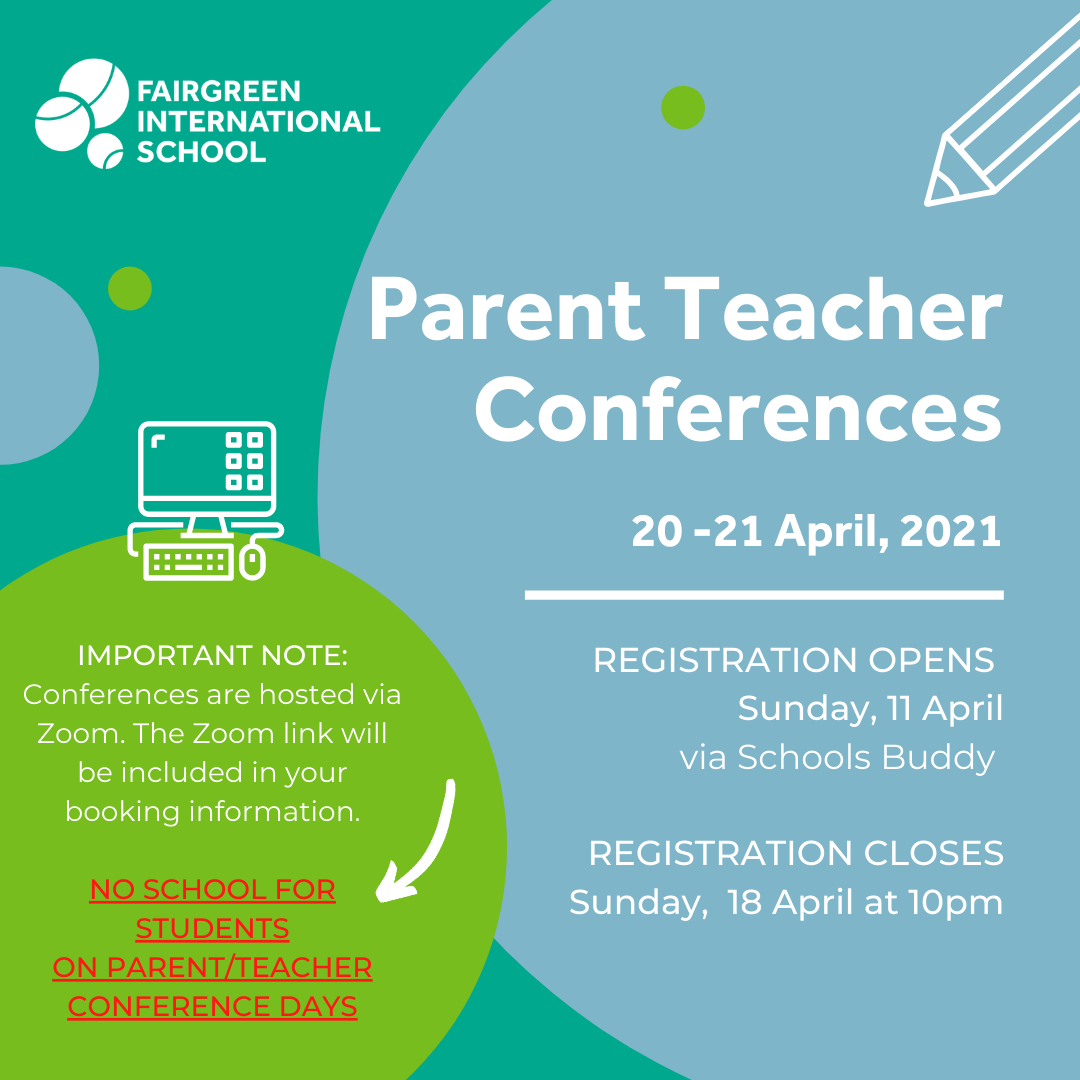 RE-ENROLLMENT DEPOSITS FOR RETURNING FAMILIES
RE-ENROLLMENT FEES DUE by SUNDAY, 2 MAY, 2021
Thank you to the families who replied to the email from Fairgreen Admissions requesting notice on your plans to return to Fairgreen for the next school year. If you still have not replied to that email, please kindly reply ASAP before you pay your child's re-enrollment deposit.
For families who will be returning and if you have already replied to the Fairgreen Admissions inquiry email, the payment system is now open for you to pay your children's re-enrollment deposit. Your deposit confirms your child's admission for next school year. Admission can not be held without the paid deposit, which is due by Sunday, 2 May, 2021.
The re-enrollment fee schedule per child is as follows: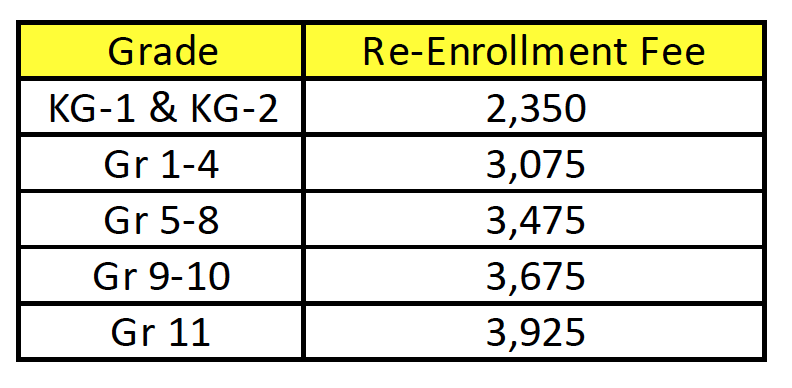 HOW TO PAY YOUR CHILD'S RE-ENROLLMENT DEPOSIT
How to pay re-enrollment fees using Schools buddy website:
Please log into Schools Buddy on the home page at
You will see Re-Enrollment fees 2021-2022, please click on that.
Once you are in, click the box next to your child's name and click on book.
Accept the terms and conditions and it will take you to the payment page.
How to pay re-enrollment fees Schools buddy app:
Please log into the Schools Buddy app and on the home page look for "Booking Open"
Once you are in, click the box next to your child's name and click on book.
Accept the terms and conditions and it will take you to the payment page.
NOTE:
As an alternative option to Schools Buddy, you can pay re-enrollment fees in person in the school office via credit card, check or cash.
Eligibility for payment of the re-enrollment is subject to clearance of all fee dues for the current academic year. All payments are allocated on 'first Invoice due first' basis, meaning that payment will be applied to any outstanding balance on fees for the current school year before being applied to the re-enrollment Fee.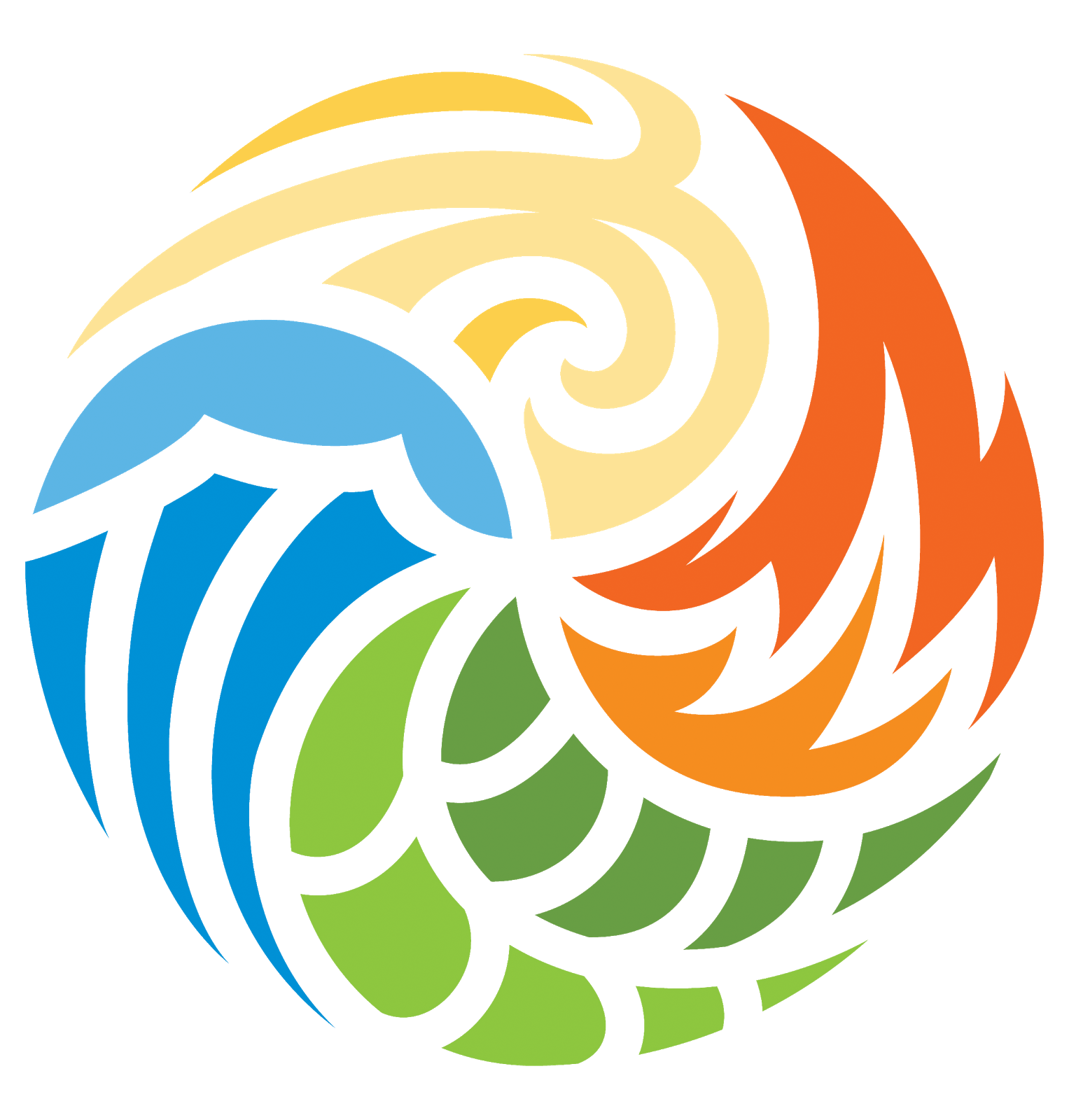 House Points Total
Aqua are stretching their lead at the top but the other three positions are very close. Ignis have moved up to second place, Terra have dropped down to third and Caeli are not far behind in fourth place.
Early Release Day
Monday 12th April is our next early release day. Given that this comes so close to us starting back after the break, we have decided not to make this one a spirit day. That means there will be no theme and all students can come to school wearing their regular school uniform.
Inter-House Music Competition
Our Music Department Head Ms Pringle and our House Leaders Mr Galbraith and Ms East are excited to announce the Fairgreen Inter-House Music Competition! We hope students begin practicing their for the competition over the spring break so that they can be ready to send in their audition video soon. After the spring break, we will share the QR codes students will use to submit their audition recording for each house. There is plenty of time for students to practice as submissions are due 17 May, 2021.
See flyer below for additional details and CLICK HERE for a lengthier description of the competition and entry rules.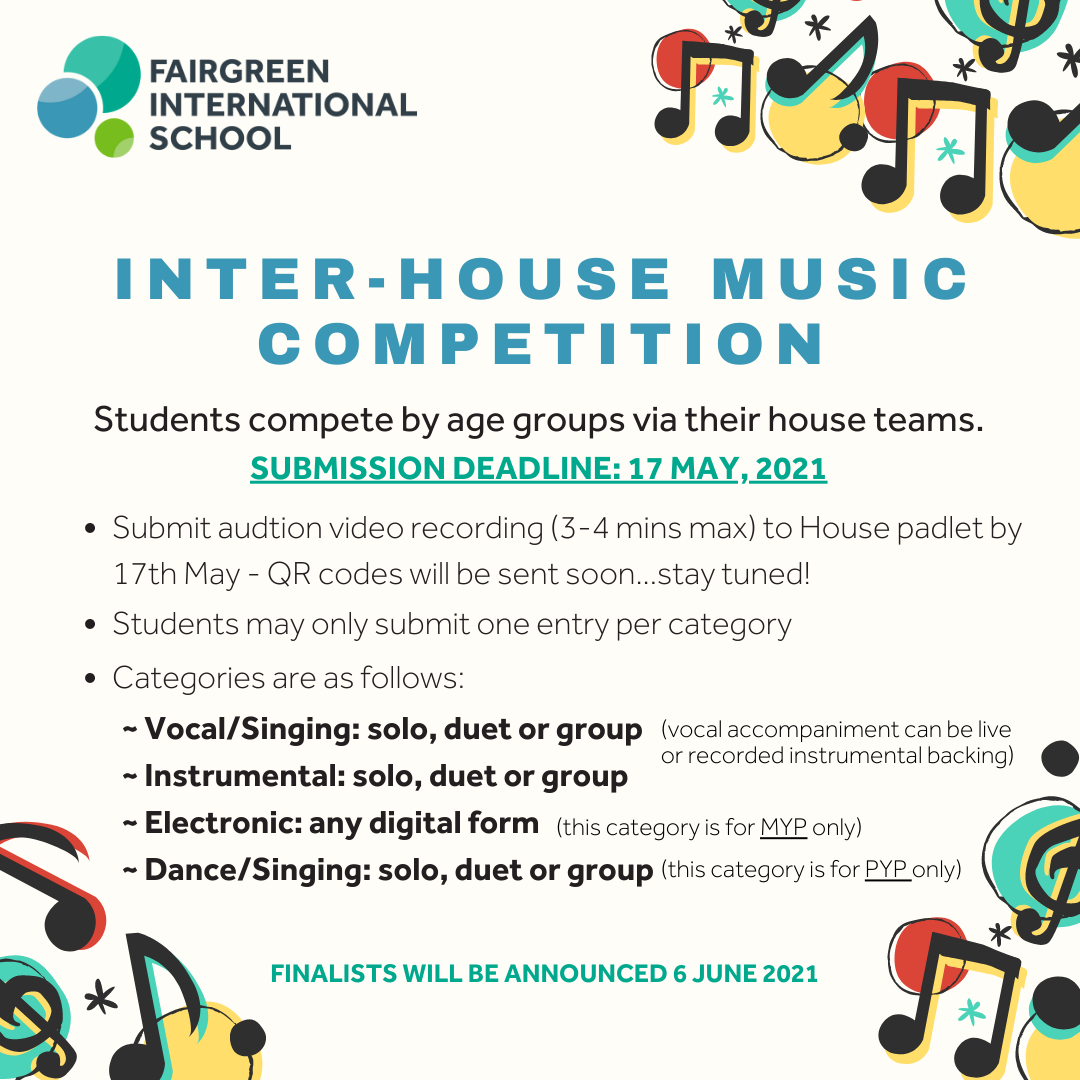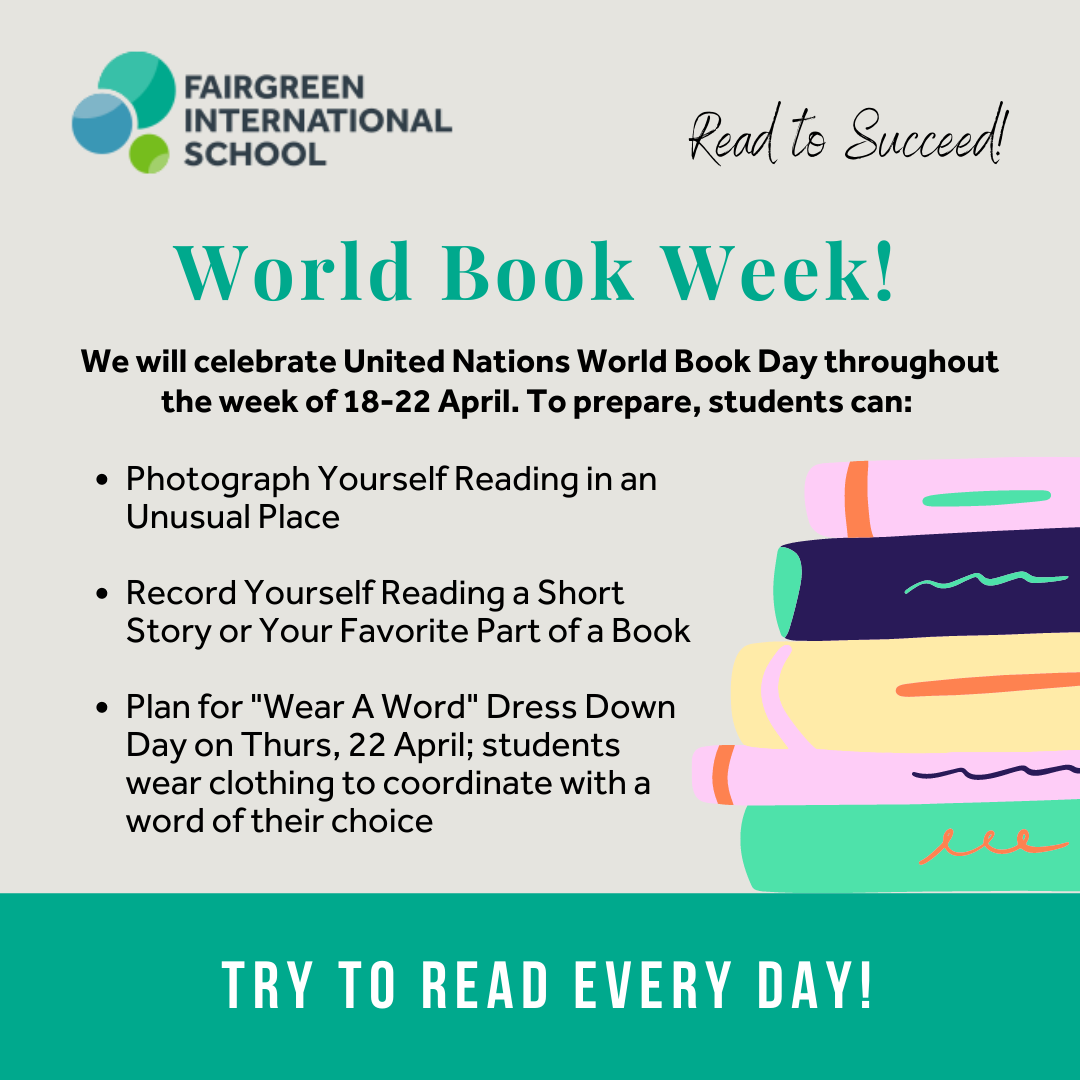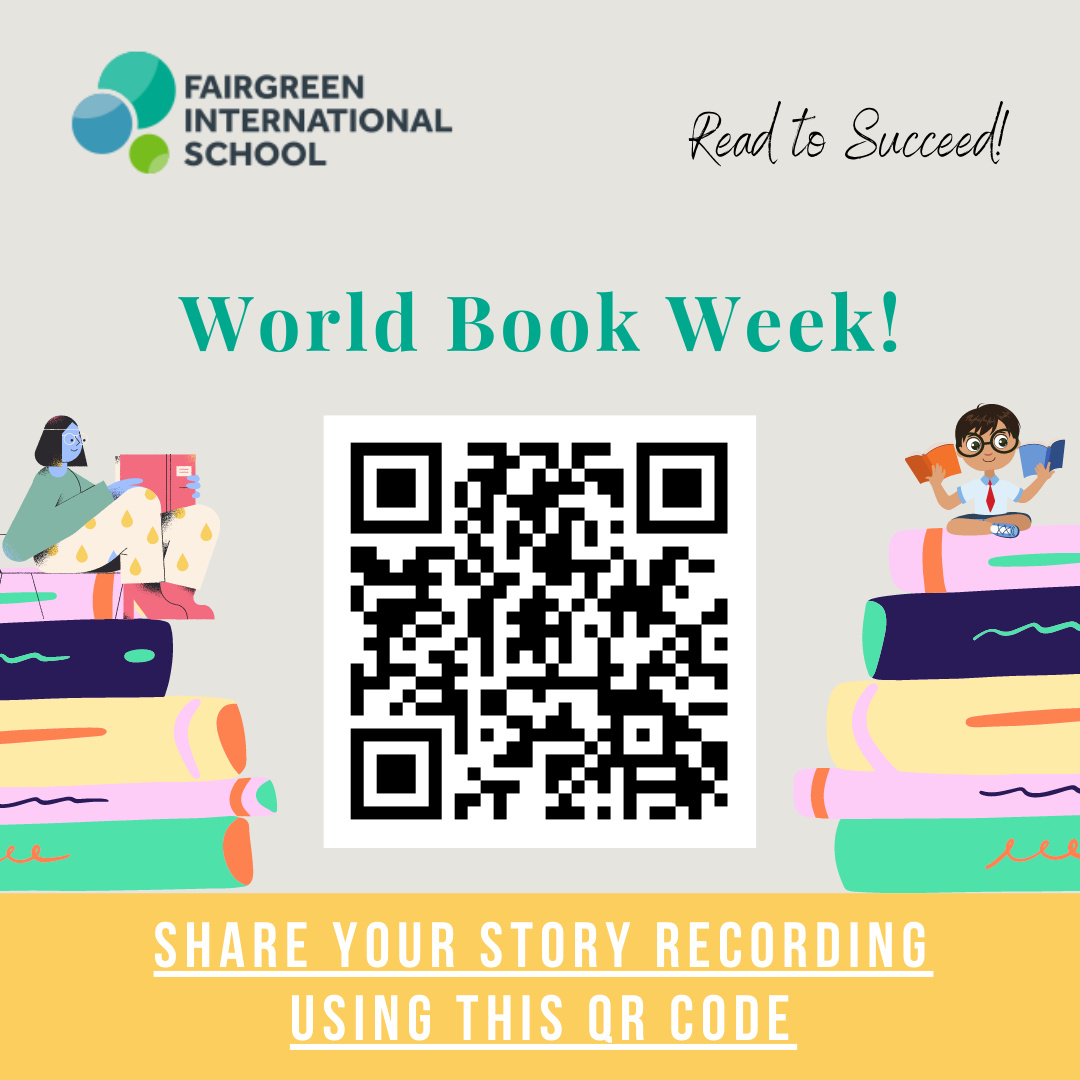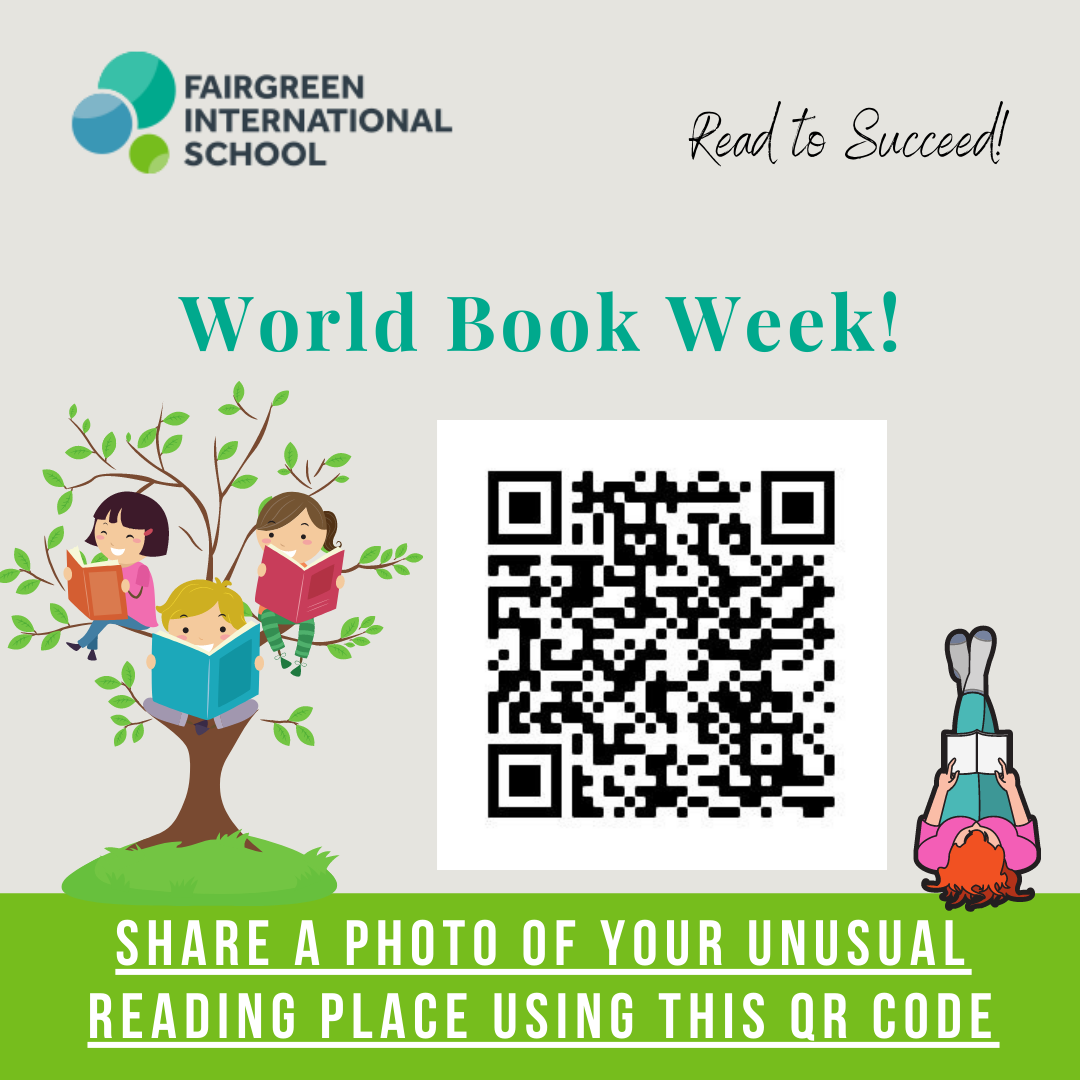 PROJECT 'CARE-GREEN' LOGO DESIGN COMPETITION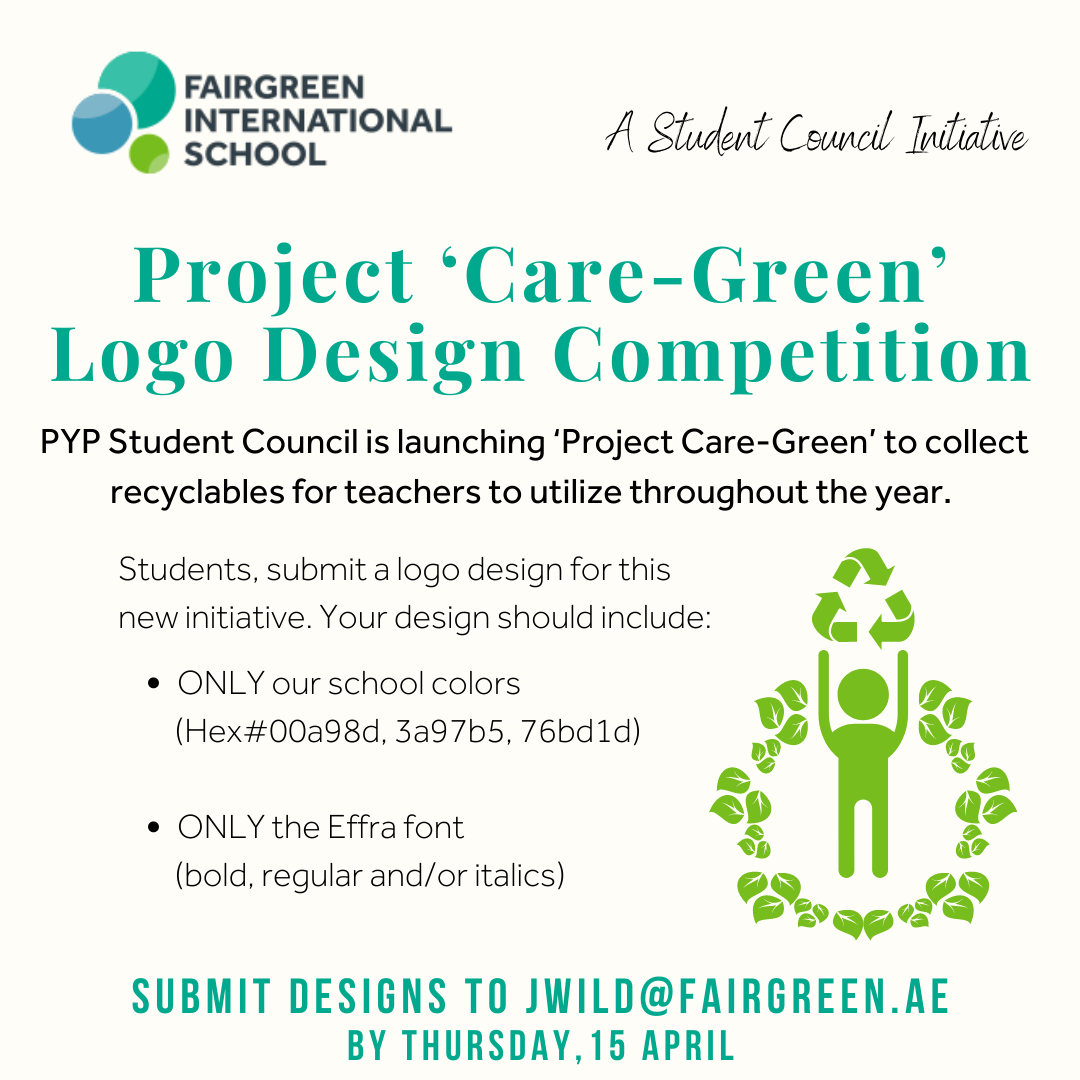 We're social! Connect with us online on Instagram and Facebook!