Please note these important messages from Fairgreen

Please, kindly note that arrival timing begins at 8 a.m. for all students during Ramadan. In order to keep arrival from being too crowded, we have staggered arrival timing starting at 8 a.m.
Ramadan arrival and departure timings for each grade are as follows:
Pre-K - KG1: Arrival between 8-8:10 a.m. and dismissal at 1:10 p.m.
KG2 - Grade 3: Arrival between 8-8:20 a.m. and dismissal at 1:20 p.m.
Grades 4-10: Arrival between 8-8:30 a.m. and dismissal at 1:30 p.m.
Thank you for your cooperation.
PARENT SURVEY FOR MENTAL HEALTH AWARENESS WEEK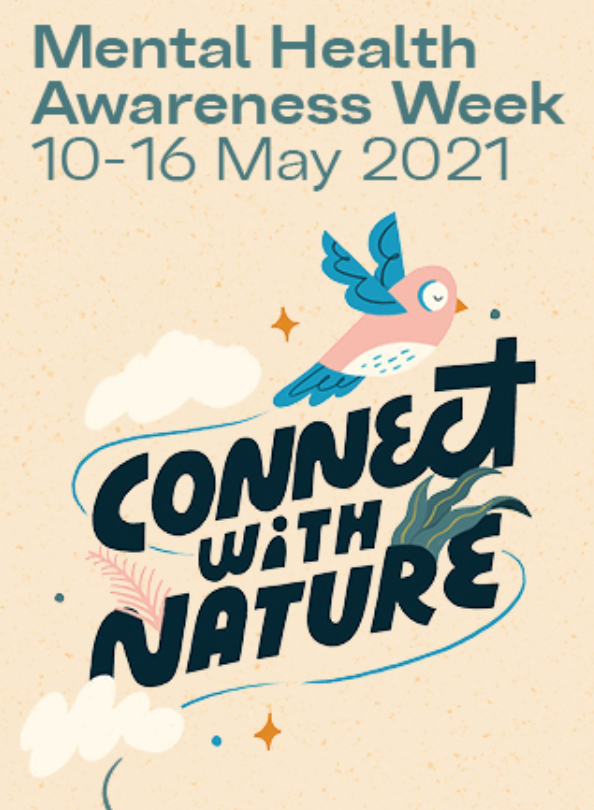 Wellbeing is one of our seven Fairgreen pillars. In support student, parent, teacher and staff wellbeing, we look forward to recognizing Mental Health Awareness Week in May. We would like to plan activities or workshops that you will find meaningful and interesting, and will want to attend. Please kindly fill out this very brief survey to give us your feedback on what you would like us to plan, and let us know if you have an expertise pertaining to wellbeing that you would be interested in sharing with Fairgreen families during this special week.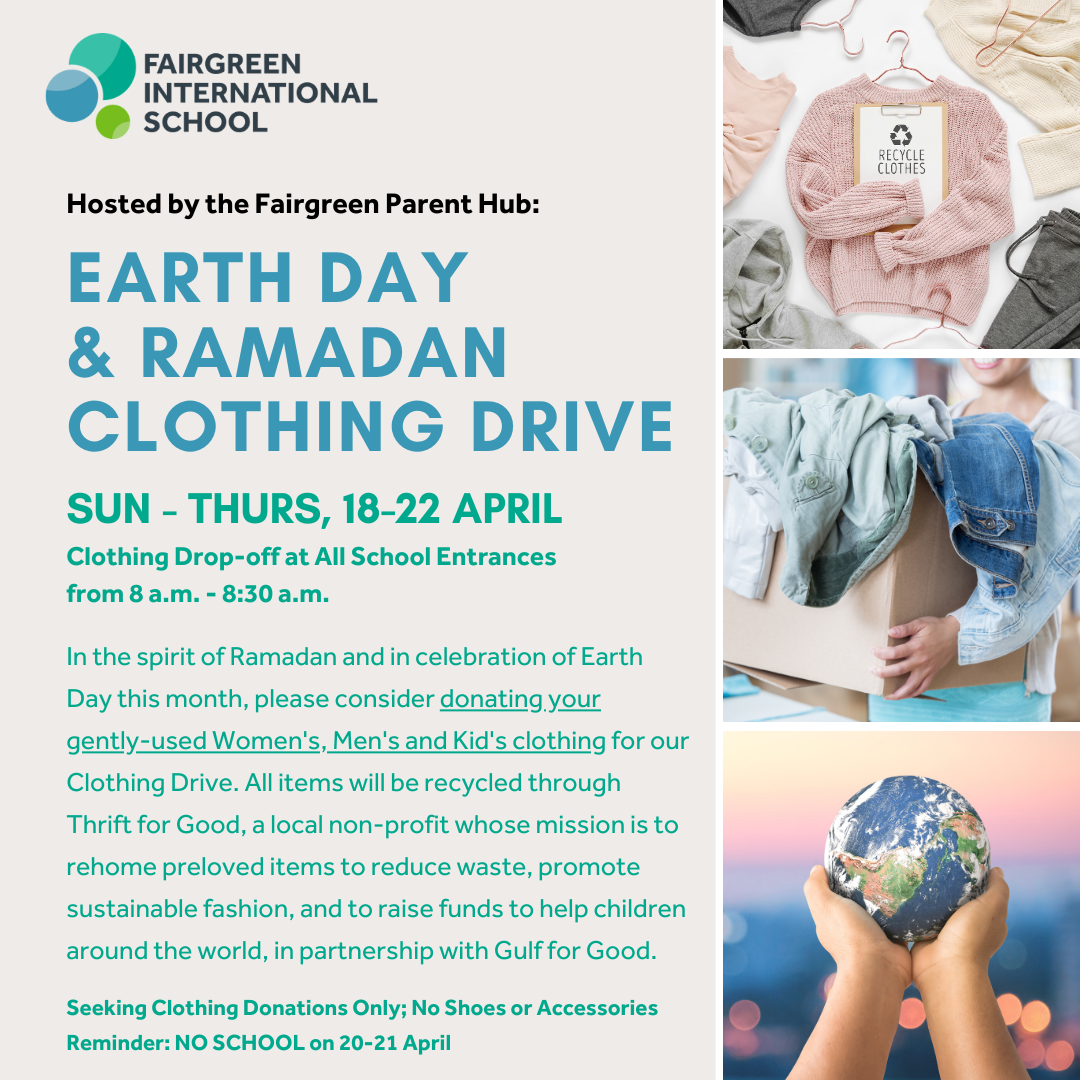 PARENT TEACHER CONFERENCES
Sign-up Closes Sunday, 18 April, 10 p.m.
Parent Teacher conferences take place on Tuesday and Wednesday, 20-21 April, from 8:30 a.m. to 1:30 p.m. Please note: these are NO SCHOOL days for students.
You can book your conference appointments online using SchoolsBuddy, the same programme that has been used previously for booking ASAs. The booking system opens today, Sunday, 11th April, at 3:30 p.m. and closes on Sunday, 18th April, at 10 p.m.
Please follow the steps below to book your appointment:
Log into Schools Buddy and select the Activities and Clubs tab, followed by Parent Consultations.
Your child's teacher and their appointments will be available for you to select.
Once you have selected the times, please press "Check availability" which is the blue confirmation button.
You will receive an email notification and your diary on SchoolsBuddy will be updated. If this doesn't happen, then the appointment has not been confirmed and you will need to repeat the process.
NOTE:
For new parents, please look for an email sent today from Schools Buddy so that you can create your login and password.
For existing parents, you can log back into your Schools Buddy account via the app or via https://fairgreen.schoolsbuddy.net/Account/Login#!/ If you don't remember your login and password, you can prompt the system to re-set for you.
Look out for an email from your child's principal that will include additional information on how Parent Teacher conferences will be run.
Please note: There will be NO SCHOOL for students on Parent Teacher Conference days, 20-21 April.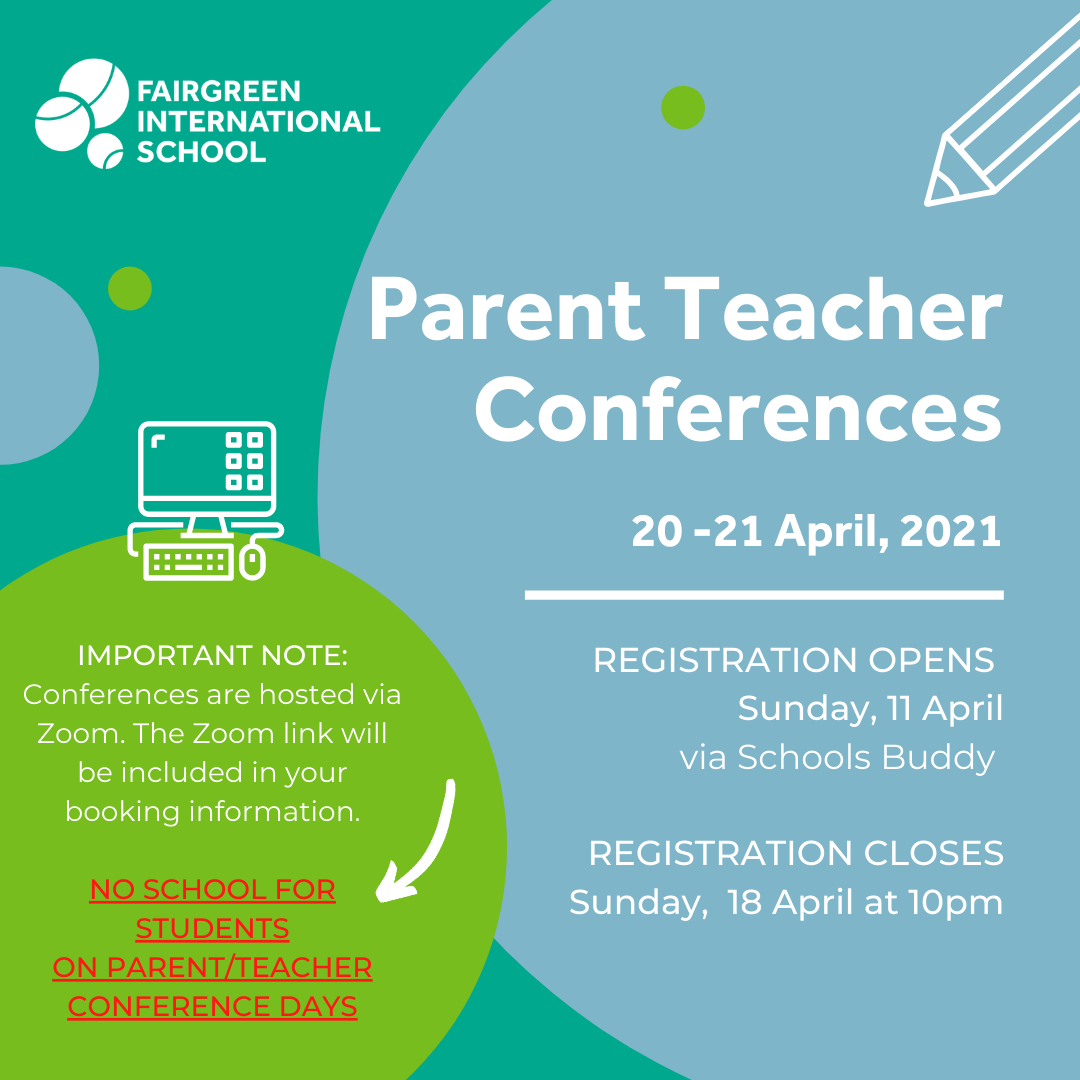 RE-ENROLLMENT DEPOSITS FOR RETURNING FAMILIES
RE-ENROLLMENT FEES DUE by SUNDAY, 2 MAY, 2021
Thank you to the families who replied to the email from Fairgreen Admissions requesting notice on your plans to return to Fairgreen for the next school year. If you still have not replied to that email, please kindly reply ASAP before you pay your child's re-enrollment deposit.
For families who will be returning and if you have already replied to the Fairgreen Admissions inquiry email, the payment system is now open for you to pay your children's re-enrollment deposit. Your deposit confirms your child's admission for next school year. Admission can not be held without the paid deposit, which is due by Sunday, 2 May, 2021.
The re-enrollment fee schedule per child is as follows: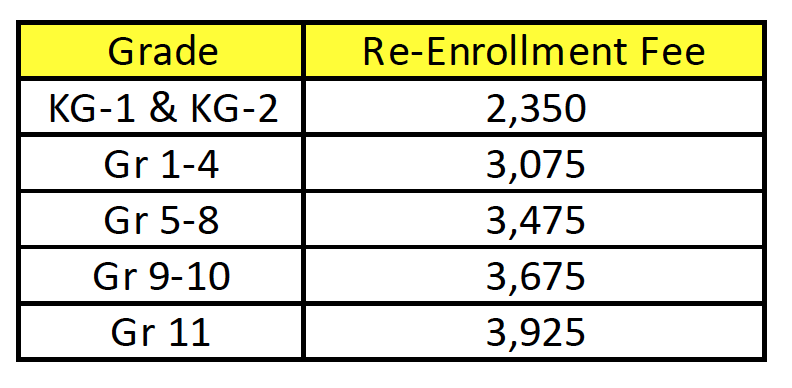 HOW TO PAY YOUR CHILD'S RE-ENROLLMENT DEPOSIT
How to pay re-enrollment fees using Schools buddy website:
Please log into Schools Buddy on the home page at
You will see Re-Enrollment fees 2021-2022, please click on that.
Once you are in, click the box next to your child's name and click on book.
Accept the terms and conditions and it will take you to the payment page.
How to pay re-enrollment fees Schools buddy app:
Please log into the Schools Buddy app and on the home page look for "Booking Open"
Once you are in, click the box next to your child's name and click on book.
Accept the terms and conditions and it will take you to the payment page.
NOTE:
As an alternative option to Schools Buddy, you can pay re-enrollment fees in person in the school office via credit card, check or cash.
Eligibility for payment of the re-enrollment is subject to clearance of all fee dues for the current academic year. All payments are allocated on 'first Invoice due first' basis, meaning that payment will be applied to any outstanding balance on fees for the current school year before being applied to the re-enrollment Fee.
We're social! Connect with us online on Instagram and Facebook!