A video message from our Director Mr Graeme Scott

PARENT UPDATES
18 APRIL 2021
A VIDEO MESSAGE FROM OUR DIRECTOR
Dear Parents,
Please CLICK HERE to listen to a video message from Fairgreen Director Mr Graeme Scott.
Thank you.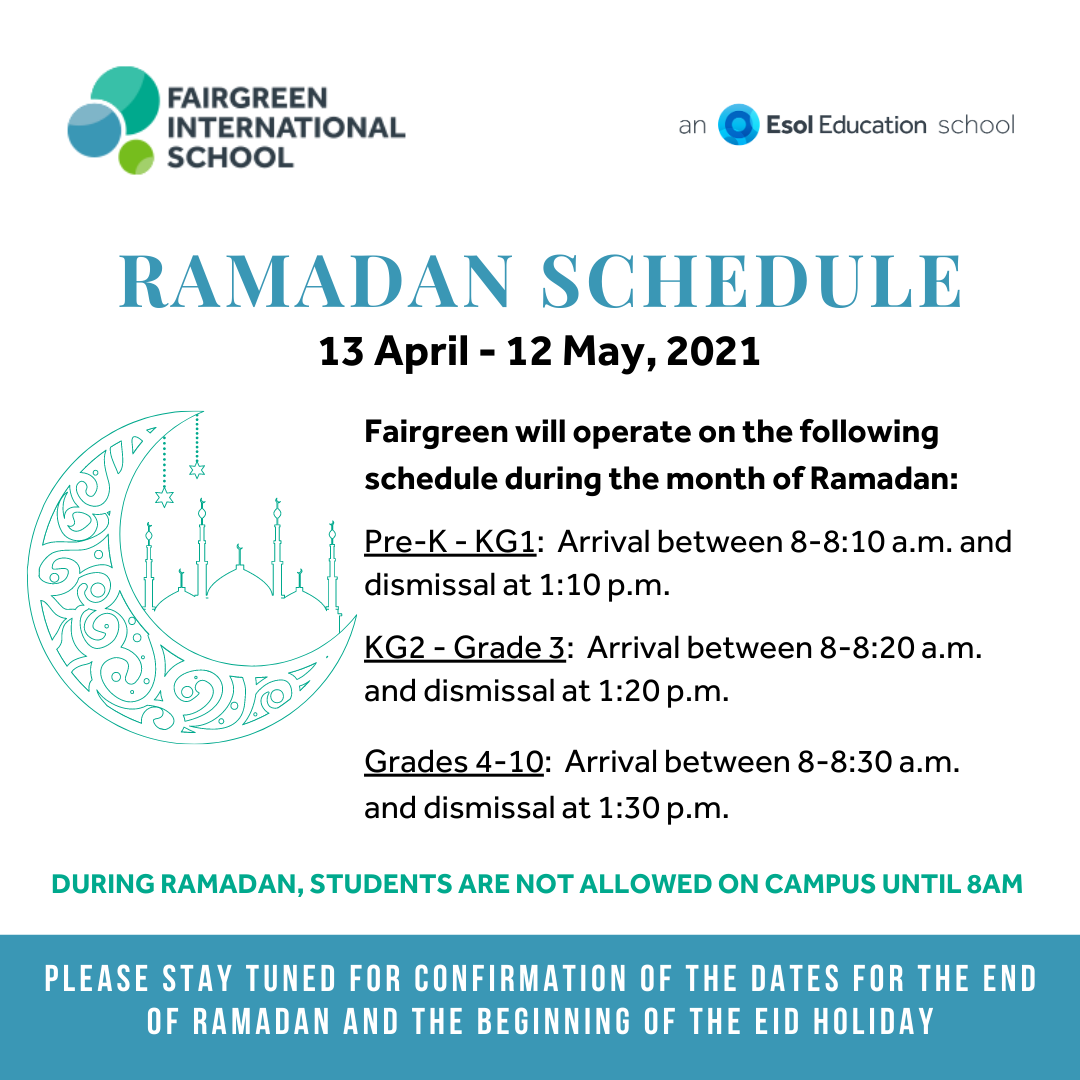 TUESDAY and WEDNESDAY 20-21 APRIL
NO SCHOOL
PARENT TEACHER CONFERENCE DAYS
Parent Teacher conferences take place on Tuesday and Wednesday, 20-21 April, from 8:30 a.m. to 1:30 p.m. You can book your conference appointments online using SchoolsBuddy. The booking system closes on Sunday, 18th April, at 10 p.m. Please refer to previous emails sent by your child's principal for conference format details and booking information.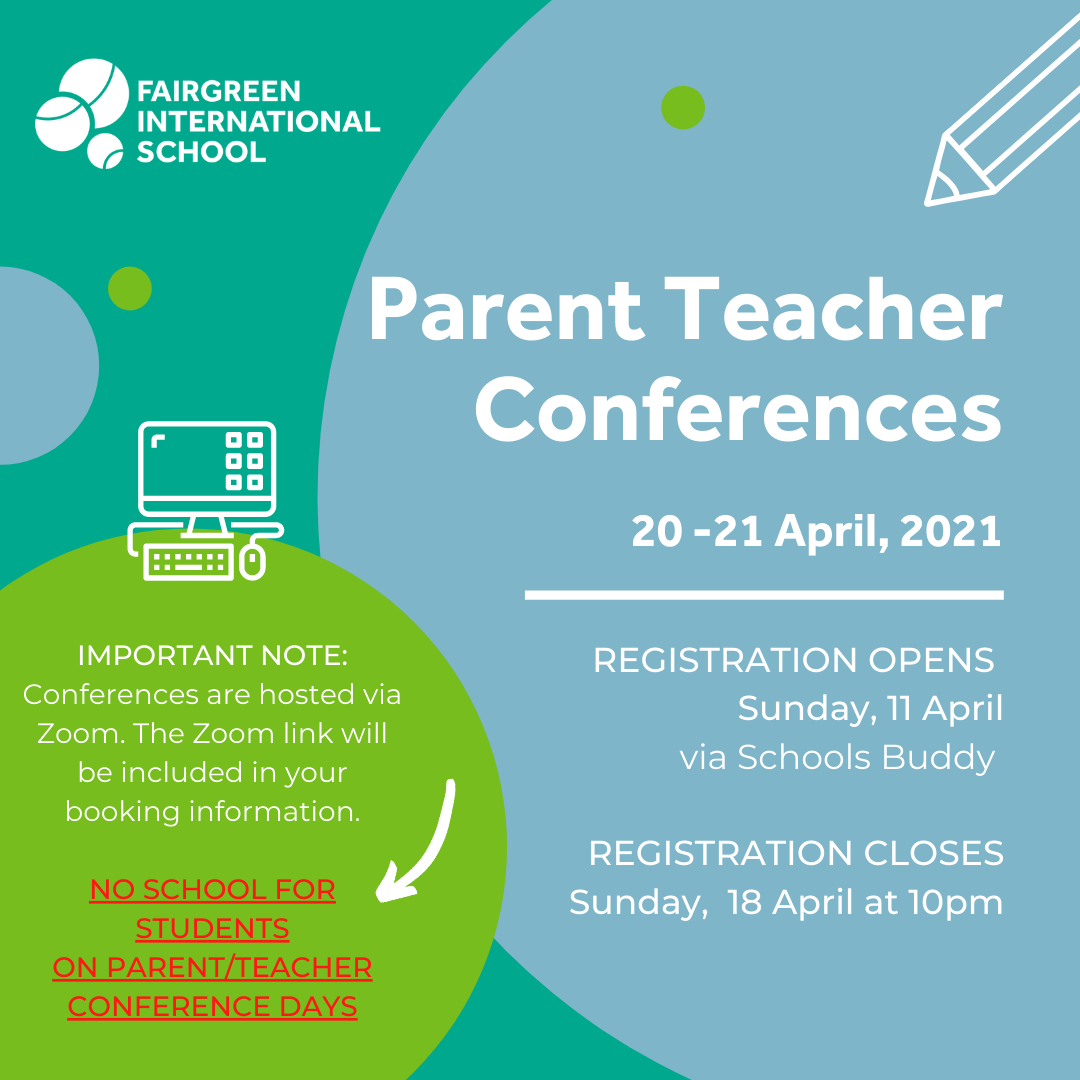 WEDNESDAY, 21 APRIL, 11 A.M.
VIRTUAL OPEN DAY
If you have friends or family members interested in Fairgreen International School for their children, please share about our Virtual Open Day for prospecitve families this week on Wednesday morning. Famlies can register via www.fairgreen.ae/virtual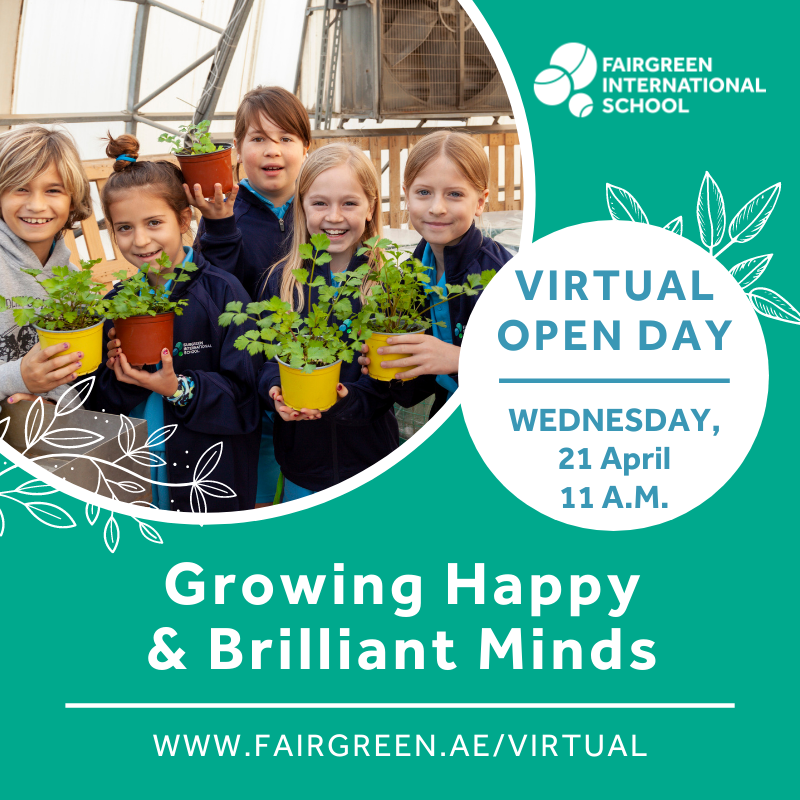 SUN-THURS, 18-22 APRIL
WORLD BOOK & EARTH DAY CELEBRATIONS
Please see below for more information about World Book & Earth Day celebrations.
THURSDAY, 22 APRIL
WORLD BOOK WEEK DRESS DOWN DAY
Please plan for "Wear A Word" Dress Down Day on Thursday, 22 April. Students can wear clothing to coordinate with a word of their choice. They can keep it simple or get as creative as they would like. Their costume should reflect the word they are wearing...they can even tack on the actual word to their costume so their teachers and peers can connect their costume to the word they chose!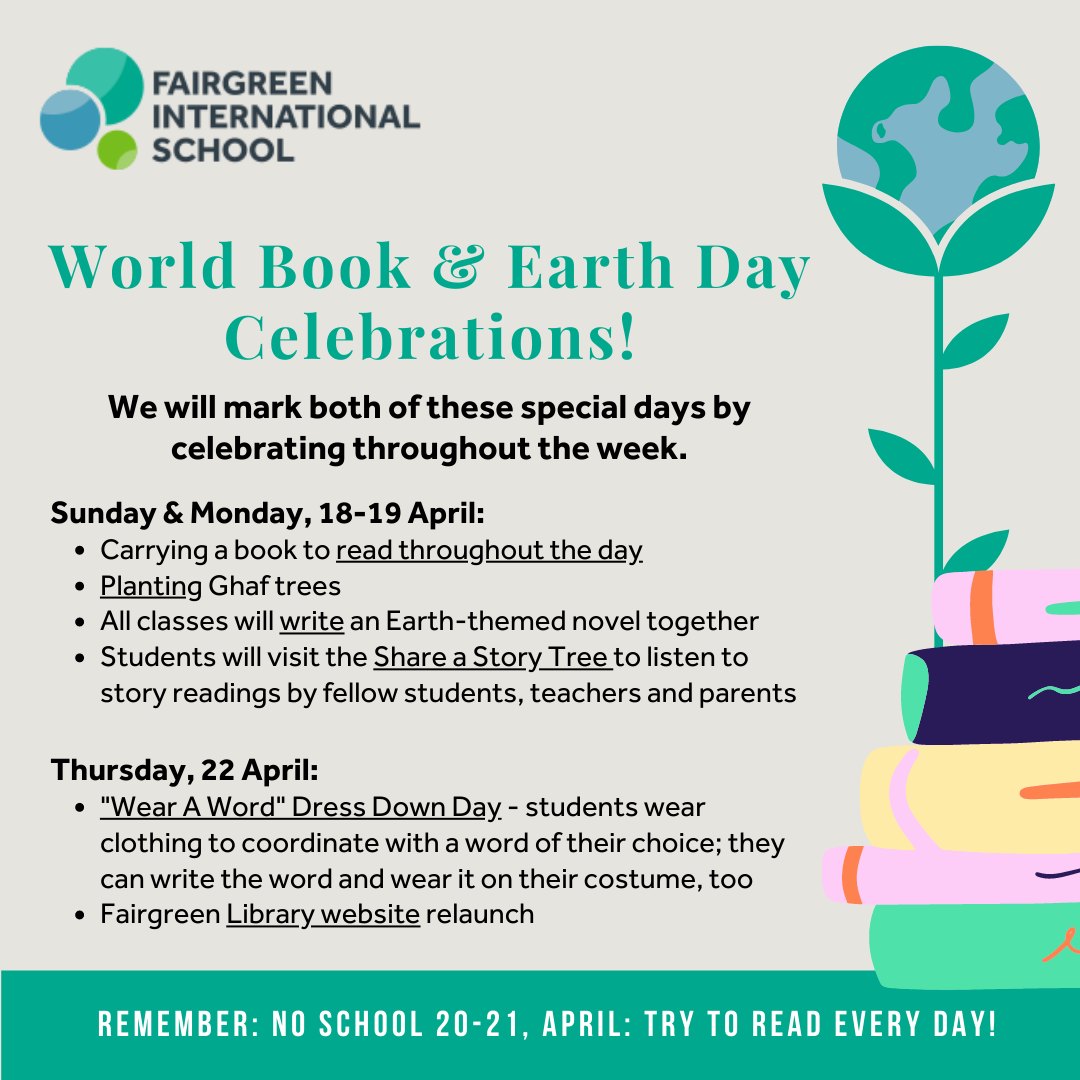 SUN-THURS, 18-25 APRIL
ONLINE BOOK FAIR
Take advantage of 25% off to Fairgreen families at Bookworm online bookstore all week long. Use coupon code FIS25. CLICK HERE to check out their wonderful list of suggested books for all ages.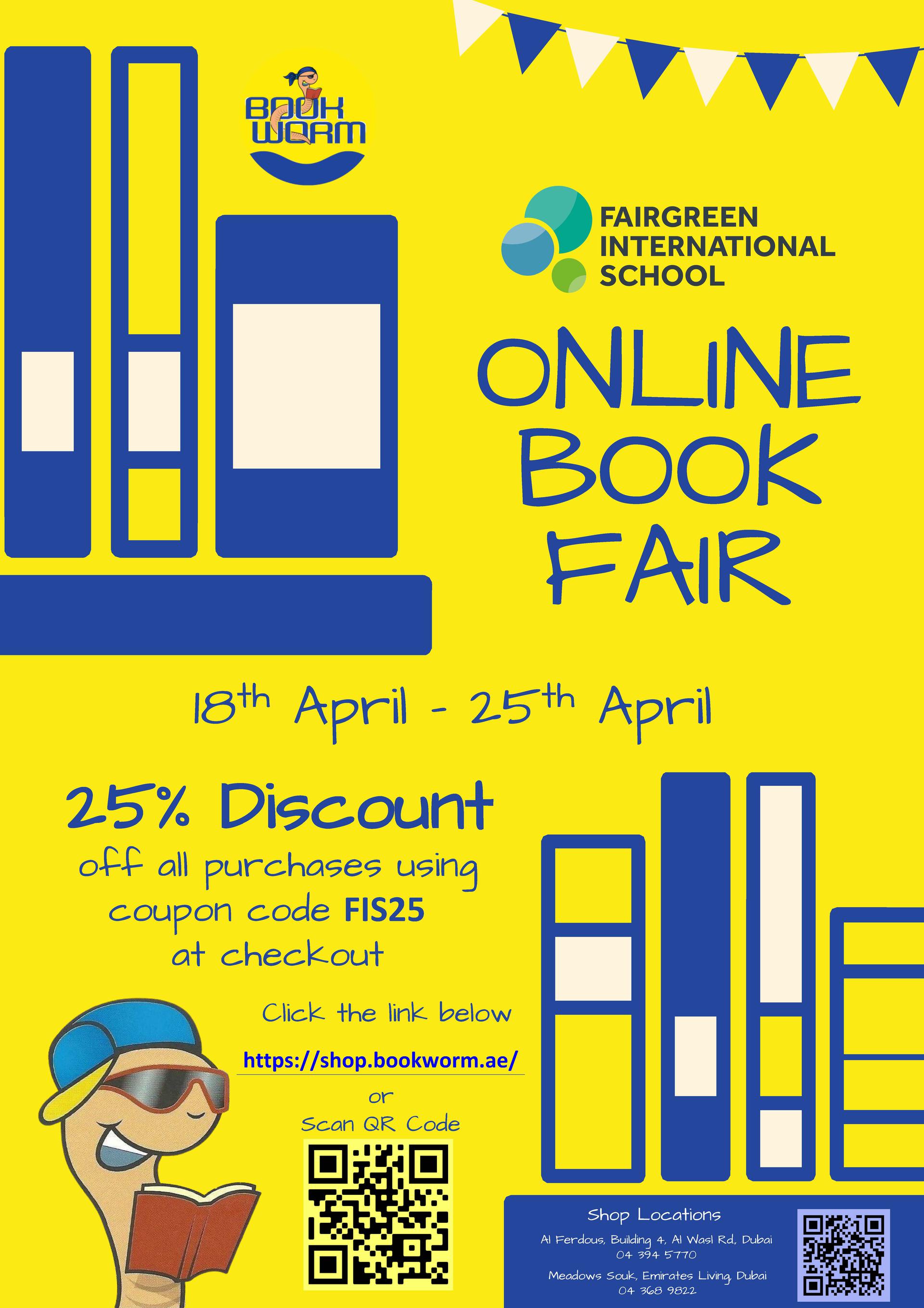 SUN-THURS, 18-22 APRIL
CLOTHING DRIVE
In the spirit of giving during Ramadan and as an act of sustainability for Earth Day, the Fairgreen Parent Hub is conducting a clothing drive this week. You can drop off adult and children's clothing at the entrances of the school during the mornings on school days this week from 8-8:30a.m. (see flyer)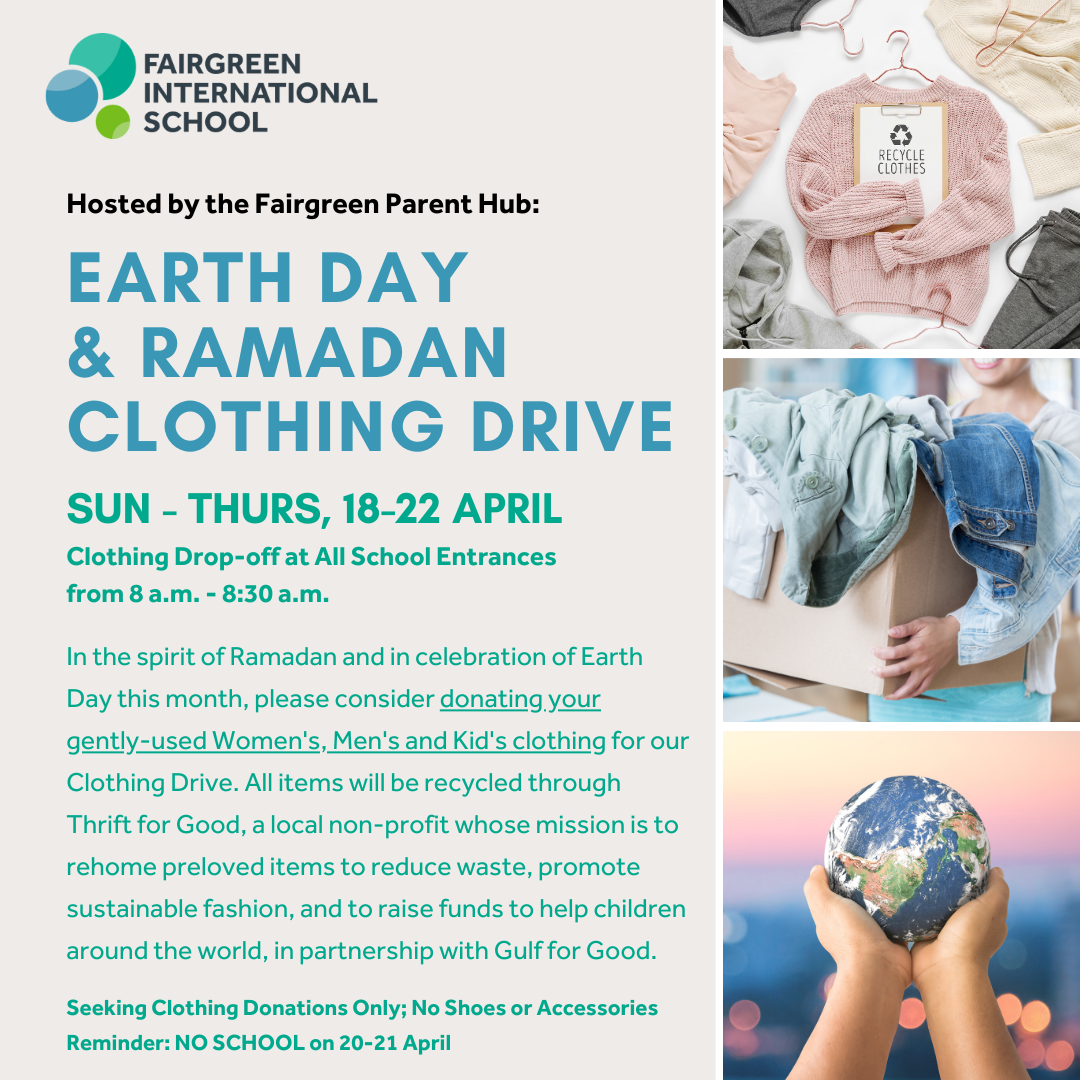 RE-ENROLLMENT DEPOSITS FOR RETURNING FAMILIES
RE-ENROLLMENT FEES DUE by SUNDAY, 2 MAY, 2021
Thank you to the families who replied to the email from Fairgreen Admissions requesting notice on your plans to return to Fairgreen for the next school year. If you still have not replied to that email, please kindly reply ASAP before you pay your child's re-enrollment deposit.
For families who will be returning and if you have already replied to the Fairgreen Admissions inquiry email, the payment system is now open for you to pay your children's re-enrollment deposit. Your deposit confirms your child's admission for next school year. Admission can not be held without the paid deposit, which is due by Sunday, 2 May, 2021.
The re-enrollment fee schedule per child is as follows: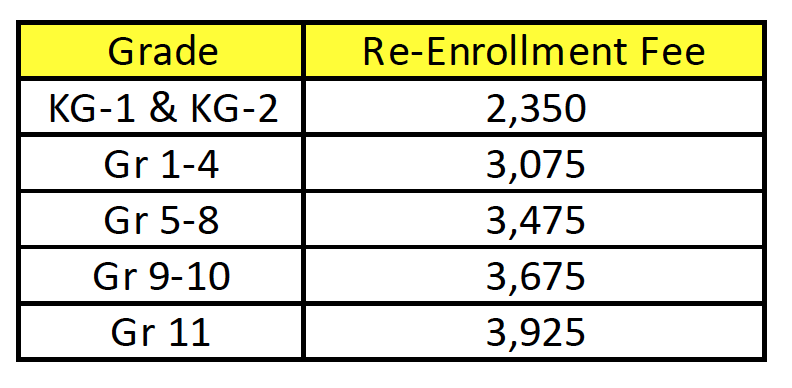 HOW TO PAY YOUR CHILD'S RE-ENROLLMENT DEPOSIT
How to pay re-enrollment fees using Schools buddy website:
Please log into Schools Buddy on the home page at
You will see Re-Enrollment fees 2021-2022, please click on that.
Once you are in, click the box next to your child's name and click on book.
Accept the terms and conditions and it will take you to the payment page.
How to pay re-enrollment fees Schools buddy app:
Please log into the Schools Buddy app and on the home page look for "Booking Open"
Once you are in, click the box next to your child's name and click on book.
Accept the terms and conditions and it will take you to the payment page.
NOTE:
As an alternative option to Schools Buddy, you can pay re-enrollment fees in person in the school office via credit card, check or cash.
Eligibility for payment of the re-enrollment is subject to clearance of all fee dues for the current academic year. All payments are allocated on 'first Invoice due first' basis, meaning that payment will be applied to any outstanding balance on fees for the current school year before being applied to the re-enrollment Fee.
FROM OUR INCLUSION DEPARTMENT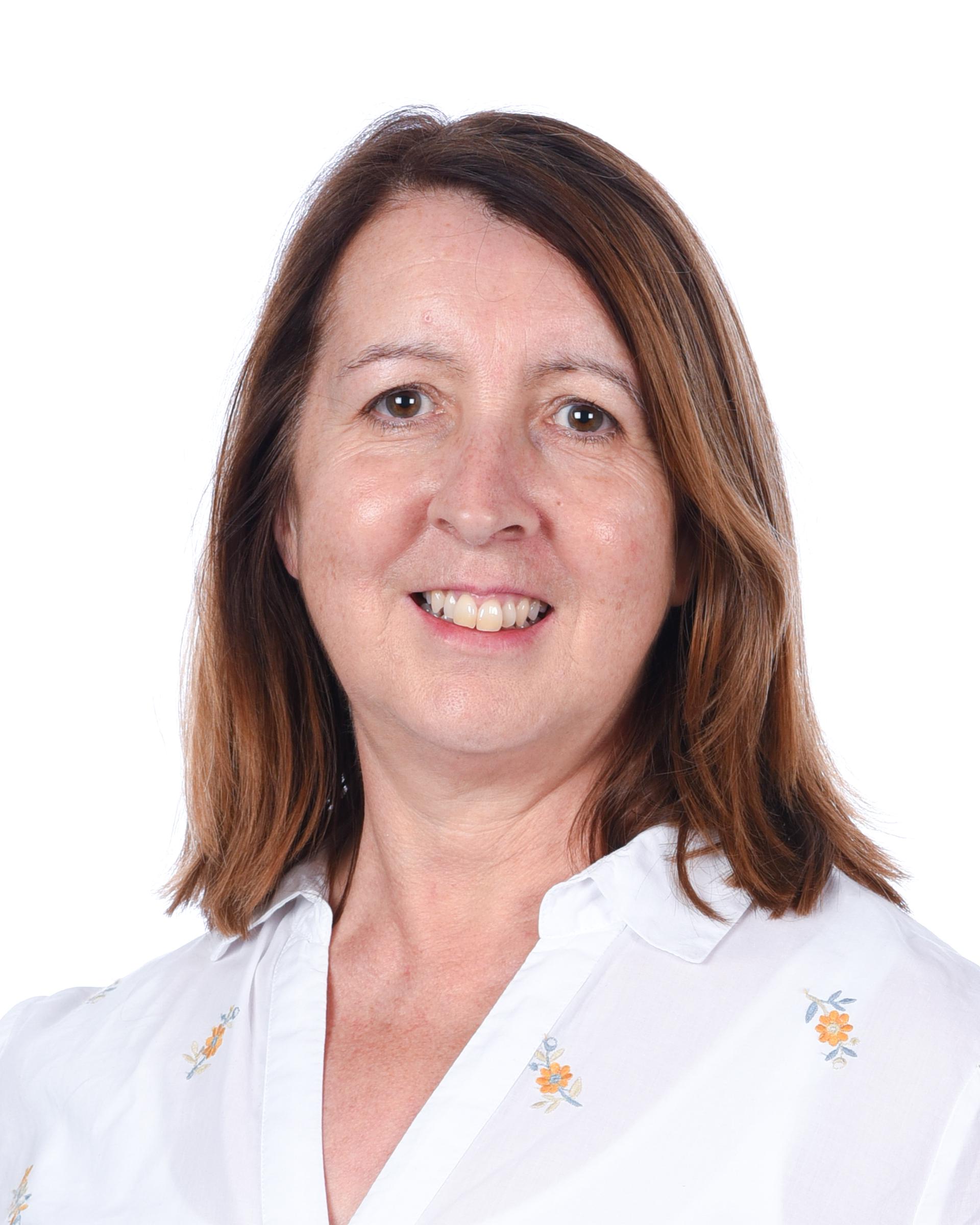 Dear Parents,
We are delighted to share with you our 'Champions of Determination' posters. Each has a quote from a well-known individual who has overcome disabilities and personal challenges to become successful. The purpose of the display is to raise awareness and understanding of disabilities amongst our Fairgreen community, to celebrate the diversity of human beings and to understand that the route to success can take many forms.
Kind regards,
Alison Scott
Head of Inclusion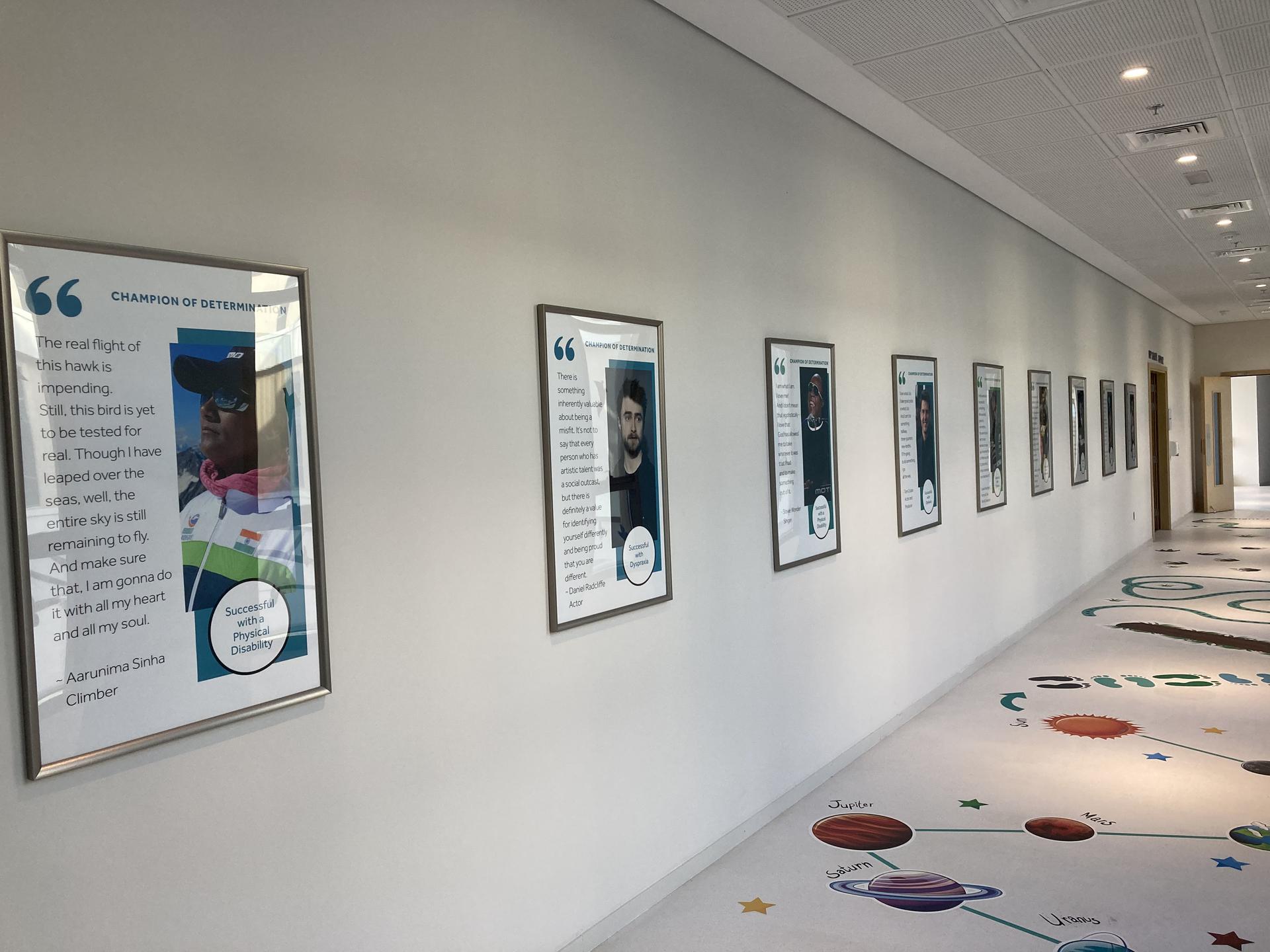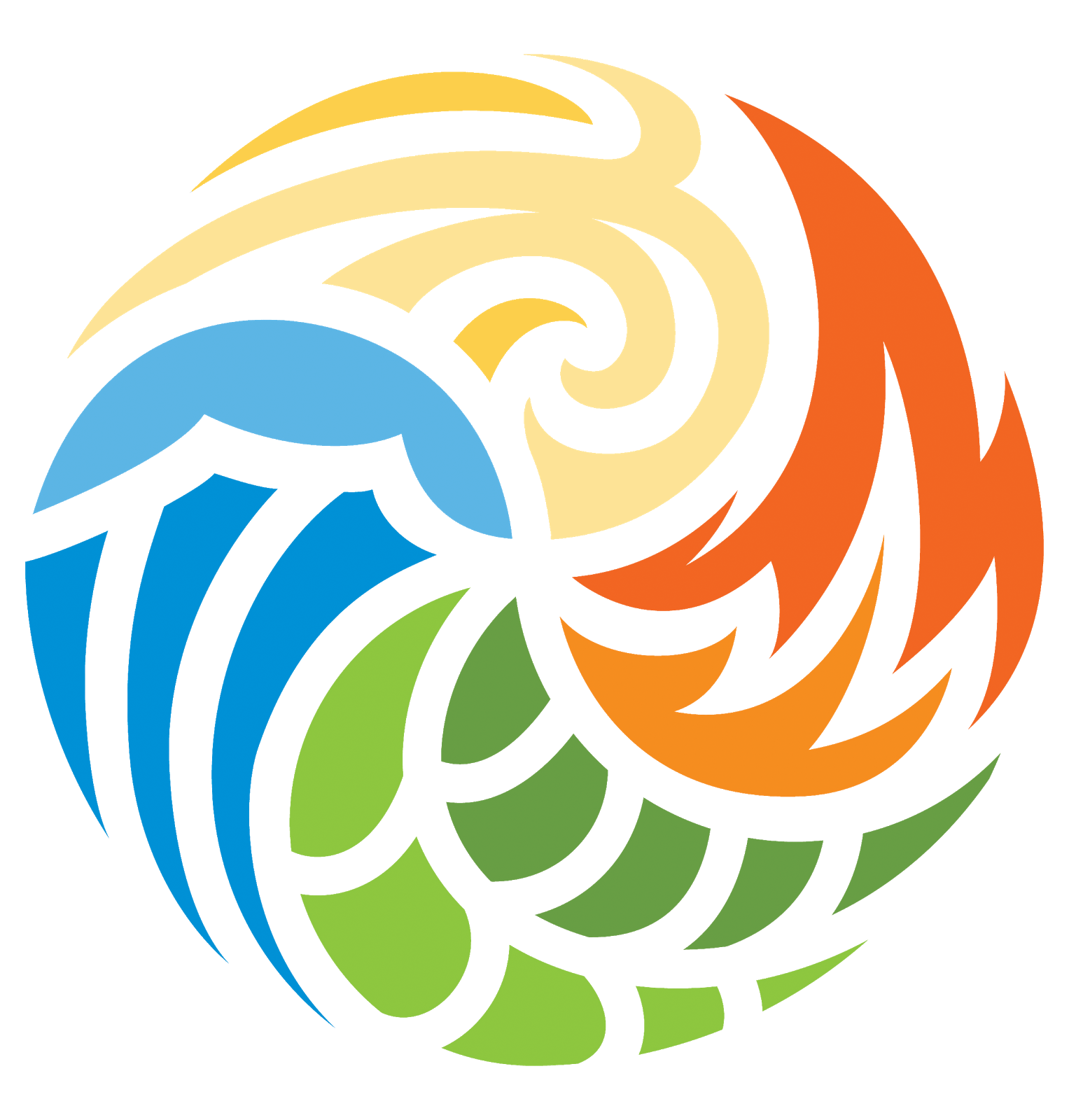 House Points Update
Aqua continue to stretch their lead at the top and Ignis and Terra are starting to pull away from Caeli. Aqua are first, Ignis and Terra are joint second and Caeli are fourth.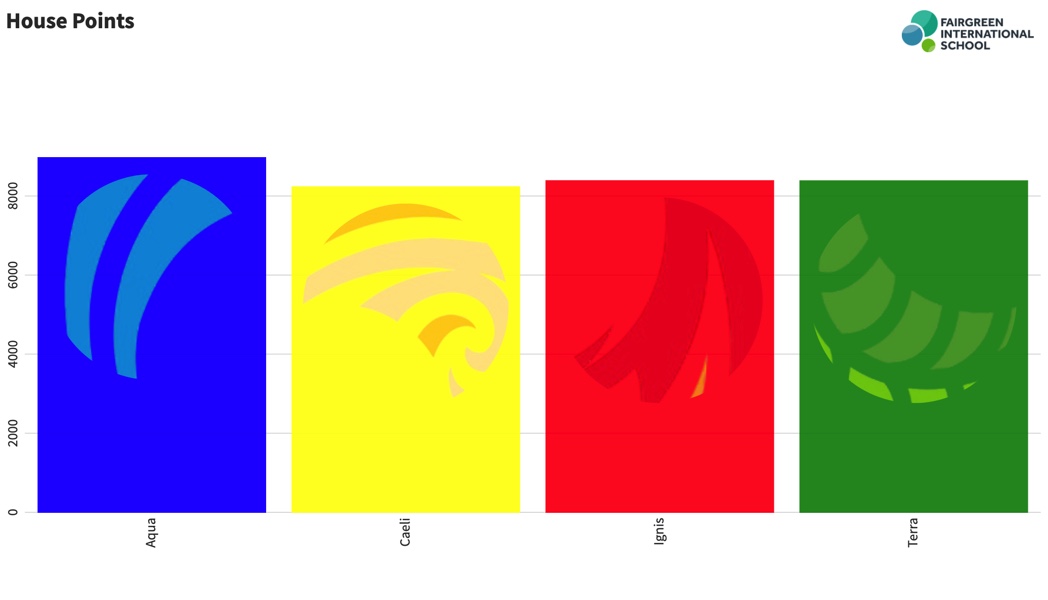 Inter-House Music Competition
Our Music Department Head Ms Pringle and our House Leaders Mr Galbraith and Ms East are excited to announce the Fairgreen Inter-House Music Competition! We hope students begin practicing their for the competition over the spring break so that they can be ready to send in their audition video soon. After the spring break, we will share the QR codes students will use to submit their audition recording for each house. There is plenty of time for students to practice as submissions are due 17 May, 2021.
See flyer below for additional details and CLICK HERE for a lengthier description of the competition and entry rules.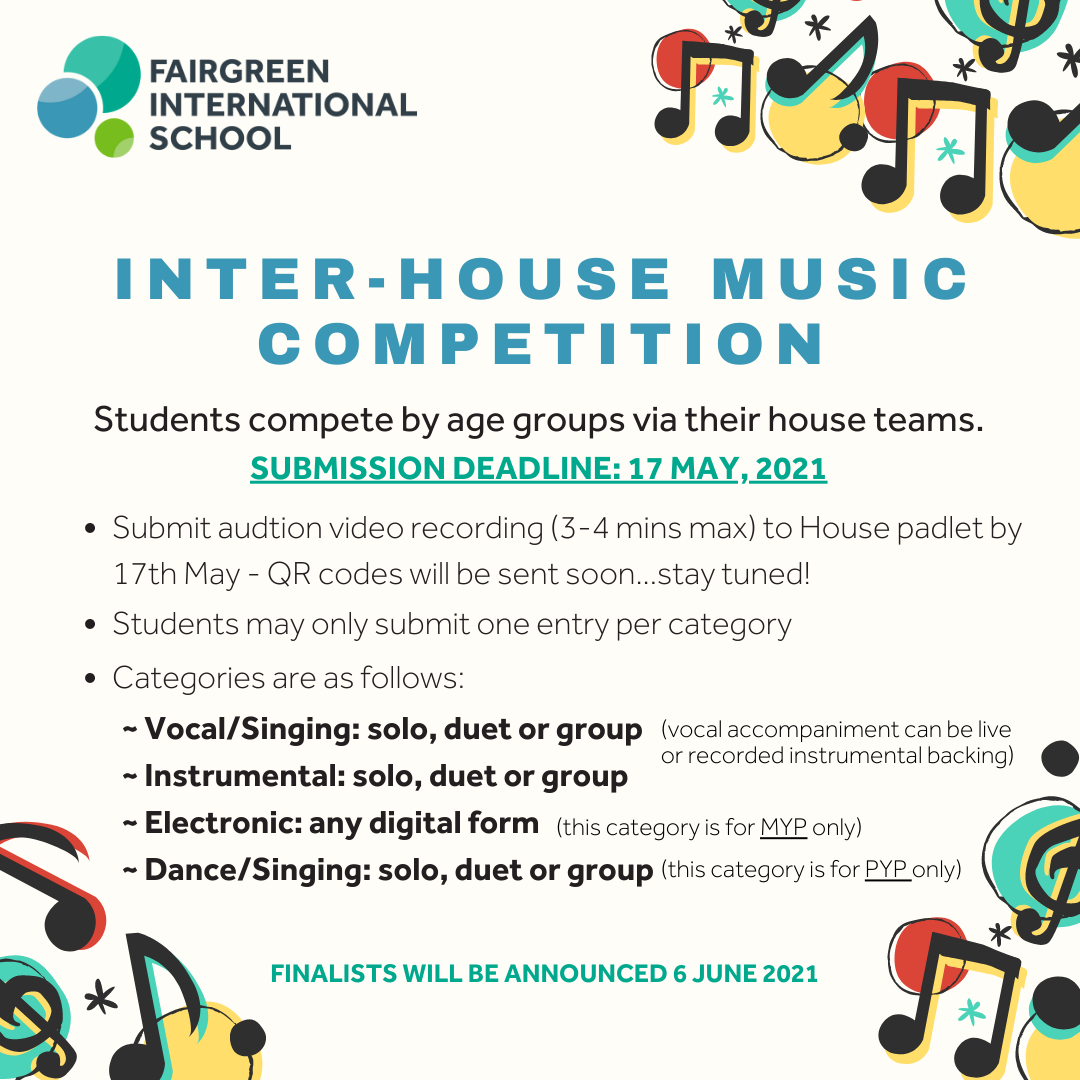 SEEKING RECYCLABLE DONATIONS
As the hotter months are approaching, our Wellbeing Champions have been busy thinking of alternative things to do for break times. They are planning to launch a lunchtime games afternoon on Sundays and Mondays in the library. This will be initially for Grade 7 with the hope of extending it to other grades once it has been piloted. We are asking our Fairgreen community to donate any board games, or, alternatively, we would appreciate any suggestions you may have for games. If you do have any suggestions or resources could you please email them to Cathie Slade at c.slade@fairgreen.ae
As well, our Student Council is launching a new Recycable Resources Room for teachers where they will organize and store recycled items that can be used for student projects and activities. To help them out, we are seeking donations of Kibson's boxes and shoe boxes.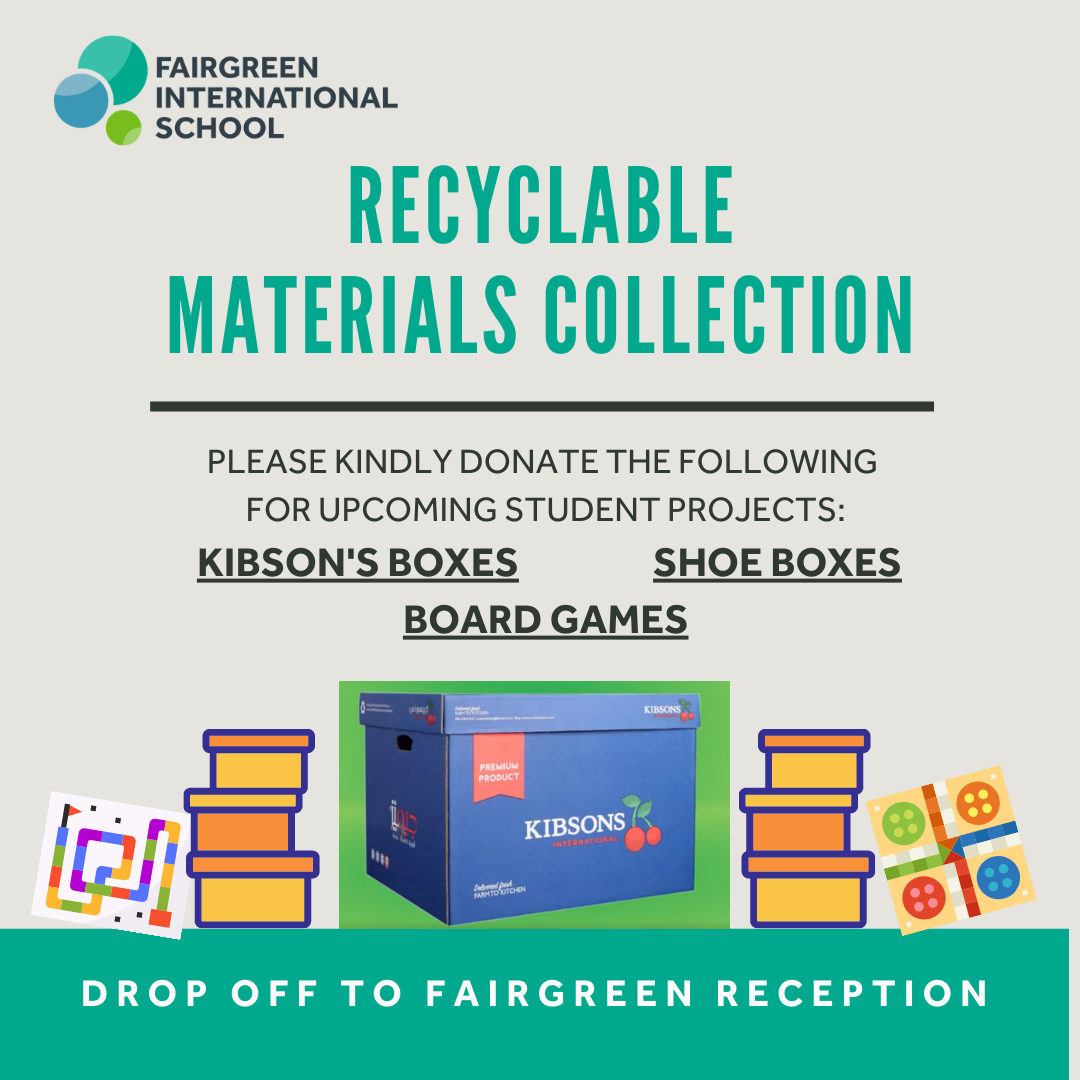 Wellbeing at the Forefront at Fairgreen
Developing student wellbeing is one of our foundational pillars. From day one at Fairgreen, we have been striving to create a culture of care where students feel supported and develop valuable life skills. Our Head of Counselling Jackie Greenwood shares why cultivating wellbeing is important in schools and how Fairgreen actively works toward providing for student wellbeing in this article by Mother Baby & Child. To read the article: https://www.motherbabychild.com/.../student-wellbeing/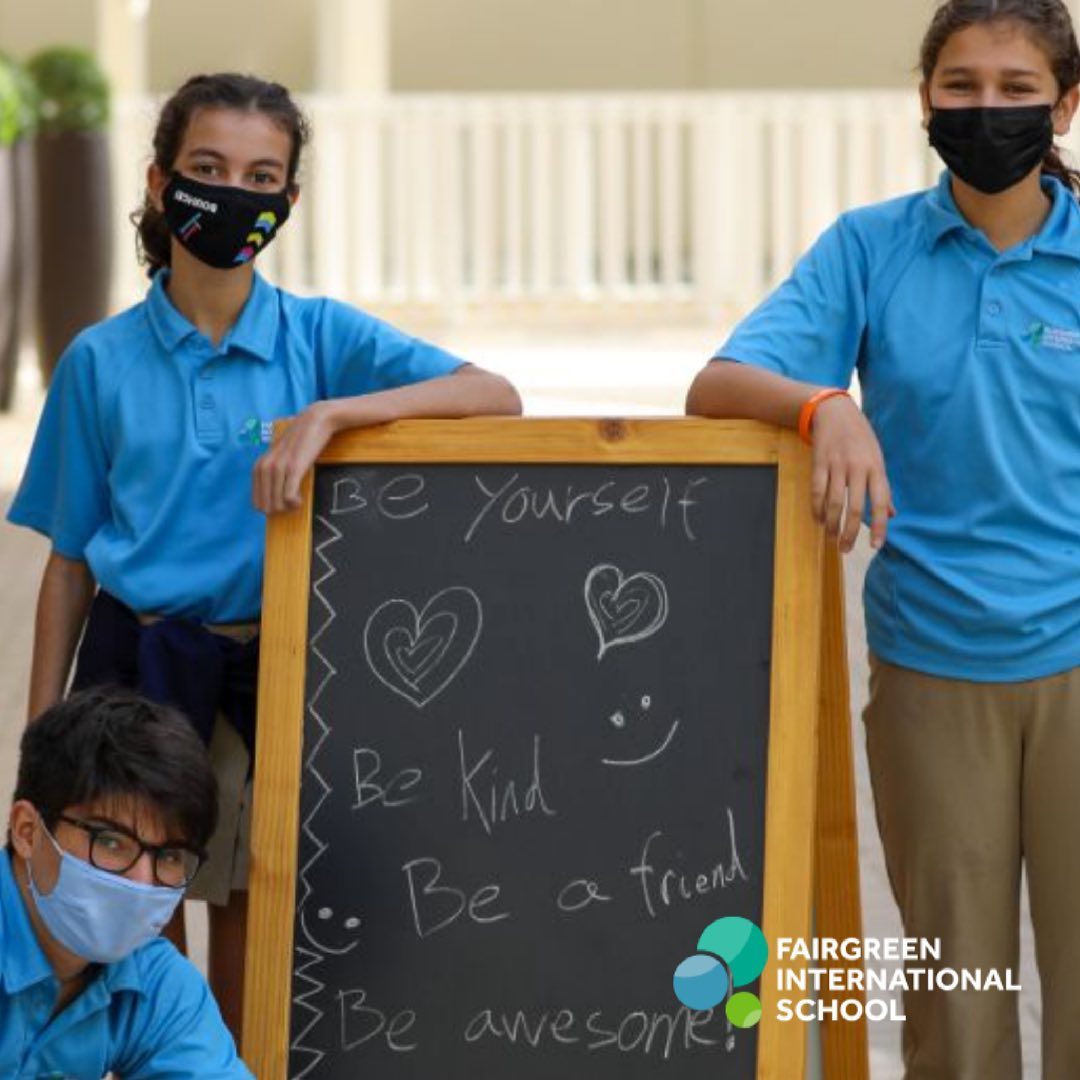 Fairgreen Parent Volunteers Help with Clothing Drive
We're happy to see the Fairgreen Parent Hub back up and running as parents volunteer this week to help with our Earth Day & Ramadan Clothing Drive. You can drop off your gently used adult and children's clothing (no shoes or accessories please) all this week from 8-8:30 a.m. on school days. Clothing will be sold and proceeds donated to children in need throughout the world via Thrift for Good in Dubai.
If you'd like to get involved with the Parent Hub, please reach out to our Parent Liaison Siham Amhidi at samhidi@fairgreen.ae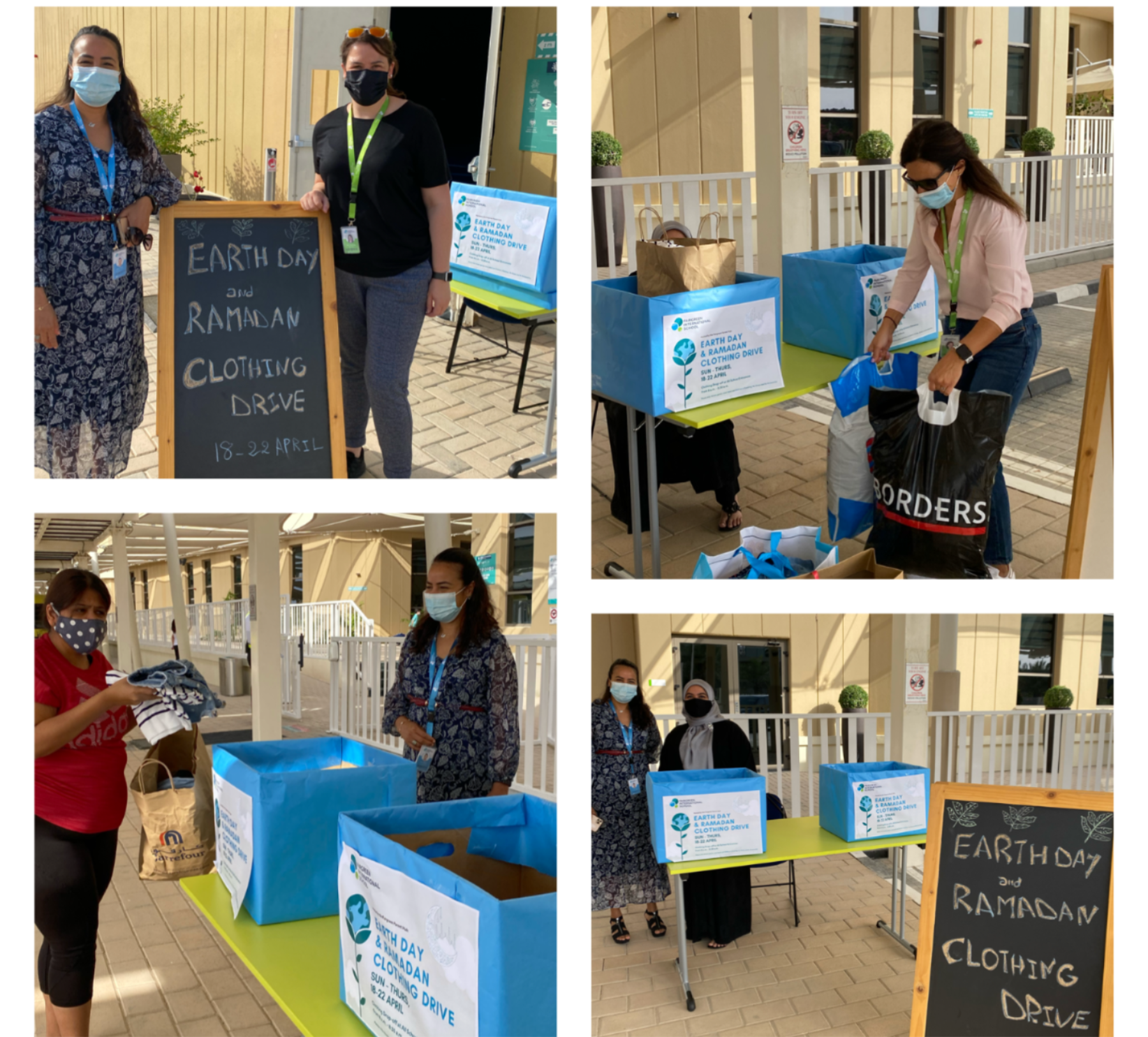 Ramadan Spirit is all around Fairgreen
By recycling the cardboard from old boxes, Ms Tomlinson's Pre-KG made moons and stars for Ramadan. In the spirit of giving, Ms McKim's student Hala brought Ramadan gifts for her classmates! And, our Arabic and Islamic Education departments decorated their corridor for the beautiful month!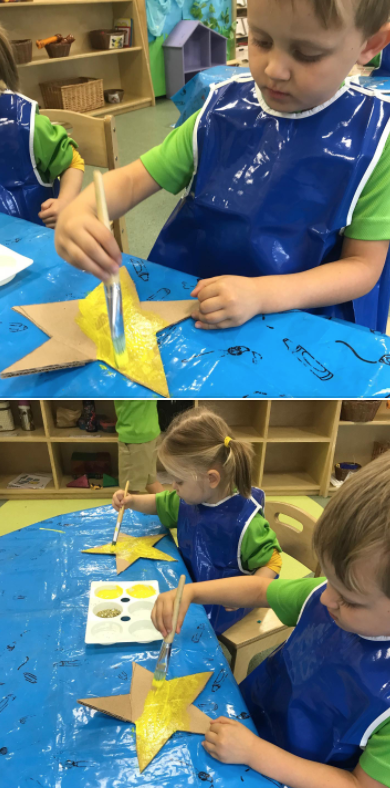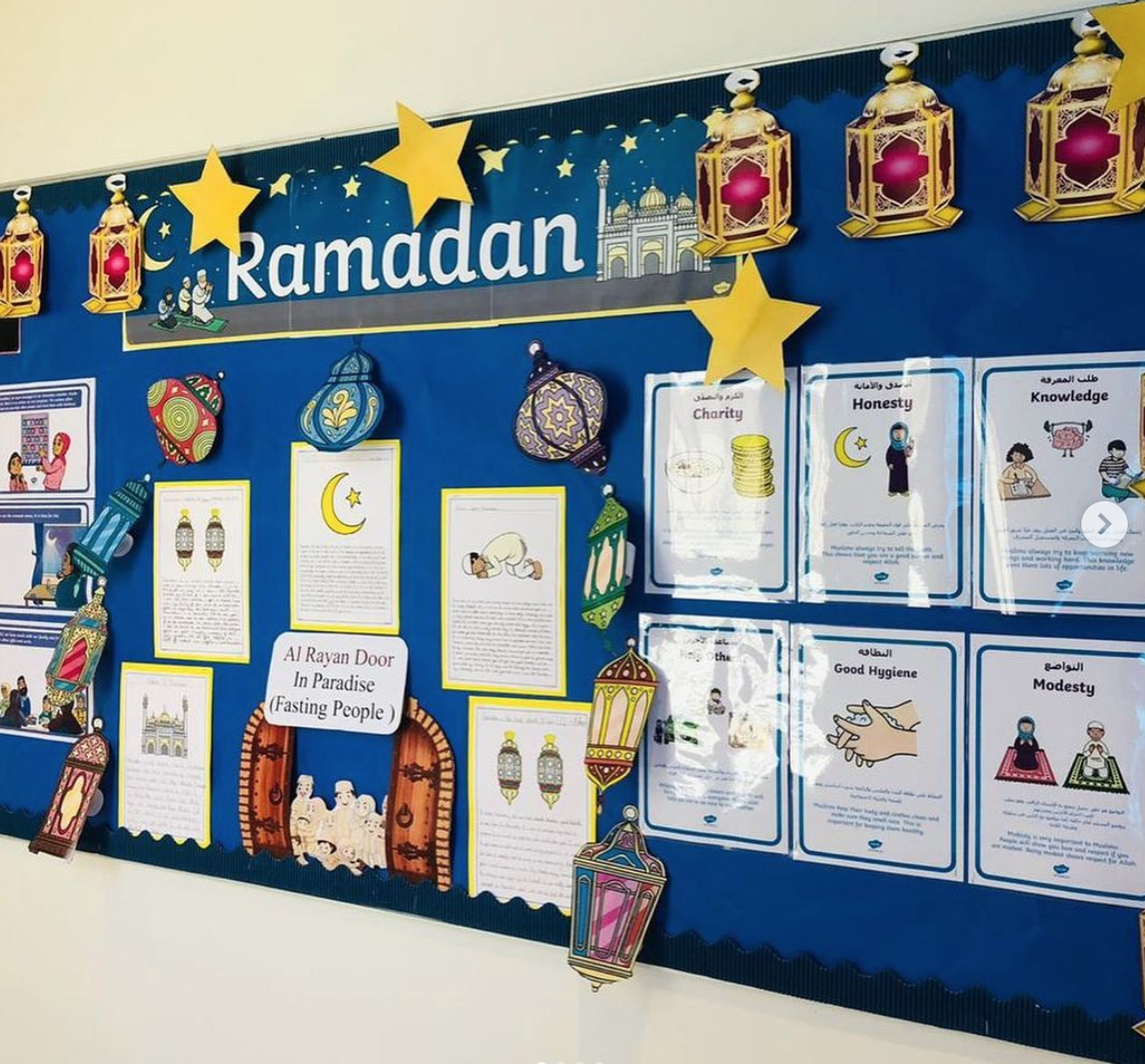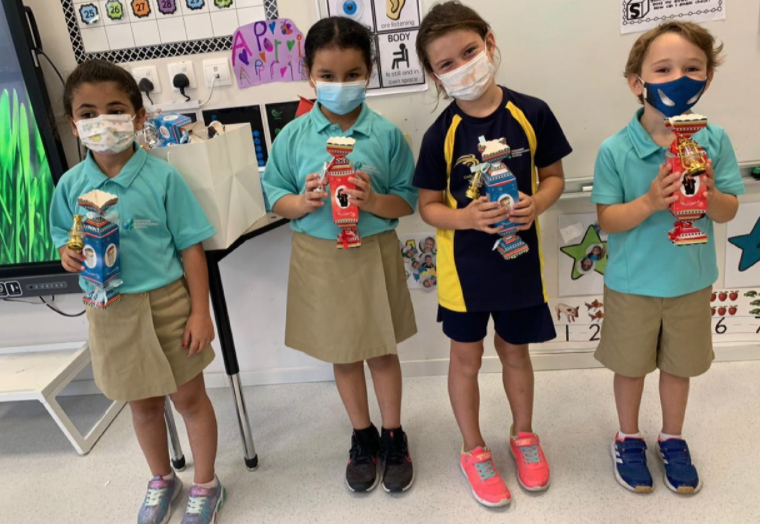 Grade 5 Prepping for the PYP Exhibition
One of the most exciting and accomplished milestones of the IB Primary Years Programme is the PYP Exhibition at the end of Grade 5. These students are just beginning this journey to prepare by writing in their process journals. They are working on developing essential agreements as a group. Exciting!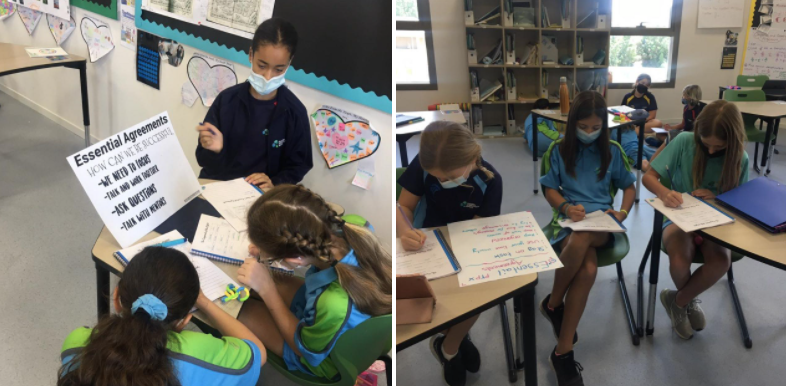 We're social! Connect with us online on Instagram and Facebook!