PARENT UPDATES
30 MAY 2021
A MESSAGE FROM OUR DIRECTOR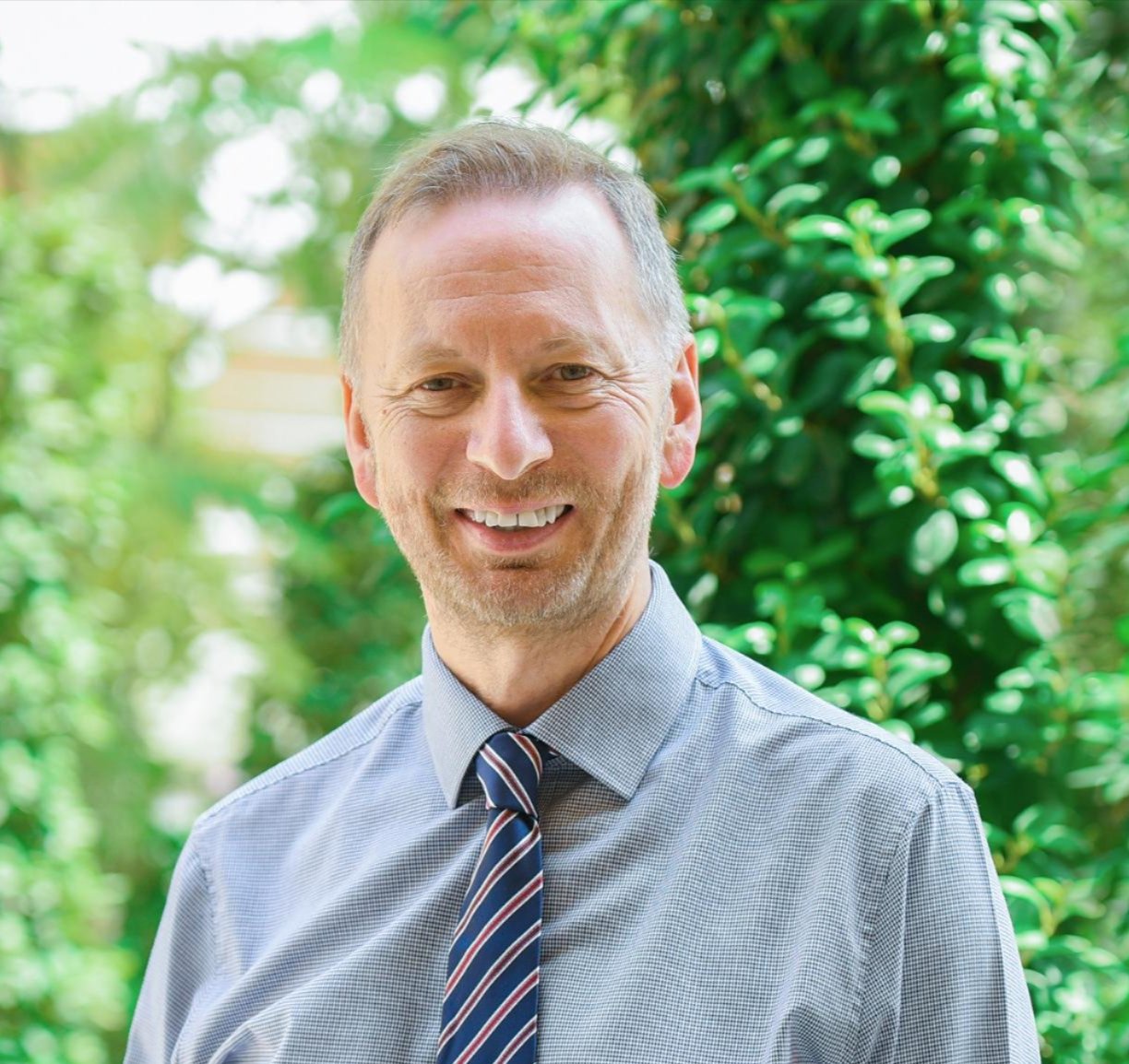 Dear Parents,
Please excuse the long newsletter. I did promise last week to share with you the list of leaving teachers and those joining us. We extend our grateful thanks to the following teachers who have all played their part in getting our school to where it is today, particularly those who have been with us since day one. They have all had a significant impact on our children and on their colleagues. As Maya Angelou famously said, 'People will forget what you said, people will forget what you did, but people will never forget how you made them feel.
Thank you all!
Teachers Leaving Fairgreen
Early Childhood
Primary
Lirene Burger

Lorraine Hickey

Sheryl East
Secondary
Whole School/Specialist
Sarah Clarke - Visual Art (Fairgreen Founder)

Alison Scott - Head of Inclusion (Fairgreen Founder)

Ryan Galbraith - PE (Fairgreen Founder)

Samuel Landete - IT (Fairgreen Founder)

Cristina Sevilla - Librarian (Fairgreen Founder)

Saad Mohammad - Arabic

Ezia al Jarfi - Islamic Studies

Asmaa Mahdawi - Arabic
We have recruited 29 new teachers (with one more to come) to reflect our expansion and the wider variety of courses available in secondary. We have one vacancy left to fill.
Newly Hired Teachers
Early Childhood
Audrey Piccioli - 11 years experience, Brazilian, coming from Sao Paolo

Carley Fittis - 7 years experience, British, coming from the UK

Seana Gregg - 10 years experience, Irish, worked in Germany, Ireland and coming from Doha College
Primary
Amy Bossler - 14 years experience, previously worked in Brussels, Penang and Dubai

Jess Botes - From New Zealand, 16 years experience, worked in UK, Korea and Dubai

Sandy Aragon - Colombian, 24 years experience, worked in Colombia and Dubai

Stephanie Patterson - American, taught in the US, Indonesia, Luxembourg, 9 years experience

Wendy Slack - 10 years experience, South African, taught in South Africa and Dubai

Stephen Hurren - 16 years experience, British, taught in the UK and Dubai

Kim Gerber - South African, 15 years experience in South Africa and Dubai

Cary Markin - Art - from the US, worked in the US, Albania and Oman, 12 years experience

Kim Sharpe - Counsellor - Canadian, 21 years experience, taught in Canada and Dubai

Craig Broome - PE - 16 years experience, worked in the UK, Kuwait and Dubai, British
Secondary
Holli Robinson - English Head of Department - 11 years experience, currently Head of English at Kent College, British

Jamie Moxom - Maths Head of Department - 10 years experience, taught in the UK and Dubai, British

Shannon Johnson - Individuals & Societies Head of Department - from the US, taught in the US, Turkey and Dubai, 11 years experience

Kate Muschamp - Individuals & Societies - Australian, worked in Australia, Vietnam, Saudi Arabia, 17 years experience

Cat Lukan - English & Psychology - Canadian, 8 years experience, worked in Canada, South Korea, China and Oman

Jorge Lopez - Science Head of Department - Spanish, taught in the UK, Portugal, Spain, Malaysia, coming from Dubai American Academy, 18 years experience

Linda Bouzaine - French - coming from International School of London, Qatar, previously worked in France and Jordan, 18 years experience

Michelle McKeever - Visual Art - Irish, 5 years experience, coming from Emirates International School, previously worked in Ireland

Mark Patterson - PE - Irish, 8 years experience, coming from Dubai International Academy, formerly Athletics Director at Collegiate American School
Whole School/Specialist
Ashley McCarthy - Head of Inclusion - currently Head of Inclusion at Gems Founders Mizhar, Irish, 11 years experience

Joanna Tomasczewska - Librarian - Polish, previously Librarian in IB schools in Japan, China and Poland

Sinead Cahill - IT - Irish, currently at Marymount International School Rome, 9 years experience in Ireland and Abu Dhabi

Safa Habbul - Arabic A - Jordanian, 5 years experience, coming from Gems Al Khaleej School

Ala'a Jehad - Arabic B - Jordanian, 14 years experience, coming from International School of Creative Science in Sharjah

Niveen Abdalla - Islamic Studies B - Sudanese, 17 years experience, coming from the Taaleem group

Malik Ali - Arabic B - Syrian, 10 years experience, coming from Universal American School
In addition to our teaching staff, we also have one or two support/admin staff leaving. Our Receptionist, Sara Shaban has already left us to pursue an admissions position in another Dubai school. Sara was the first face you saw upon entering our school and has been a friendly, positive member of our staff. We wish her well. Our new Receptionist, Lillian Wambui will be joining us during the summer. Lilian is Kenyan and joins us from her current post as Duty Manager at the Waldorf Astoria Dubai Palm. We welcome Lilian to the Fairgreen team.
Our Admissions Director, Malak Bidair will be leaving us and moving back to her home country of Egypt. Malak has been with Fairgreen longer even than me, and has done great work. Initially, working out of a villa in The Sustainable City, she has been instrumental in helping to grow Fairgreen into a mature, successful school. We wish Malak and her daughters all the best in their transition to Egypt. Malak will be replaced by Sam Dillow. Sam comes to us from the admissions department of Nord Anglia School here in Dubai. Sam is from a family of educators and was formerly an IB Diploma Student himself. He understands the world of international education and is very much looking forward to joining us on 13th June.
Away from staffing issues, we had a fantastic Grade 5 Exhibition last week, where our students demonstrated a maturity beyond their years and a genuine passion for global issues. We were so proud of them. The skills and qualities they demonstrated were so impressive and a fitting way to (almost) end their PYP experience. Many staff were involved in this experience, as mentors, assessors and facilitators, but mainly our two Grade 5 teachers, Julie Serrao and Sheryl East deserve great praise.
Have a wonderful week.
Best wishes,
Graeme
RE-ENROLLMENT DEPOSITS PAST DUE
For those families who have not yet paid the re-enrollment deposits for the 2021-22 school year, which are now past due, please note that if your child's re-enrollment fee is not paid by Thursday, 3rd June, we will need to release your child's seat to children on our waiting list after this date.
The re-enrollment fee schedule per child is as follows: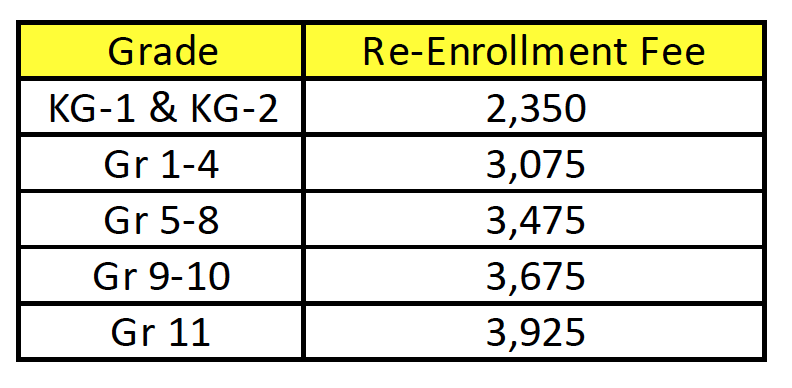 HOW TO PAY YOUR CHILD'S RE-ENROLLMENT DEPOSIT
How to pay re-enrollment fees using Schools Buddy website:
Please log into Schools Buddy on the home page at https://fairgreen.schoolsbuddy.net/Account/Login#! and then please look for "Available Signups."

You will see Re-Enrollment fees 2021-2022, please click on that.

Once you are in, click the box next to your child's name and click on book.

Accept the terms and conditions and it will take you to the payment page.
How to pay re-enrollment fees Schools Buddy app:
Please log into the Schools Buddy app and on the home page look for "Booking Open"

Once you are in, click the box next to your child's name and click on book.

Accept the terms and conditions and it will take you to the payment page.
NOTE:
As an alternative option to Schools Buddy, you can pay re-enrollment fees in person in the school office via credit card, check or cash.
Eligibility for payment of the re-enrollment is subject to clearance of all fee dues for the current academic year. All payments are allocated on 'first Invoice due first' basis, meaning that payment will be applied to any outstanding balance on fees for the current school year before being applied to the re-enrollment Fee.
TUESDAY, 1 JUNE, 9 a.m. via Zoom
ZOOM PARENT COFFEE for MYP PARENTS
Join Curriculum Director Mr Gerber and Secondary Principal Ms Desai for this week's Zoom Parent Coffee to learn how you can stay on top of your MYP child's progress via the reports that are shared with parents throughout the year. Learn How and Why Fairgreen shares student reports, and the timeline these reports are made available to parents.
CLICK HERE to join the Zoom
Meeting ID: 735 9702 1978
Passcode: G194th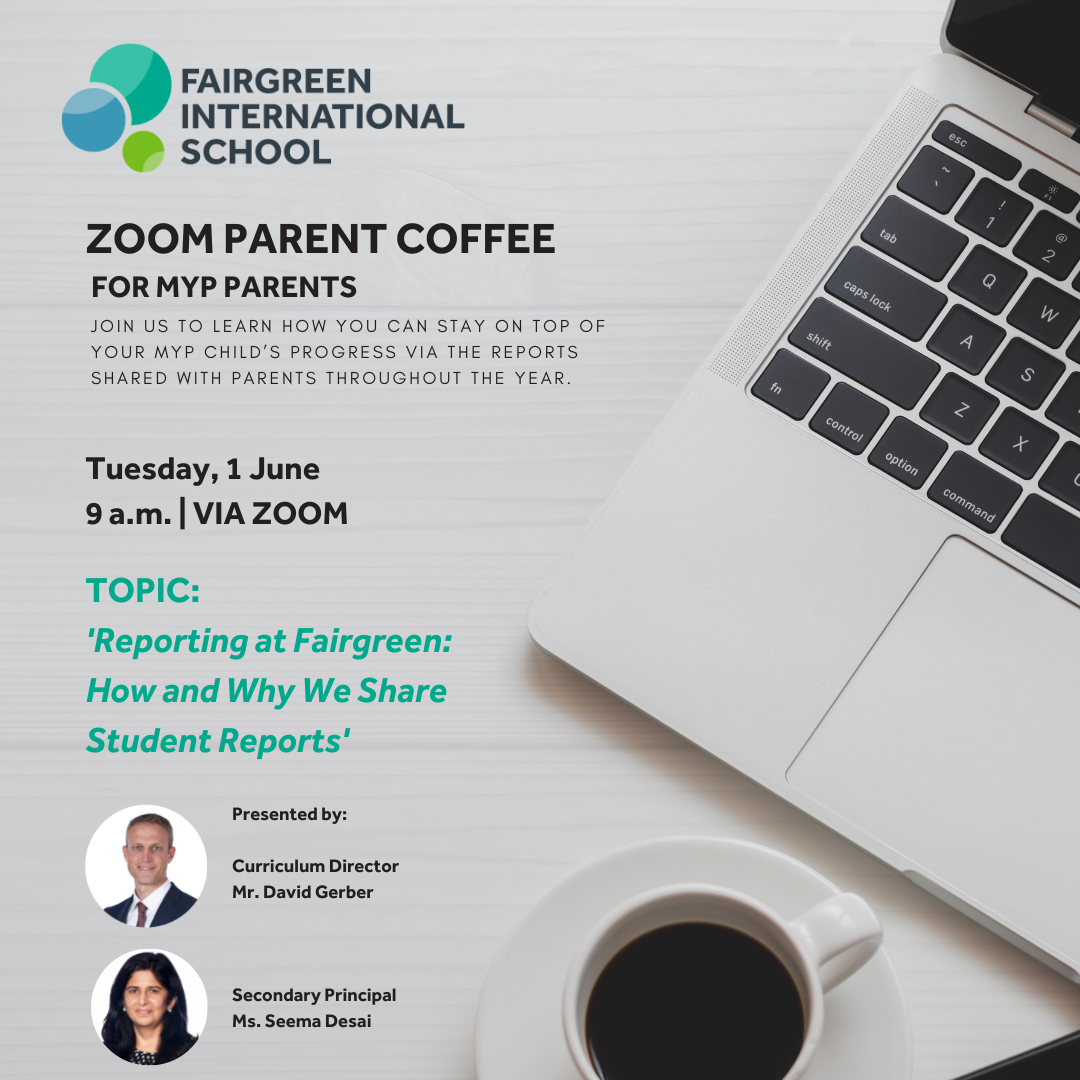 TUESDAY, 1 JUNE
EARLY RELEASE DAY
Please see below for early release timings. Please note, this is not a dress down day. Students should wear the uniform they would normally wear to school on Tuesdays.
THURSDAY, 3 JUNE
WORLD BICYCLE DAY

See below flyer to learn how your child can celebrate World Bicycle Day with all of us here at Fairgreen!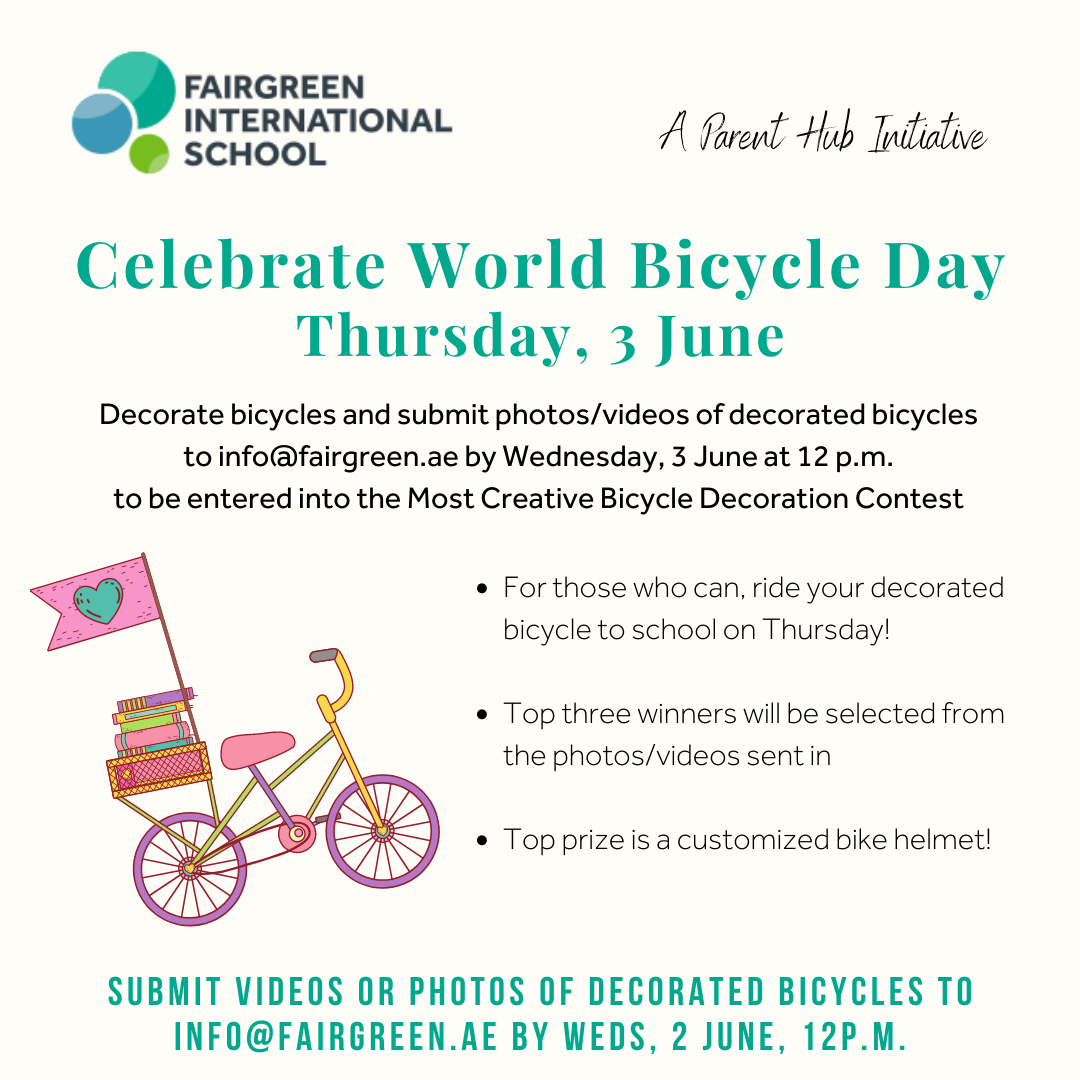 FROM OUR HEAD OF COUNSELLING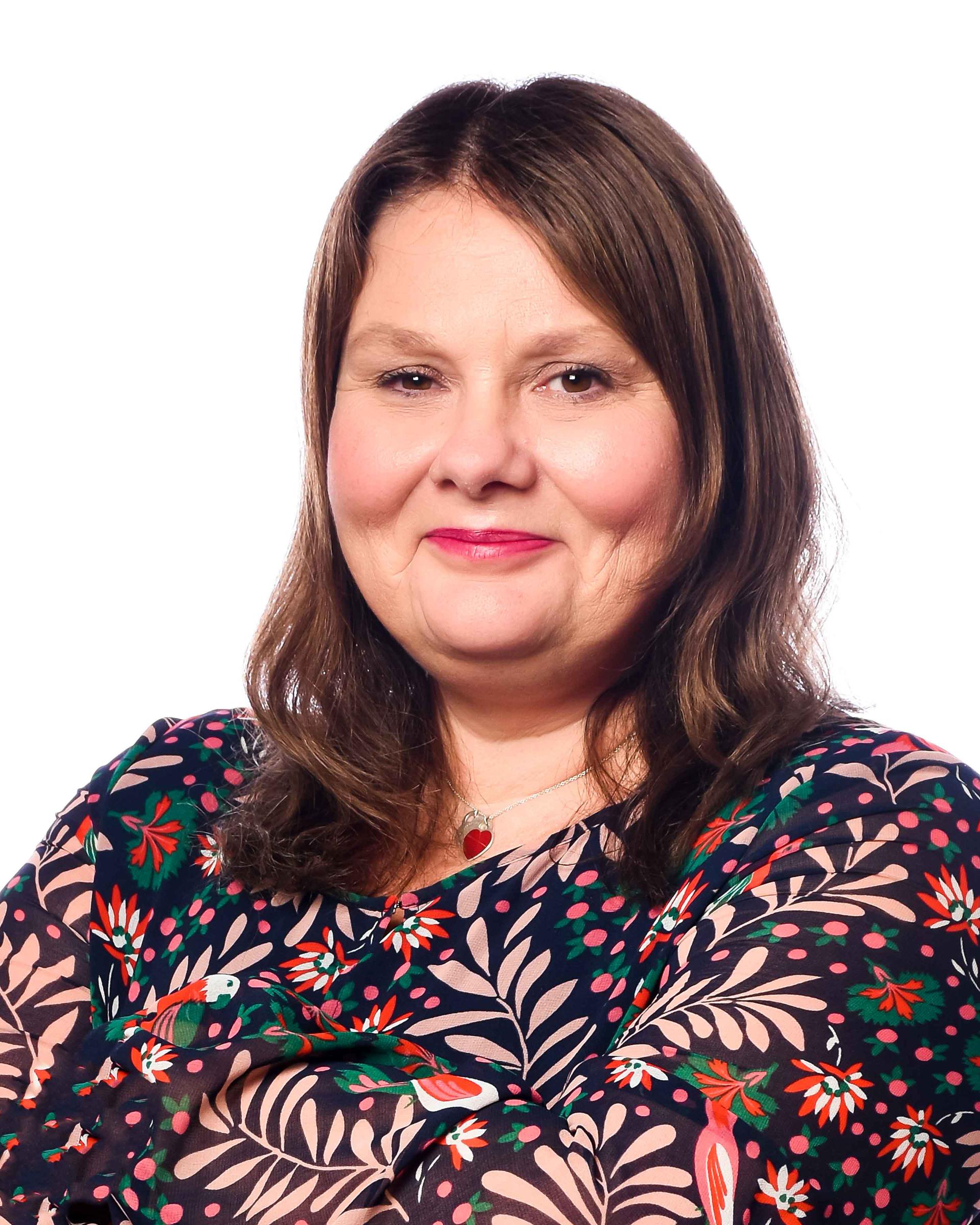 Dear Parents,
News from the Counselling and Wellbeing Team - It's All About to Change
With 5 weeks to go until the end of term, and the end of the academic year 2020 - 2021, that old feeling of loss can lurk just around the corner. Thinking about the wonderful children and the staff that will be leaving has meant the wellbeing team, which involves a number of teaching colleagues, have been planning our end of year celebrations that will ensure that everyone who has been part of the Fairgreen community will be enthusiastically appreciated and honored. We are currently working on resources to share with our parent community to help children as they adjust to the changes that await them in the weeks ahead. Unfortunately due to Covid restrictions we are unable to offer the leavers support groups that we would normally run, so the resources should come in useful.
Having awareness of the experience of endings and loss, and what this means for us, can often open up a feeling of gratitude. It is fair to say that this year has not been a 'normal' year in the counselling space, with more needs and demands arising for a very small team to cope with. I am grateful that when two Masters in Psychology students approached me earlier last year to intern with me, I overrode my instinct to say 'No' (I had previously had some 'high-need' students), and took a risk to say 'Let's do it, it will do no harm and may even help'. Thankfully, Fairgreen has been blessed with the presence of Ms Aoife and Ms Cathie, who have been brilliant with our students, and a huge support in the development of our culture of wellbeing. Although at the end of this academic year, we will bid them farewell, as they take on their first school counselling positions at other schools, it is a loss for us, but I am indebted to them for the support they have given to our school, and grateful for the opportunity to help support them into our counselling profession. At times this past year our service has not been as responsive as we would have hoped for, as we have needed to prioritise students and families with the greatest needs. We are very grateful for our Fairgreen families' patience and understanding in bearing with us. Next year we are optimistic that we can support more widely, with an increase in counselling support.
It's also a surprise that perhaps in one of the most challenging years for school counsellors, I have been accepted onto the International School Counseling Association (ISCA) as a Task Force member for Counseling Leadership and Education. Training, support and pre- and post- qualifying training for counselors is very important to me because with the right training and support, counsellors can have longevity in this profession and make a positive impact in the lives of young people and their families. This news was also made extra special by the fact that our new PYP School Counselor Kim Sharpe applied and was accepted onto the Task Force for Annual Events. For both of us to represent Fairgreen, and our professional organization, which provides leadership and advocacy for the profession of school counseling in International Schools, is a real honor. Kim and I are in regular contact and will be working together in the summer months on transition for our new students and families and with ISCA as we develop ideas and actions that support our international school counseling colleagues globally.
We also have another new colleague Donna Catapia, who is working as a learning/wellbeing assistant shared between inclusion and counselling. A warm welcome to Donna.
Next week we will share some of the plans to support children who are moving on at the end of this term, and our grade 5 to 6 Move Up plans.
Kind regards,
Jackie Greenwood
Head of Counselling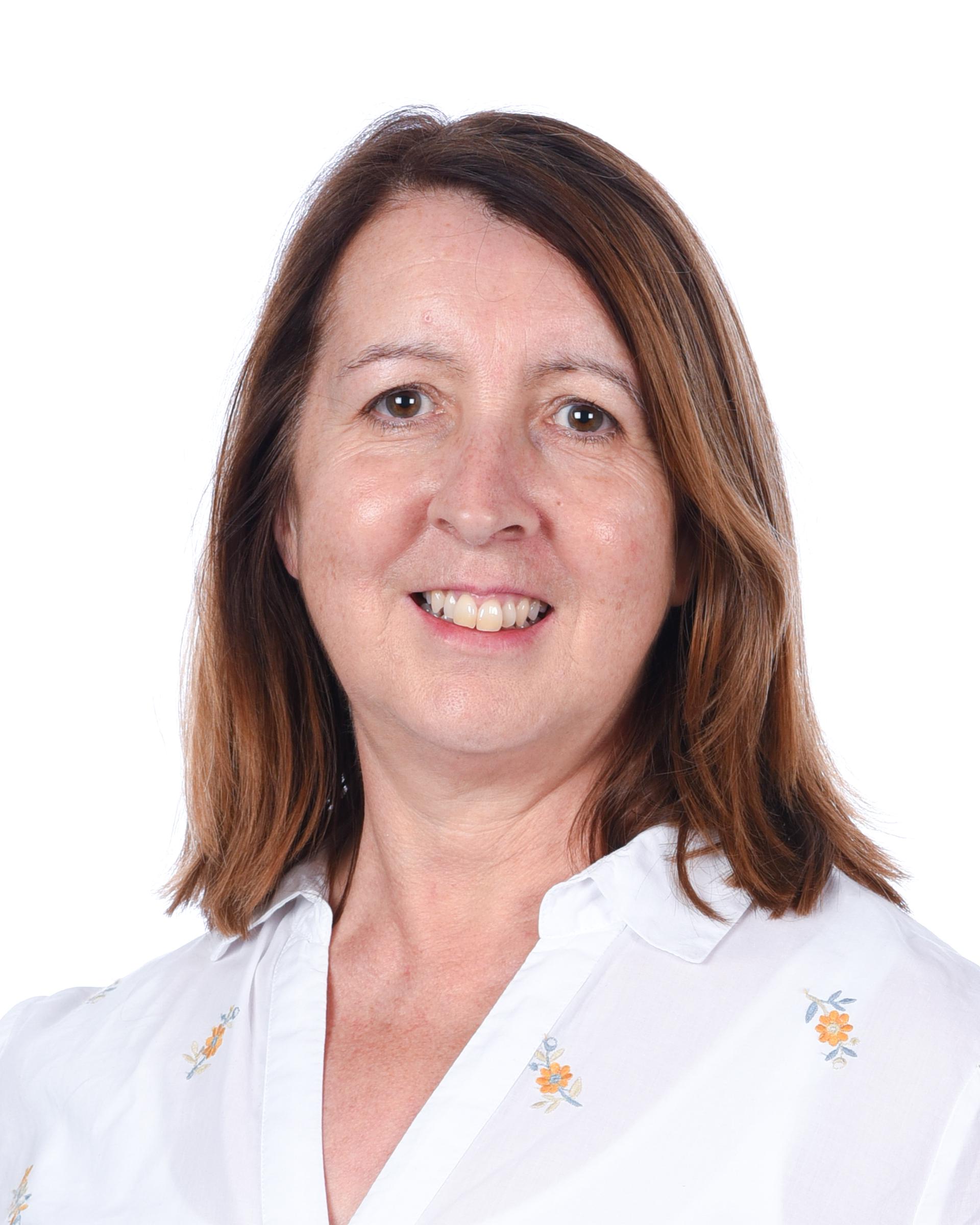 Dear Parents,
The Fairgreen Inclusion Team is pleased to share about an upcoming free workshop on "When Does My Child Need Help? A Parent's Guide to Speech, Language and Literacy Development," by The Developing Child Centre. Please see below for details and Zoom login and password information.
Kind regards,
Alison Scott
Head of Inclusion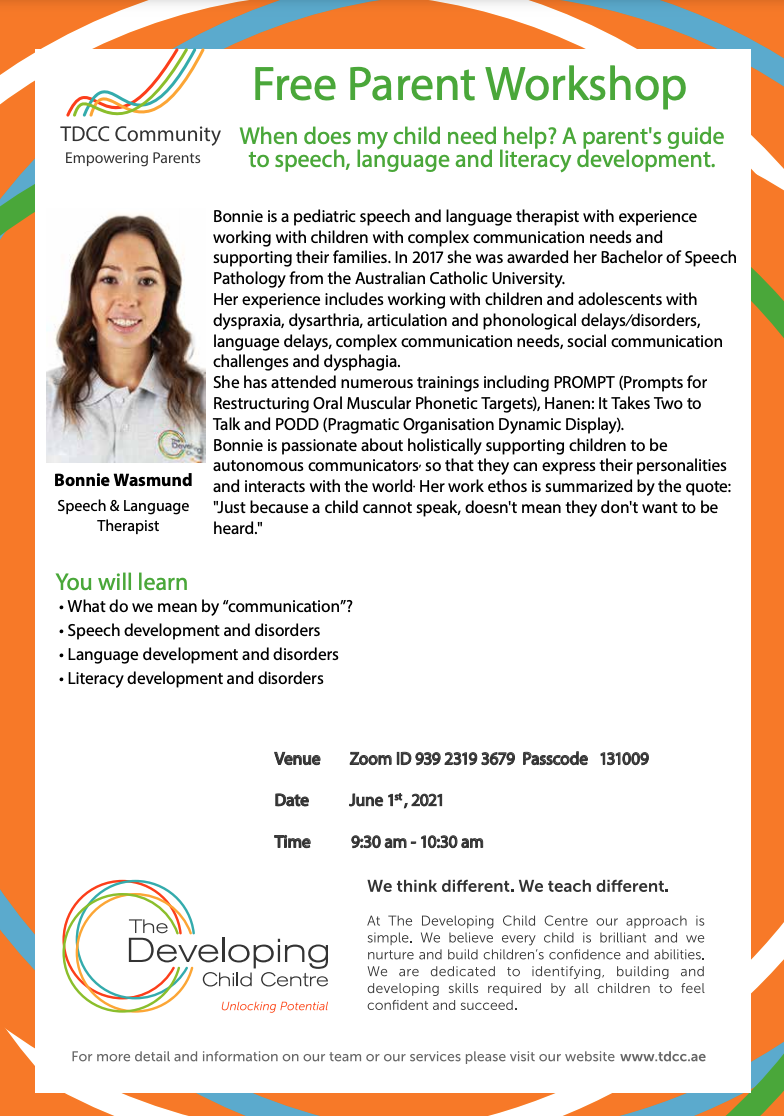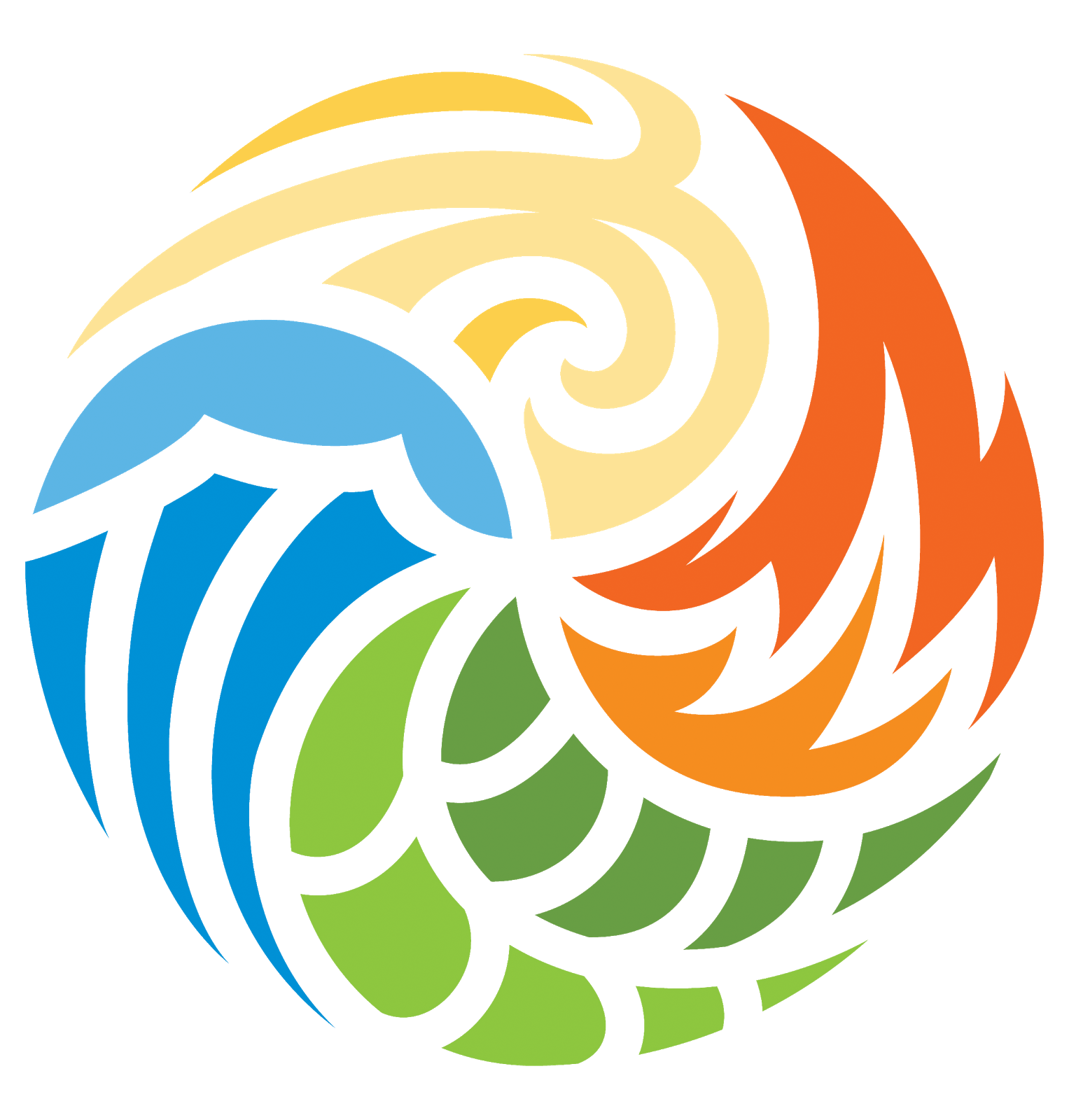 House Points Update
The overall standings remain the same although Caeli have made up a lot of ground and are now only 8 points behind Terra! Aqua continue to lead the way, followed by Ignis then Terra are hanging onto third with Caeli in fourth.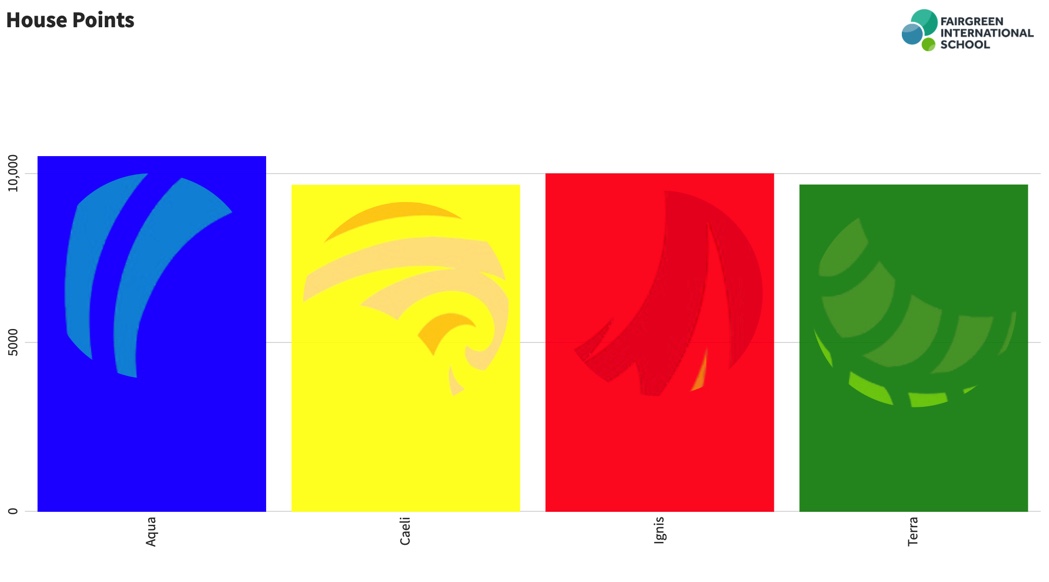 Inter-house Music Competition
A huge well done to everyone that entered our Inter-house Music Competition. Our judges will be watching all of the brilliant auditions this week and they will be selecting the acts to go through to the Grand Final.
Early Release Day
Tuesday 1st June is our next Early Release Day but it will not be a spirit day as we have recently had our 'Musical May' spirit day, so everyone should come to school on Tuesday in their regular school uniform. We will have one last spirit day closer to the end of term.
Grade 5 Hosts Fantastic PYP Exhibition
With a focus on the UN Sustainable Development Goals as this year's driving inspiration for the end of year PYP Exhibition, Grade 5 presented their inquiries into the nature of "who we are" in respect to what it means to be responsible, healthy, and human as they tackled some very important issues stemming from the SDGs, including gender equality and women's rights, government responsibility to protect our oceans, how to help end conflicts happening around the world, access to healthy food/ending world hunger, how life can be better supported through sustainable cities, quality education and mental health, poverty, clean energy, over-fishing, and more. Each group presented on these issues and how they have begun to take actions to make positive change themselves. They did a phenomenal job with their presentations, supporting material and in working together. What an impressive group of students! Our many thanks to the teacher mentors who helped each group and to their daily guides and inspiration, Grqde 5 Teachers Ms East and Ms Serrao.
CLICK HERE for a glimpse at their presentations!
Design Engineer Construct Programme Highlighted in Inspiring Video
This is exciting! The Design Engineer Construct programme that we run here at Fairgreen for Grades 8-10 is being highlighted by an initiative spearheaded by the Construction Innovation Hub and Centre for Digital Built Britain, a collaboration between the University of Cambridge and the UK Government, whose goal is to attract the best young talent to pursue pathways in the Built Environment.
With support of numerous world-class industry partners, the coalition has created this inspiring video to encourage young people to get excited about the possibilities that result from learning and exploring the world of the Built Environment through the Design Engineer Construct programme.
Please CLICK HERE to view.
Grade 2 Students Reached 3rd Place among World Participants in MyMaths Game
During Maths class last week, Ms Ferguson-Thomas's Grade 2 flew to 3rd in the world on the leaderboard of a game in MyMaths, which requires students to complete sequences and work out percentages and missing multiplication sums. The students love playing this game and practising their maths skills all within a platform where they are escaping from jelly monsters! They are aiming for 1st place in the coming days!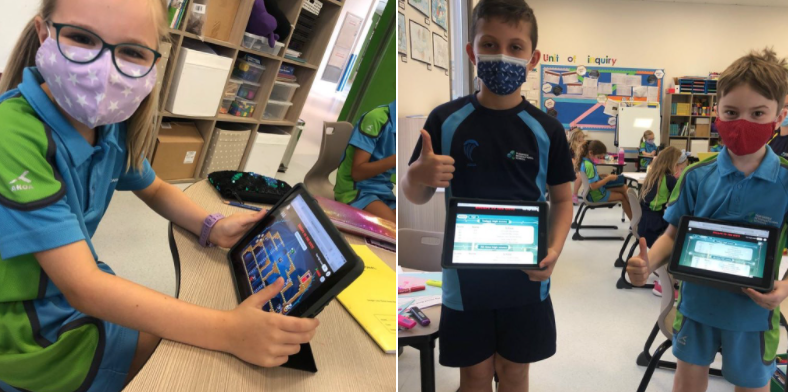 Beit Fann's Fine Arts Summer Camp 2021

If you're intersted in signing up your child, age 4-10, for this summer camp, located in The Sustainable City, please reach out to Beit Fann directly at info@beitfann.ae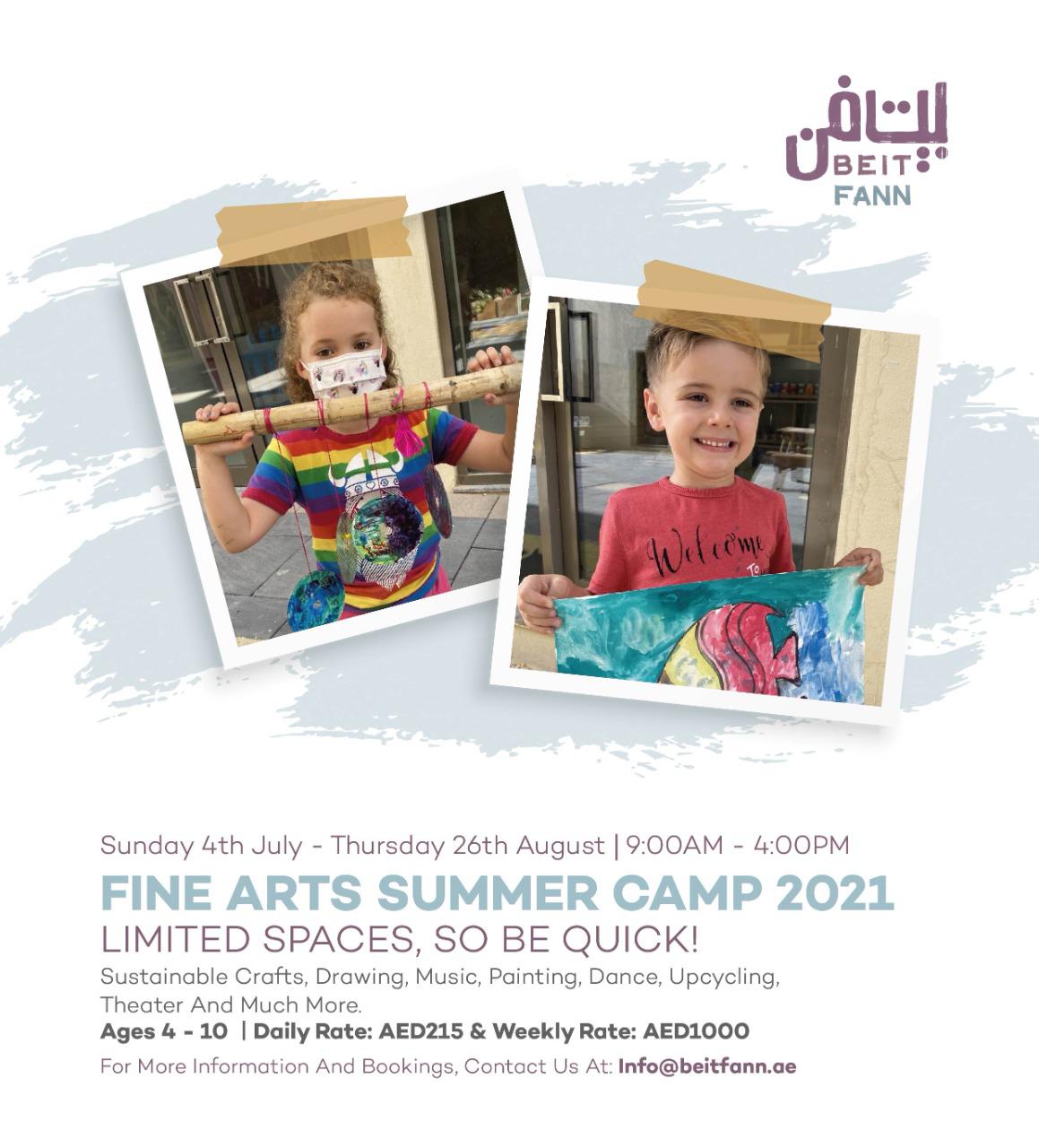 We're social! Connect with us online on Instagram and Facebook!