PARENT UPDATES
13 JUNE 2021
A MESSAGE FROM OUR DIRECTOR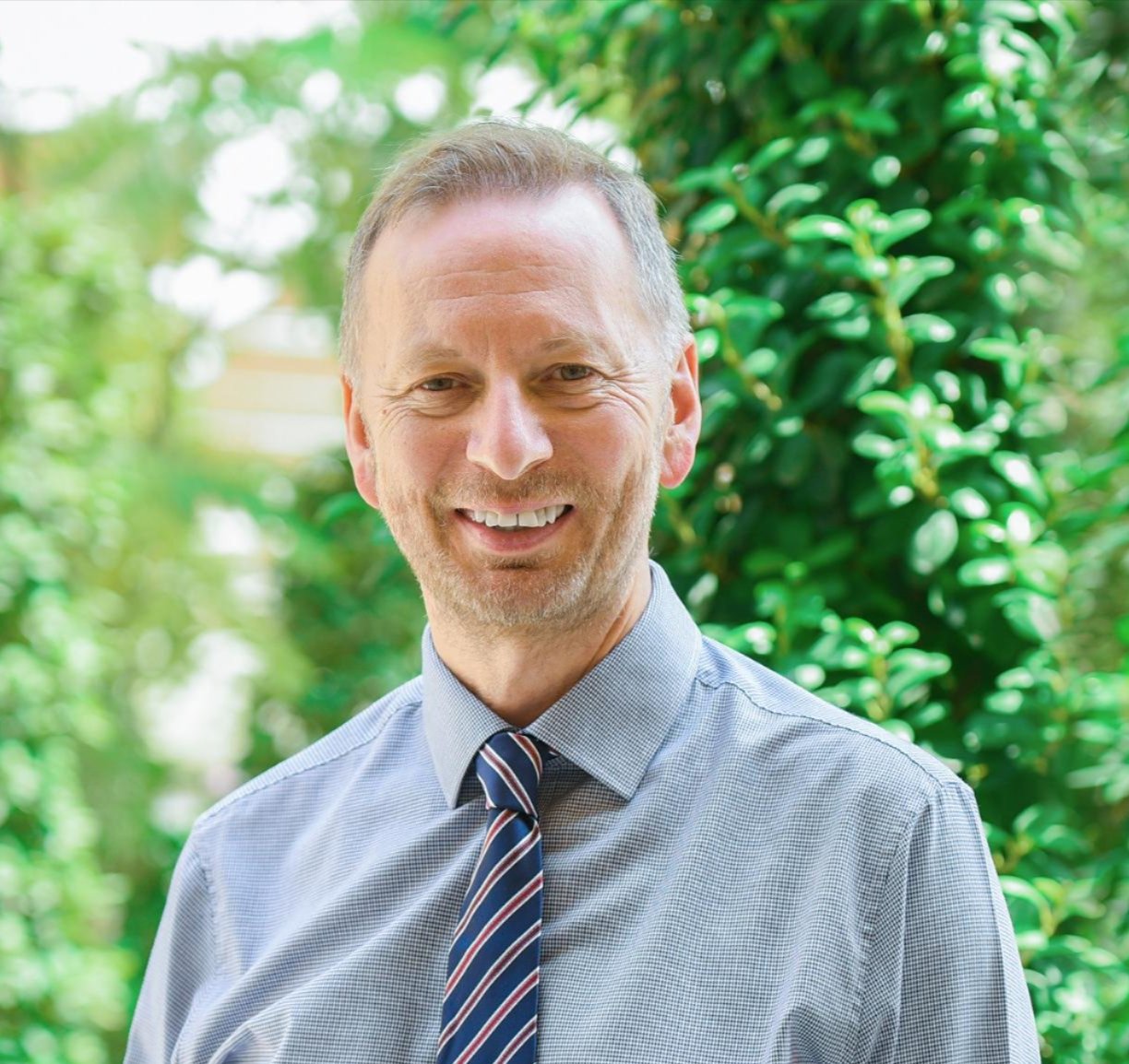 Dear Parents,
This year has been filled with triumphs and celebrations, but we have also had our fair share of sadness and loss. The strength of our community is that, when one person is down, there are others to lift them up. I am so proud of the Fairgreen community (and by that, I mean students, teachers, support staff, parents and anyone else who plays a role in our school). The way everyone rallies around to help those in need is a model of compassion and kindness. I hope this strength will be a feature of our school for years to come.
Our students have just completed a round of assessments, with a few more to come for Grade 5 upwards this week. We have initial results in, and they are superb. Perhaps most pleasing has been the culture of study and the work ethic that has developed. In new schools, the building of a culture is THE most important element of the school that endures long after individuals move on. Leading the way in the development of a study culture has been our Grade 10 cohort. This is our smallest grade level, with only 11 students at the moment. The way they have embraced their exams, supported each other and turned studying from a solitary process into a collaborative one has been wonderful to see. As our oldest students, they set a fantastic example to others. We are proud of all of our students but I wanted to give a special shout out to these students for their leadership and role modelling.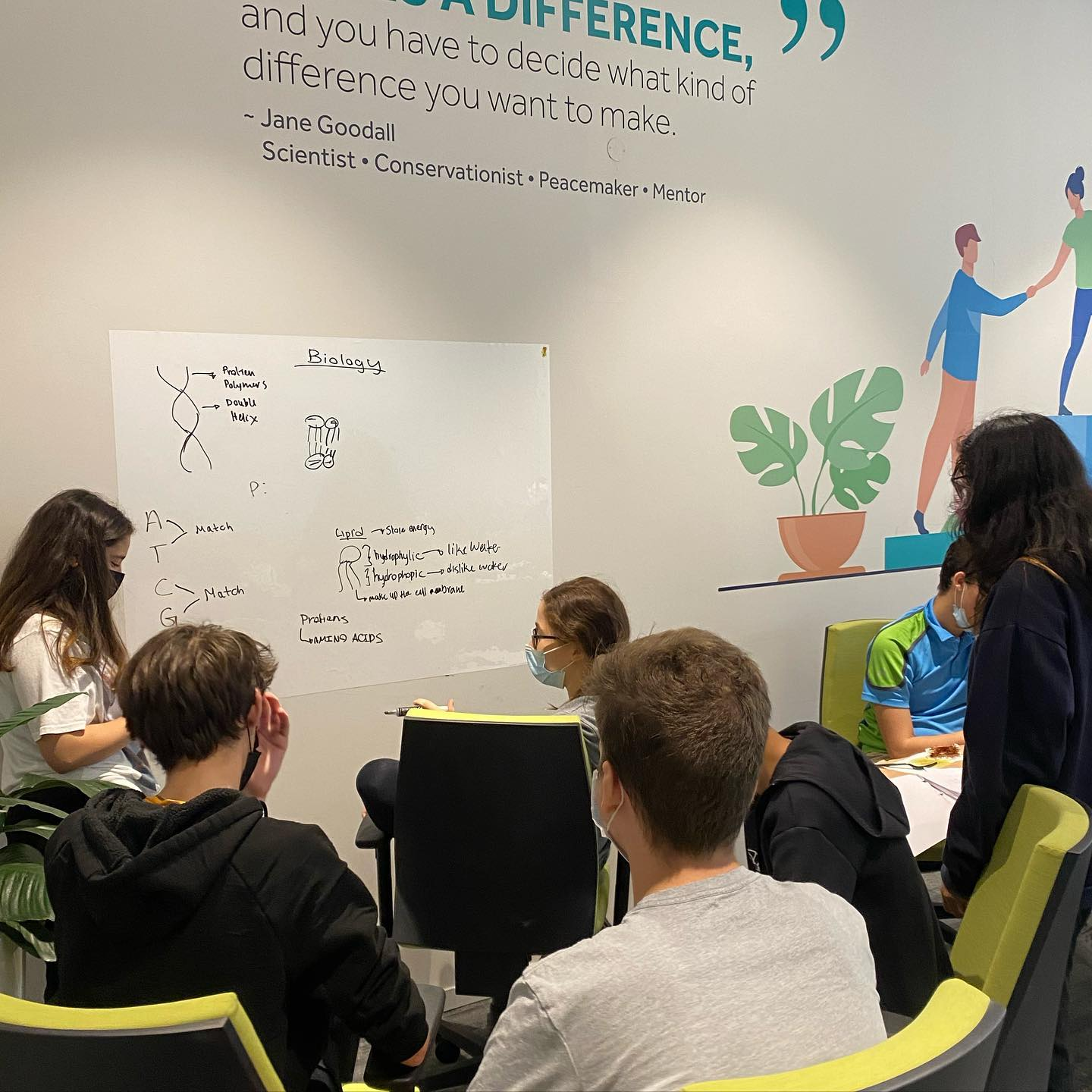 This summer will be a busy time on our campus. As soon as school closes on 1st July, work will begin on campus improvements. There are many projects so I will mention only a few here. We are doubling our science laboratory provision, with an additional two labs. The whole school will be repainted - classrooms, corridors and staircases. The auditorium will have the IB Learner Profile displayed in huge banners. Perhaps the most eye-catching of improvements will be a huge additional early childhood play space at the back of the Kindergarten block (facing the sand area where the horses exercise). This space has been designed specifically to stimulate the creativity of young children and will be a great addition to our campus. Other improvements and more greening of the school are also planned but these are perhaps the most significant.
Finally, schools throughout Dubai have been encouraged to apply for the Schools Compared Awards. There are a number of different awards and we have applied for four of them. It would really help our cause if you took some time to complete one of the surveys (linked in this newsletter). Our school is a previous winner of such an award, in our first year. The awards did not take place last year for obvious reasons. Although we do have other ways of celebrating achievements, an externally awarded prize is a great tribute to the school and all stakeholders.
I wish you all a week of whatever you need most.
Best wishes,
Graeme
13 -16 June
GL Progress Tests for MYP (grades 6-10)
Tuesday, 29 June, 10: 15 a.m.
Grade 5 Zoom-in Graduation
Parents of children in Grade 5 should have received an email with the Zoom link to join the Grade 5 Zoom-in Graduation. We look forward to this special event!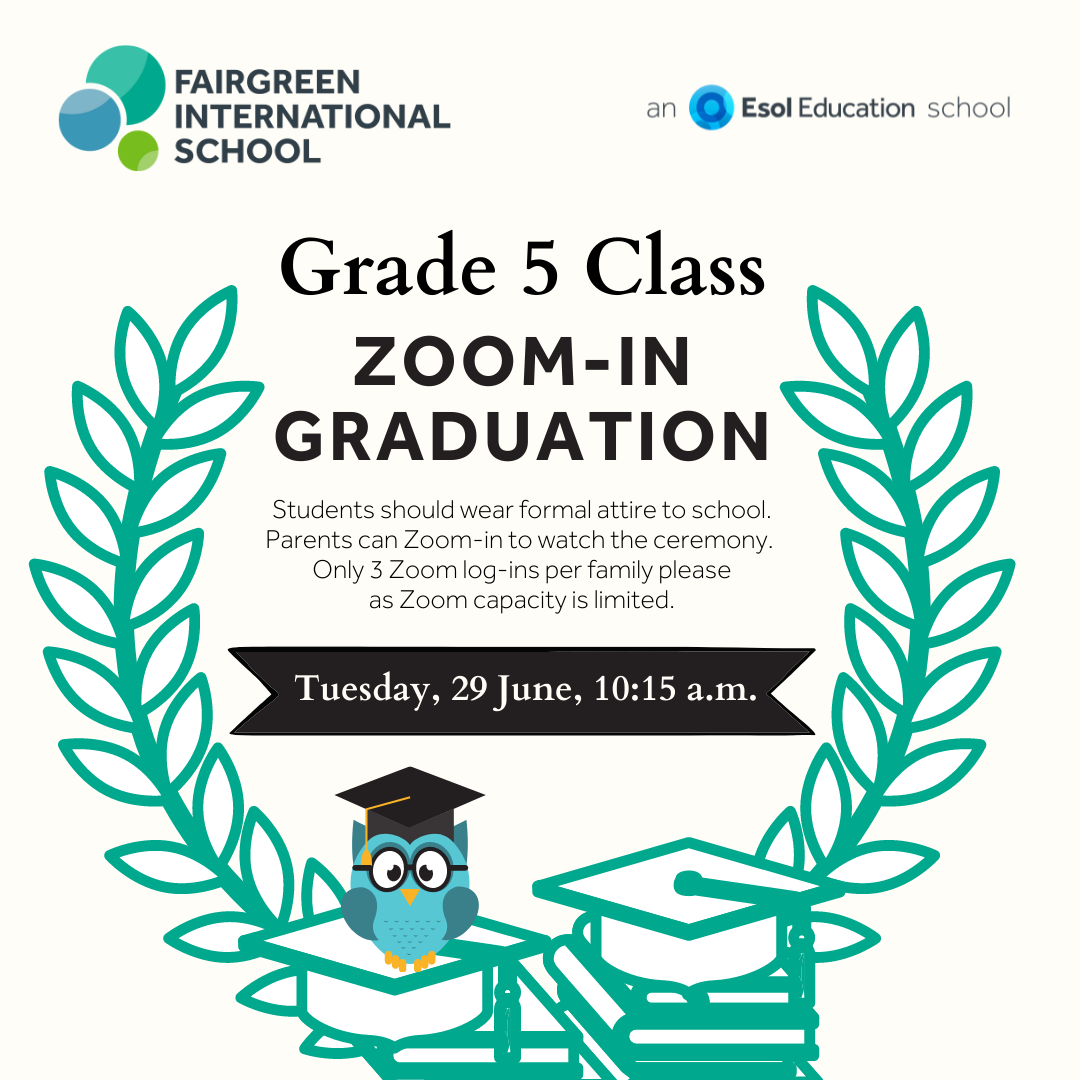 Thursday, 1 July
Early Release and Last Day of School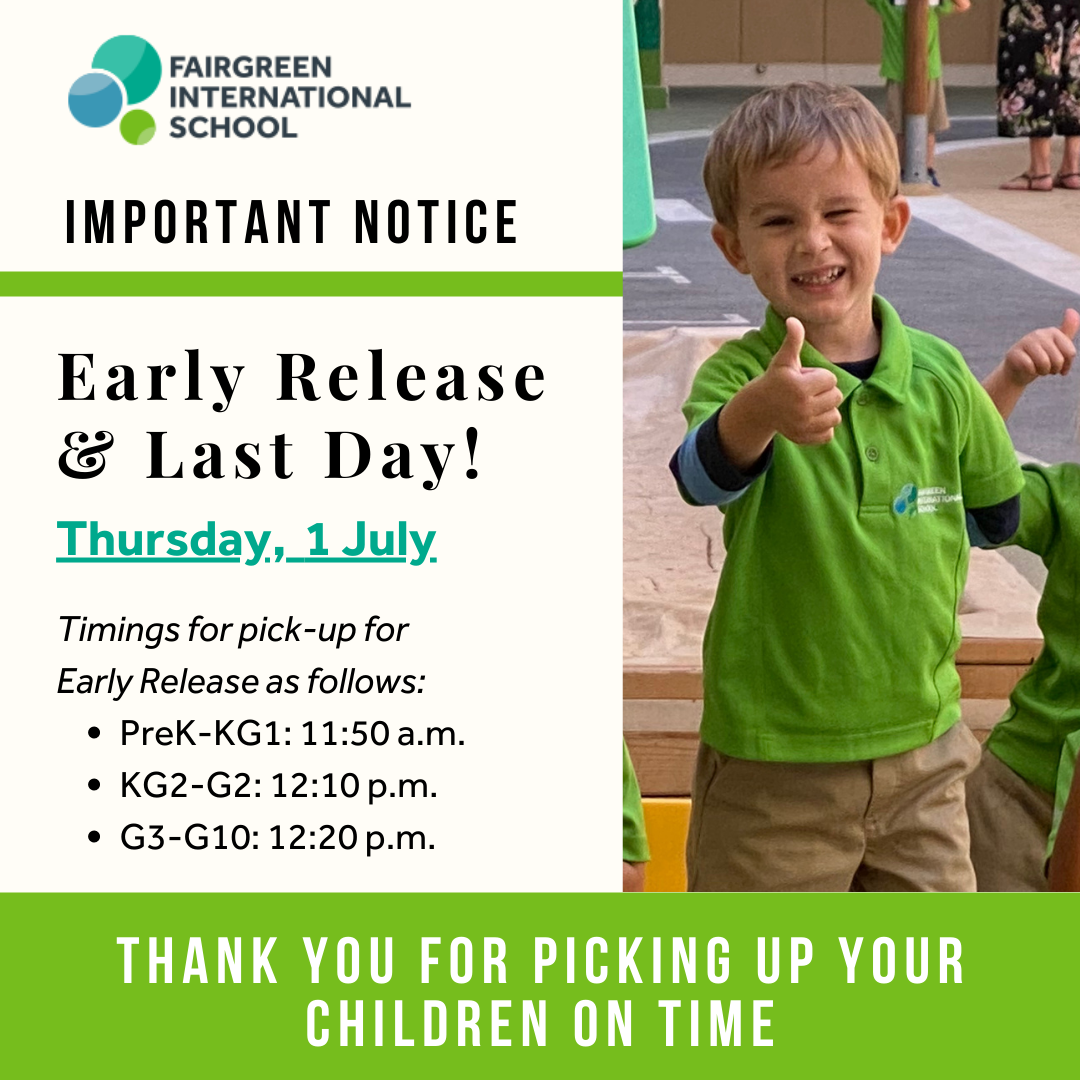 Dear Parents,
Our wonderful founding Director, Graeme Scott, is leaving us to follow new and exciting opportunities during the next academic year and to be closer to family. Unfortunately, due to the Covid restrictions we can't have families coming into the building to wish him well. In light of this could we suggest that, if you'd like to say a personal farewell to Graeme you see him at the front of the school, between 7.55 am and 8.20am, whilst he is welcoming students and parents onto campus. We're sure there are many who would like to say their "goodbyes" and we're equally sure that Graeme will appreciate your warm words.
Kind regards,
Matt Greenwood
Primary Principal
Seema Desai
Secondary Principal
FROM OUR HEAD OF COUNSELLING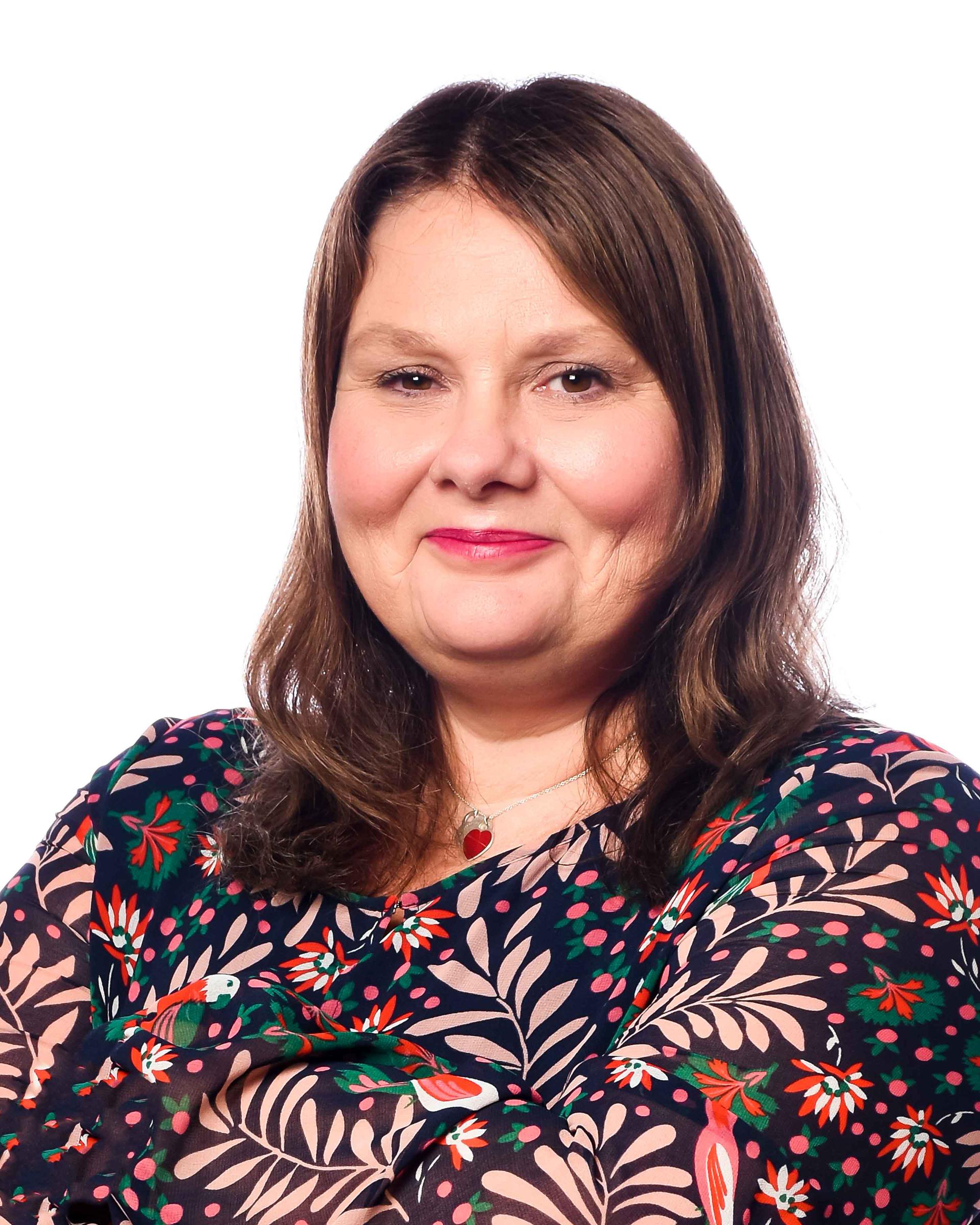 When the going gets tough, the tough get going
~ Billy Ocean
Everyday, I feel incredibly grateful to work at Fairgreen and with our community. In the past year we have experienced many challenges, it has been an unsettling time, and for some they have had to bear significant loss, and adversity. At times of struggle, we can draw upon the metaphor of the lotus to describe our human condition. Goldie Hawn, the Hollywood actress and Mindfulness Educator, beautifully describes this as follows: "The lotus is the most beautiful flower, whose petals open one by one. But it will only grow in the mud. In order to grow and gain wisdom, first you must have the mud — the obstacles of life and its suffering… The mud speaks of the common ground that humans share, no matter what our stations in life. … Whether we have it all or we have nothing, we are all faced with the same obstacles: sadness, loss, illness, dying and death. If we are to strive as human beings to gain more wisdom, more kindness and more compassion, we must have the intention to grow as a lotus and open each petal one by one."
In the past few weeks we have seen extraordinary kindness from our students, colleagues and parents. Coping with difficulty is so much more manageable with human connection. Please do visit our virtual wellbeing hub if you need further support to cope with any challenges you are facing:
It is always great to see students sharing their wisdom in DREAMS class. See below the infographics created by Muhammed and by Starla, Abiha and Madison who share their advice on coping strategies: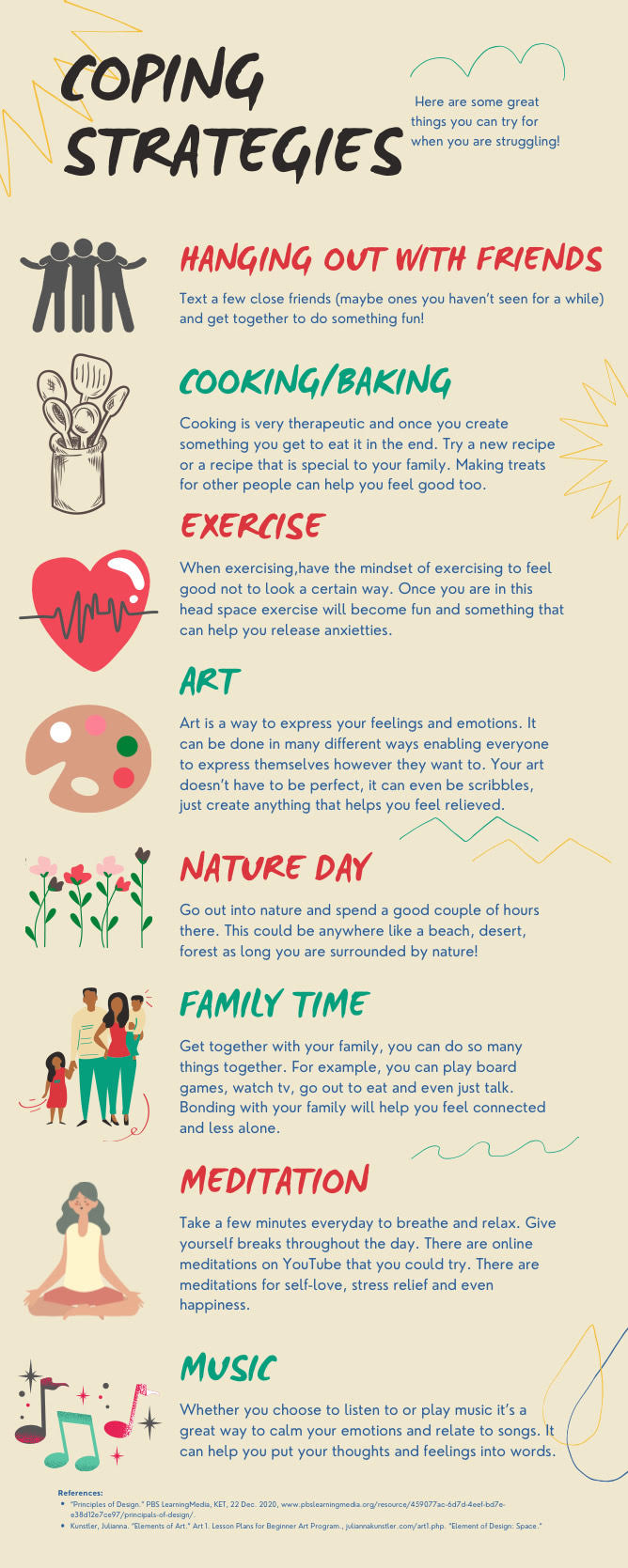 By Starla, Abiha and Madison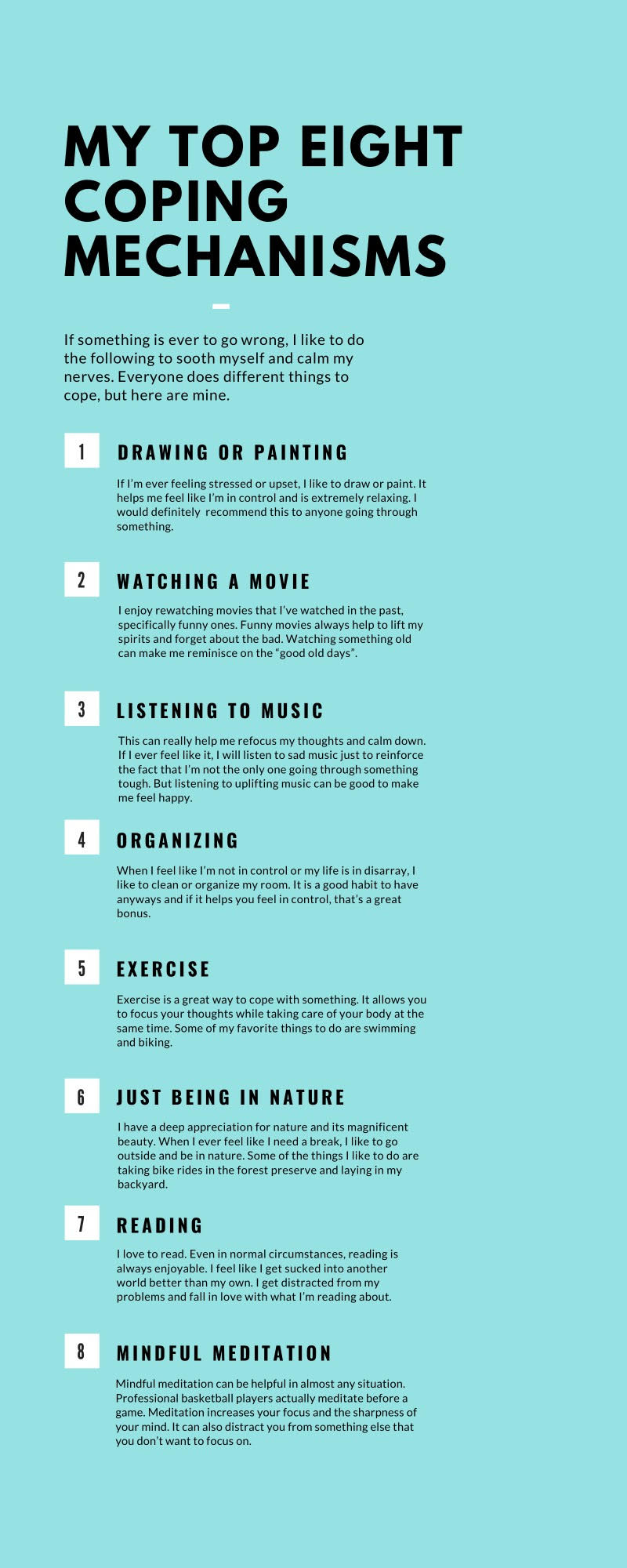 Kind regards,
Jackie Greenwood
Head of Counselling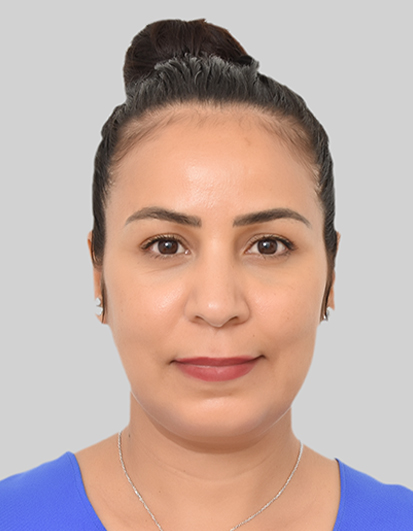 Dear Parents,
Thank you to all the students who eagerly participated in the World Bicycle Day competition earlier this month. The response was fantastic, and all the decorated bikes deserve a prize! It has been a difficult task, but we have narrowed down the winners to the following selected three entries to receive a customized bike helmet. The winners are :
Zya, Pre-KG

Laura, KG 1

Connor, KG2
The helmets will be sent home with the winners by the end of this week.
Kind regards,
Siham Amhidi
Parent Liason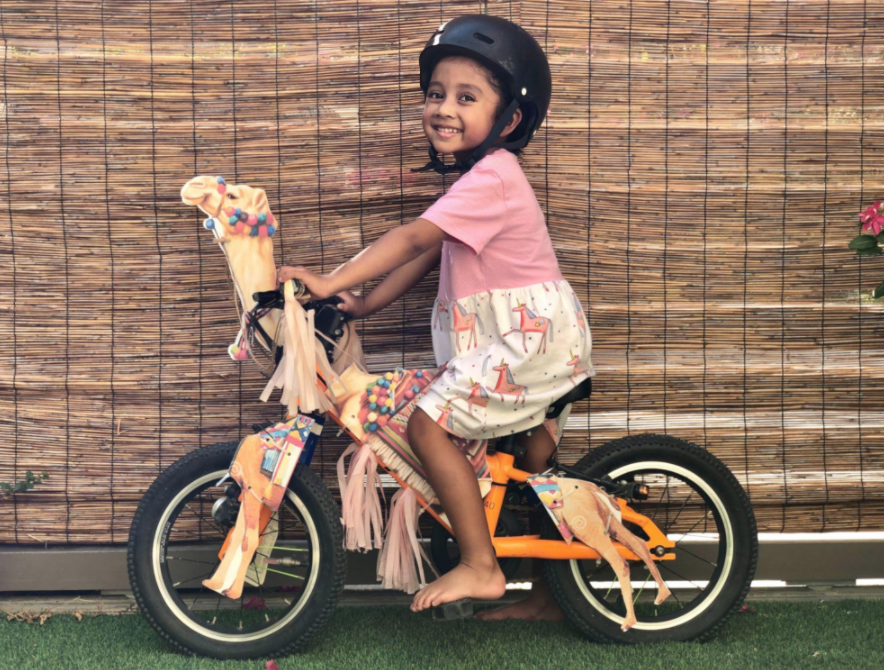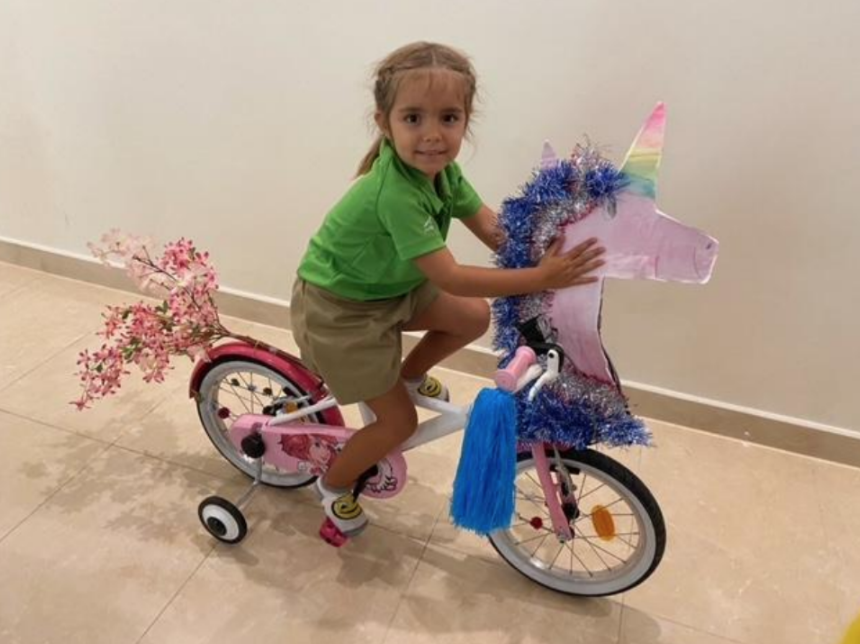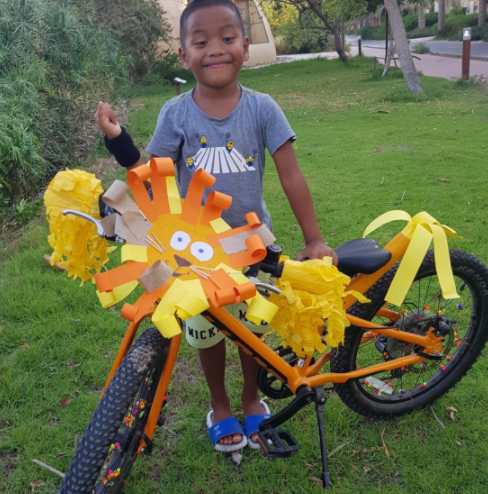 PARENT SURVEY FOR SCHOOLS COMPARED TOP SCHOOLS AWARDS
SchoolsCompared.com is one of the UAE's most respected and renowned school rating websites, alongside their sister site, WhichSchoolAdvisor.com. We are in the process of applying for the SchoolsCompared Top School Awards, which will be announced this fall. However, applications are due soon. As part of this process, SchoolsCompared.com is asking parents to submit reviews of the school. This is part of their evaluation/judging process. We would greatly appreciate it if you would complete the SchoolsCompared Parent Survey below by 30th June. We apologize to have to ask this of you, and we sincerely thank you for your time and consideration in taking just this one more survey on behalf of Fairgreen.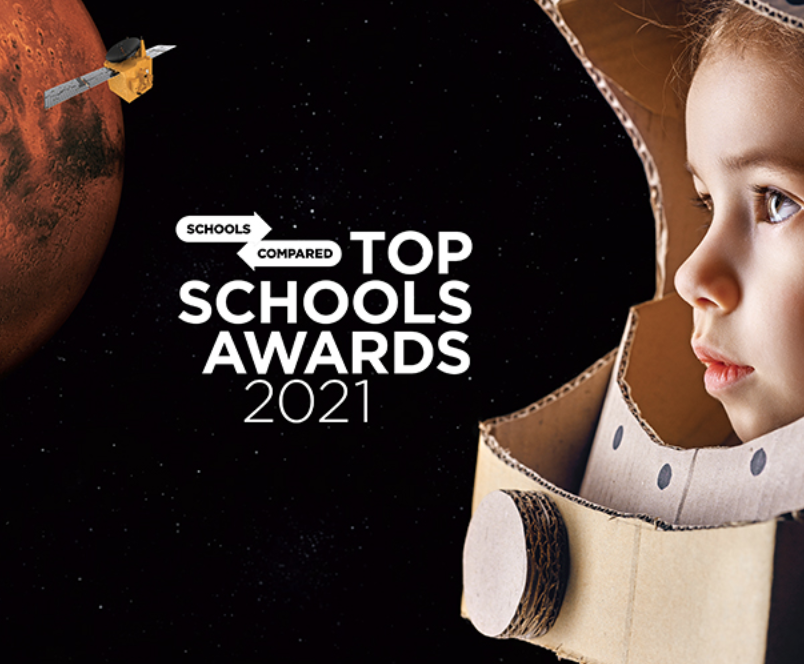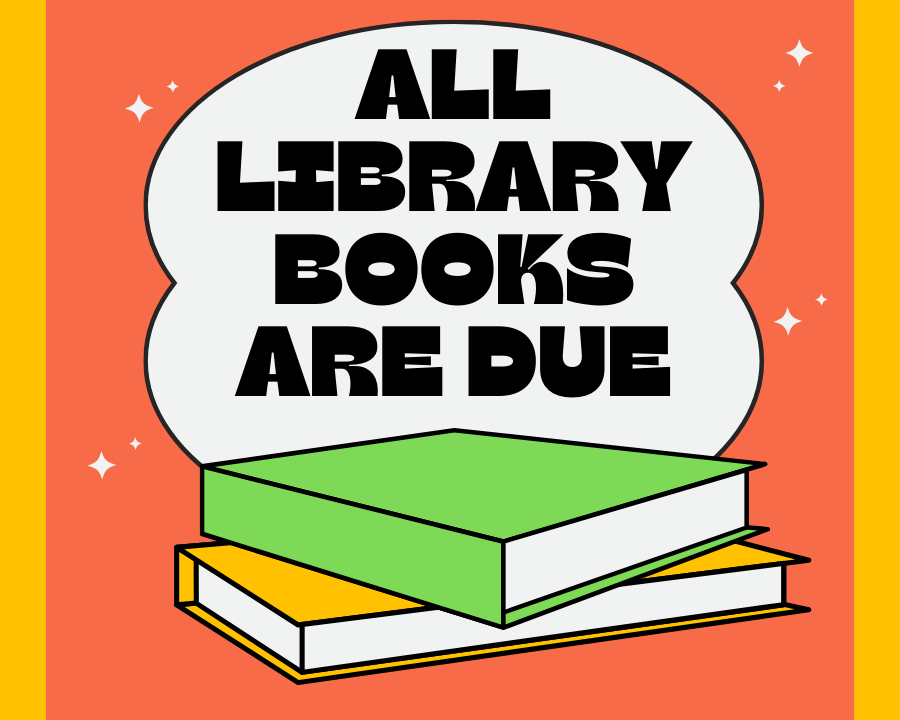 Please note that the Fairgreen library is open this week only to collect books. The last day to return books to the library is Sunday, 20 June. After this date, we will send overdue book notifications to families whose children have overdue books.
After Monday, 28 June, the accounting office will need to charge families for any non-returned books.
Thank you for your kind cooperation with this matter.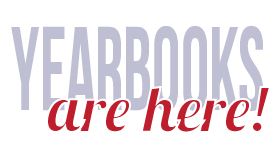 For those families who have purchased the 2020-21 yearbook, please note that we will be distributing these directly to your children today or tomorrow.
Please look for the yearbook sent home with your child.
TECHNOLOGY REQUIREMENTS FOR NEXT SCHOOL YEAR
Just as in our current school year, for the 2021-2022 school year, all students enrolled in Grades 3 through 12 will need to bring a fully charged iPad to school on a daily basis, as part of their normal school supplies. We strongly recommend the following specifications for the iPad to ensure a consistent learning setup and a rich experience for students:
Required for Students
- iPad 10.2 (WiFi, 128 GB, the new 8th generation iPad)
- Apple Pencil
- Keyboard
Optional Items
- iPad Cover
- AppleCare
- Head Phones
Fairgreen also recommends parents purchase the AppleCare protection package for their child's iPad. Although we will educate and promote safe and responsible iPad care, accidents do happen, and the AppleCare program will allow you to quickly have damaged iPads repaired, avoiding discord over any damage, and preventing surprise repair costs.
Please click on the following link if you would like to purchase the required device for your child from our preferred vendor:
MDS CTS Education Store. You will receive educational prices from an authorized source. If you are purchasing from MDS CTS, you will need to complete your purchase orders no later than 1 July, 2021 in order to ensure delivery of devices by 15 August, 2021. Any online orders received after 1 July, 2021 will have no guarantee of timely delivery. If you have any questions, you can contact the supplier directly at Applepractice@mdsuae.ae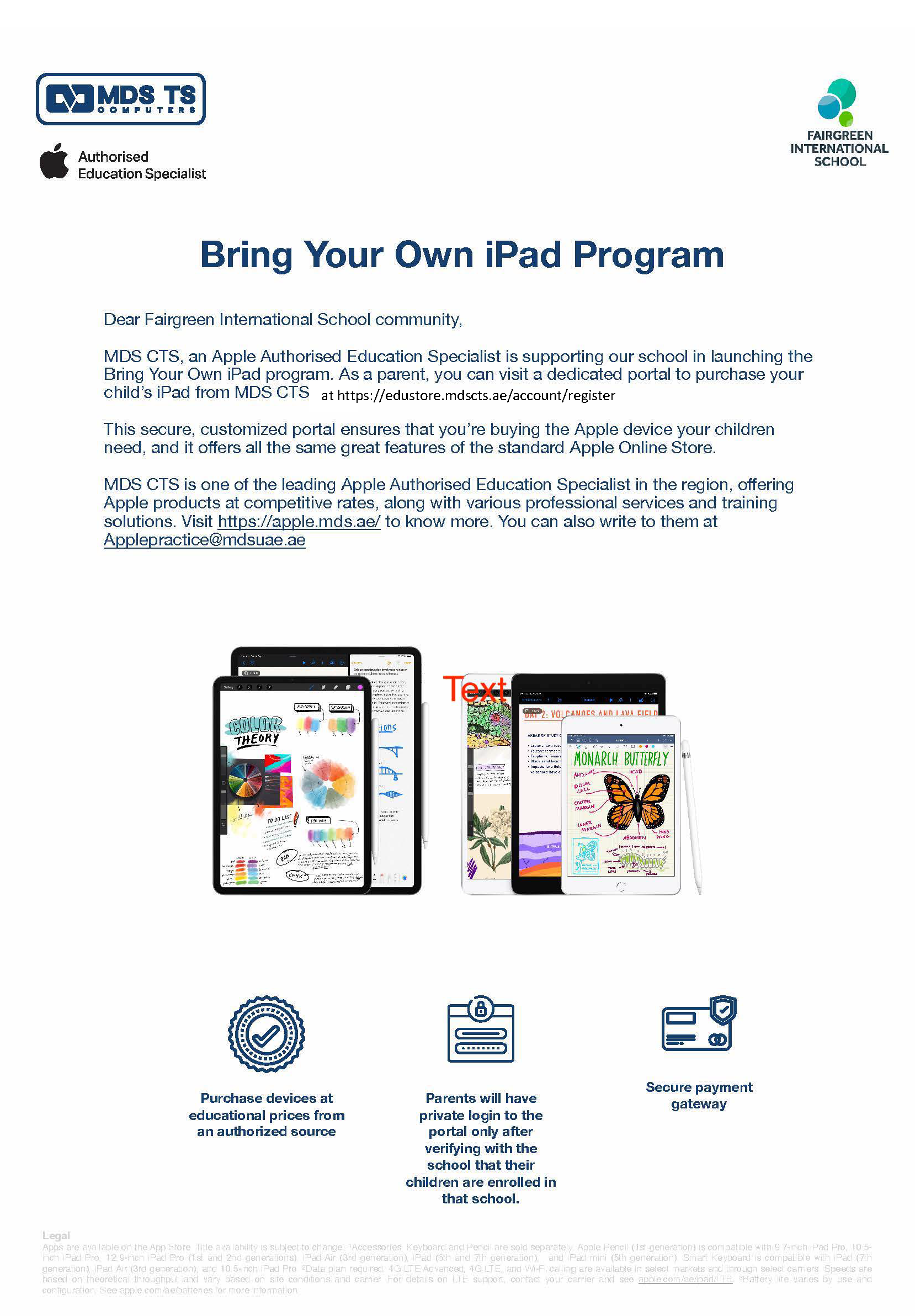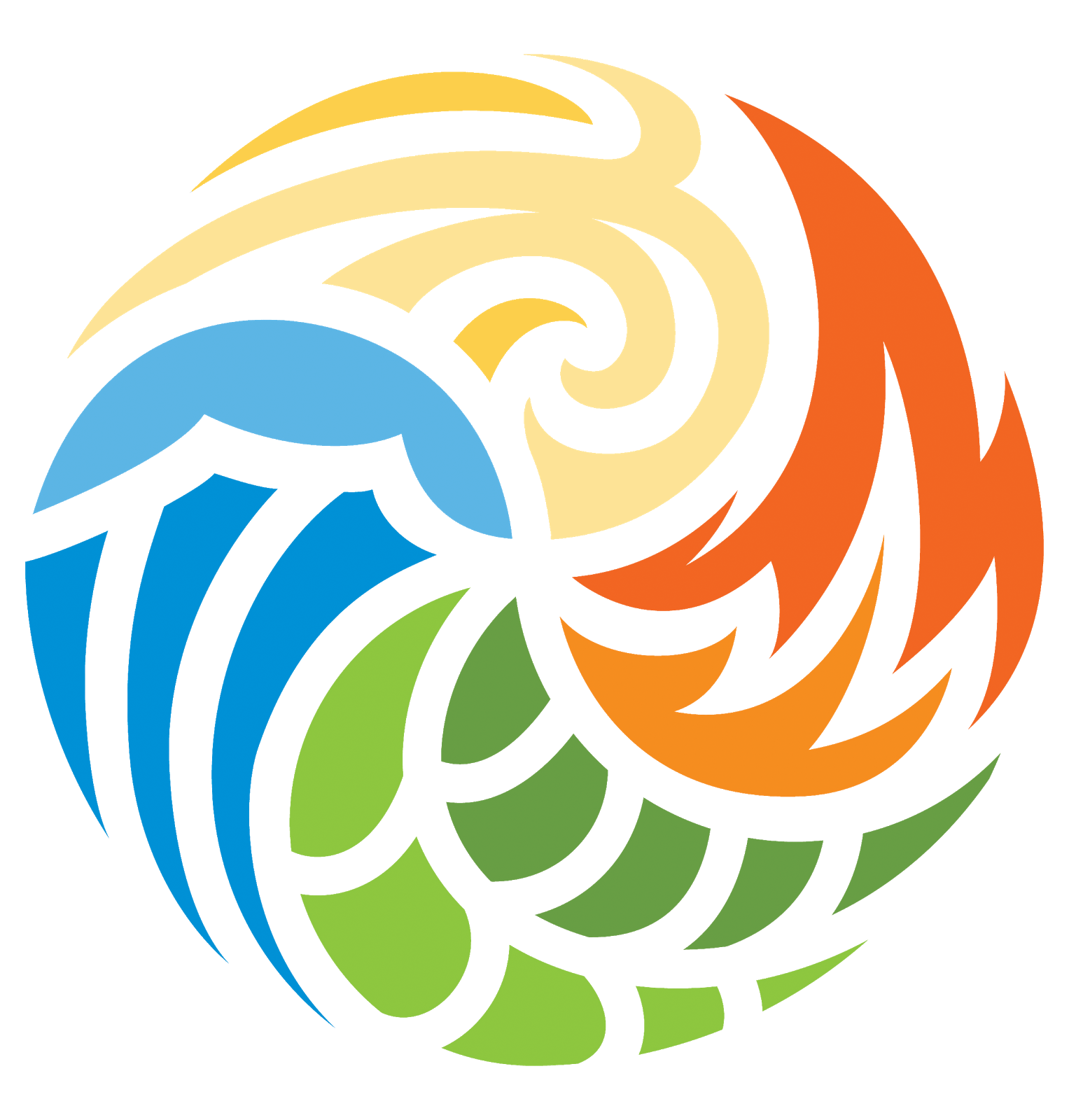 House Points
All standings remain the same but Caeli have closed the gap again in their pursuit of third place. They are only 50 points behind!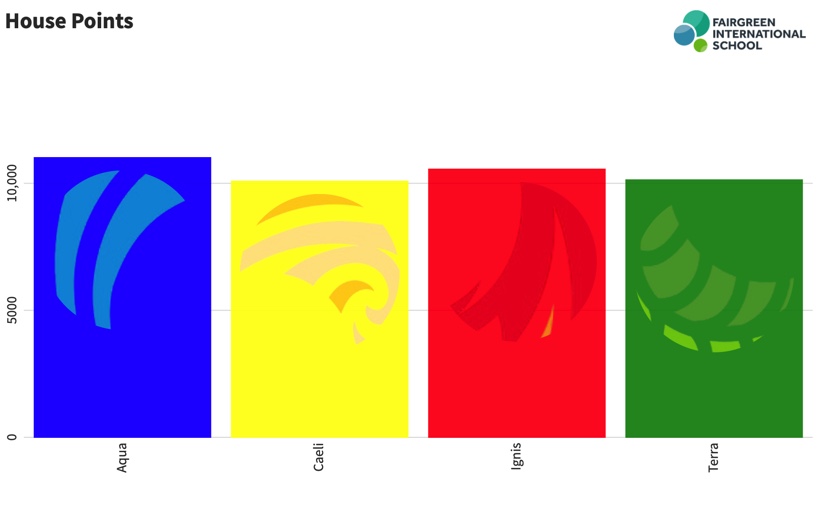 Celebration
The Yearly house competition is coming to a close. Well done to all students for earning points for their house through participation and hard work. On Monday, 28 June we will celebrate the winning house in PYP with separate celebrations for grade levels to adhere to current restrictions. For MYP, we will award all in the winning house, however the students who have been the highest point earners for their year level will participate in a celebration.
Congratulations again to all who have earned house points this year - watch this space to find out who the winning house is!
Inter-House Music Competition
This week our judges are finalising who will be selected for the Grand Final. There are so many amazing acts, it is a difficult decision for them all but they will be meeting again this week. After the judges have met and selected the acts for the Grand Final, We will be able to announce them next Sunday!
Fairgreen is First Dubai School to Introduce Groundbreaking Functional Movement Initiative Used by Premier League Football & NBA Athletes
Fairgreen International School is the first school in Dubai to introduce a revolutionary, data-driven Functional Movement Physical Education Programme, a system of movement screening and remediation to promote optimal physical wellbeing for its students. Fairgreen is launching this in Dubai for September 2021 through a newly minted partnership with Functional Movement Systems UK (FMS UK), leaders in providing neurodevelopmental sequencing to perfect functional movement in elite athletes such as the Premier League Football and the NBA, military personnel, and students.
Built specifically for schools to enable Physical Education teachers to screen students for movement efficiency to ensure they have a good foundation of movement quality, the Movement Patterns programme is a tool used to identify and mitigate poorly developed or maintained movement patterns among all PE students, which potentially make gross motor skills or specific sports skills difficult. Using cutting-edge software, the programme provides specific remediation plans to help these students retrain the body, and importantly the brain, to improve movement efficiency and to re-establish sound movement patterns.
Fairgreen will pilot the Movement Patterns programme among students in Grades 3-5. The programme will provide these students with a personalised development pathway that supports balance, mobility and postural control.
"By developing correct movement habits in their formative years, students will have a more positive association with physical activity, which improves self-confidence and ultimately sets them on a more active path for the rest of their lives," shares Daniel Walker, Fairgreen Athletic Director. "At Fairgreen, student wellbeing is at the heart of everything we do. By working with the FMS UK team and their fantastic screening programme, we will be better able to support our students' physical wellbeing and prepare them to move more regularly with confidence. Our students will develop a legacy of physical wellbeing that will have a long-term positive impact on their lives."
Peter Bowler, CEO, FMS UK, comments: "Fairgreen International School is progressive and forward thinking, hence a perfect partner for FMS UK. By signing on as the first school in Dubai to incorporate functional movement technology to support their students, Fairgreen shows sincere investment in the FMS UK mission to support children to develop good movement habits that will benefit them for life."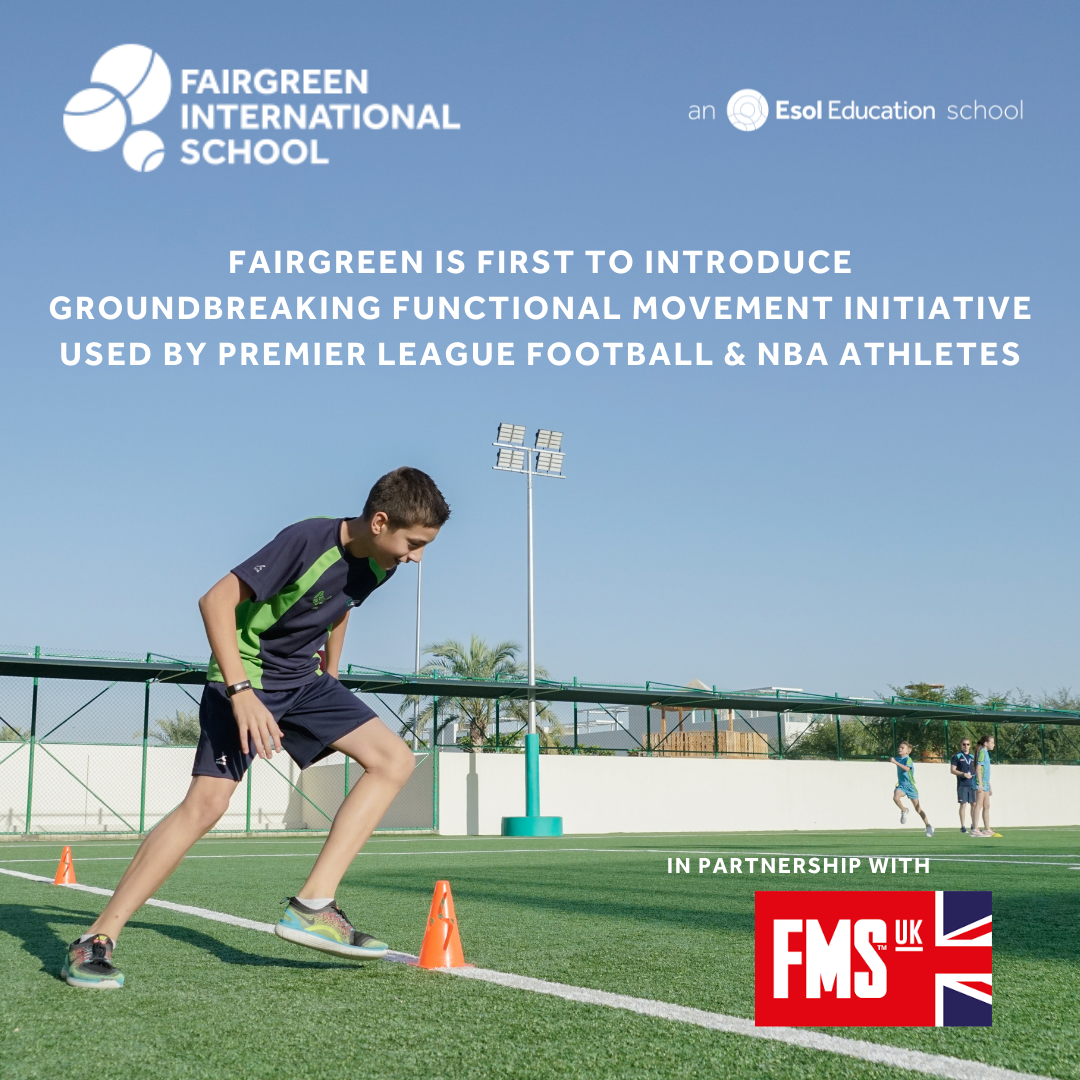 KG1s Get Creative with their Storytelling Assessment
As part of our Unit of Inquiry summative assessment, Ms Wood's KG1s have been continuing their work on stories. The children have created their own character costumes, which they used to act out their own stories. Then, they planned their own story and wrote it independently using their phonics skills. A great way to showcase all their learning!
Grade 3 Exploring "Fireworks" by Handel in Music Class
Grade 3 have discovered that music can tell stories. With their Music Teacher Ms Pringle, students explored "Fireworks" by Handel and then an in-depth study of "Peter and the Wolf". The next stage is to apply their knowledge of characterisation and melody and create their own character motifs and melodies to accompany a story they have written. The students will incorporate the use of technology by finding sound effects on their iPads. Here, students are working together to create ostinati for their characters.
PE Students Showcase Dance Routines
Many of our students just wrapped up their unit on Movement Composition in PE. Grade 1 learnt a dance together in which they added their own moves at the end when their partners' were striking a pose. Grade 4 incorporated the theme 'On a Rollercoaster' and Grade 5 based their dances on the theme 'From Around the World' with inspiration from countries such as Colombia and Russia. Enjoy watching some of their fantastic routines! CLICK HERE to view.
Ms Cullinane's KG1 Retell the Gingerman Story
Over the course of their 'How We Express Ourselves' UOI, Ms Cullinane's students have been exploring different stories. One of their favourite stories has been the story of The Gingerbread Man. They had great fun retelling the story following a story map, acting out the story using our mini puppet theatre, sequencing and writing about the story. They also really enjoyed being bakers and using their phonics skills to read a recipe while making their own salt dough gingerbread men. Then they became engineers and problem solvers when they were invited to work together to design and make a boat for the Gingerbread Man to cross the river safely and protect him from the fox. CLICK HERE to view.
Wonderful Idea from Ms Jesca
Early Years TA Ms Jesca shares this inspiring idea to help reduce single-use plastic waste....a wonderful reminder of how important it is for all of us to do our part in helping to protect marine life from the devastating effects of plastic pollution. CLICK HERE to view.
Beit Fann's Fine Arts Summer Camp 2021

If you're intersted in signing up your child, age 4-10, for this summer camp, located in The Sustainable City, please reach out to Beit Fann directly at info@beitfann.ae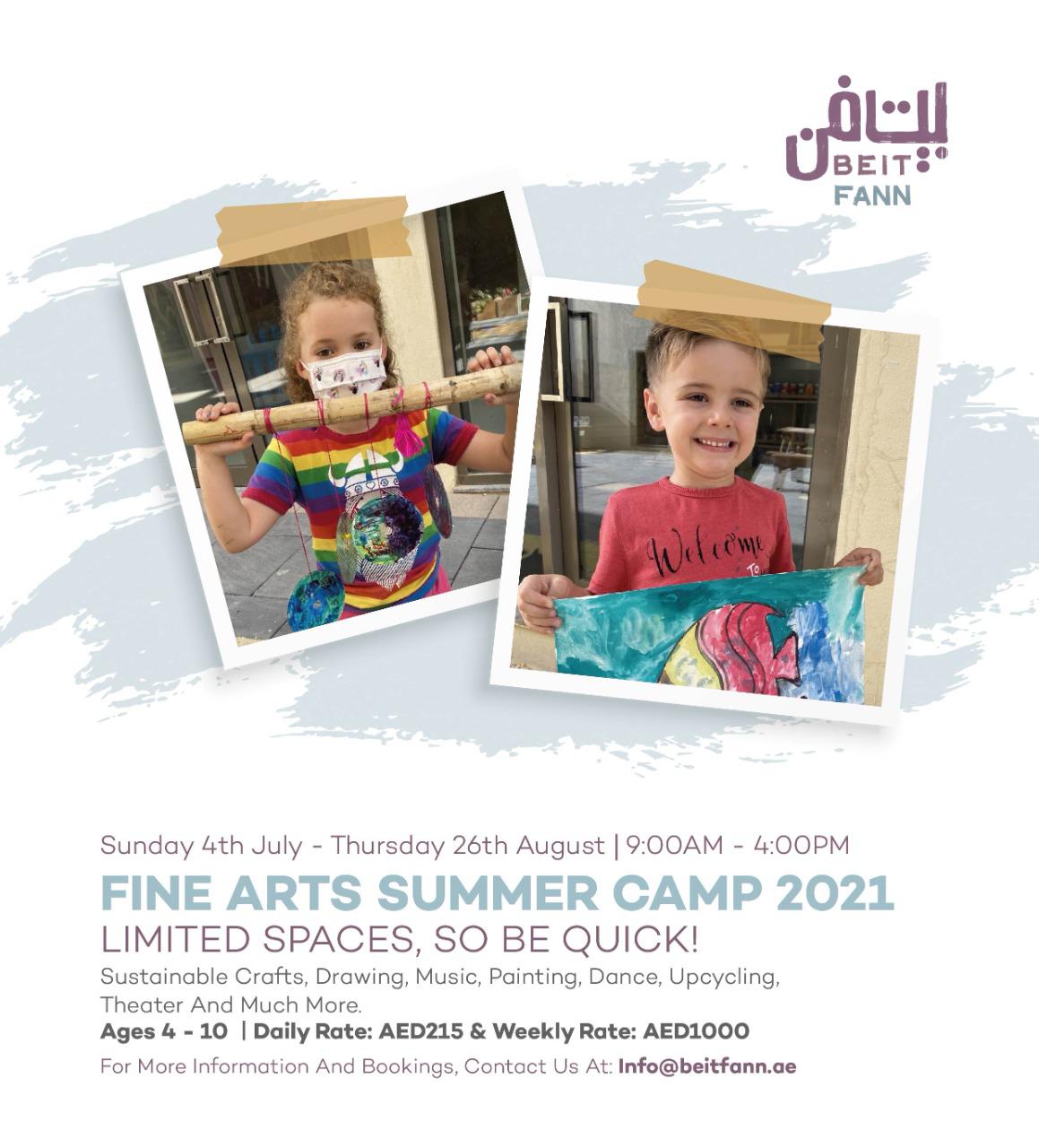 We're social! Connect with us online on Instagram and Facebook!